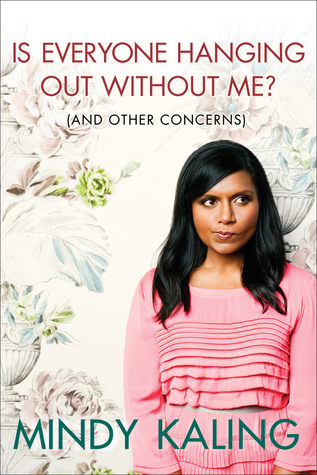 Release date:
November 1st, 2011
Author links:
Goodreads
-
Twitter
-
Website
Publisher:
Crown Publishing
Pages:
222
Description (from Goodreads):
Mindy Kaling has lived many lives: the obedient child of immigrant professionals, a timid chubster afraid of her own bike, a Ben Affleck–impersonating Off-Broadway performer and playwright, and, finally, a comedy writer and actress prone to starting fights with her friends and coworkers with the sentence "Can I just say one last thing about this, and then I swear I'll shut up about it?"
Perhaps you want to know what Mindy thinks makes a great best friend (someone who will fill your prescription in the middle of the night), or what makes a great guy (one who is aware of all elderly people in any room at any time and acts accordingly), or what is the perfect amount of fame (so famous you can never get convicted of murder in a court of law), or how to maintain a trim figure (you will not find that information in these pages). If so, you've come to the right book, mostly!
In
Is Everyone Hanging Out Without Me?,
Mindy invites readers on a tour of her life and her unscientific observations on romance, friendship, and Hollywood, with several conveniently placed stopping points for you to run errands and make phone calls. Mindy Kaling really is just a Girl Next Door—not so much literally anywhere in the continental United States, but definitely if you live in India or Sri Lanka.
This woman is like my queen right now. She is funny and gorgeous, doesn't take herself too seriously, and has worked on some shows I love, and with people I adore. What is not to like? I knew I would like this book even before starting to read it, and once I started reading, I read the whole thing very fast. It is interesting, funny and full of great content and after finishing with it (and already while reading it) you wish Mindy would be your friend.
The book is mostly just essays, lists, and random thoughts about different things. There are accounts of her childhood -- how she was bullied about her weight, how she fell in love with comedy, and so on. I think one of the most interesting parts was when she discussed life after college - she had rocked college, meaning that she had friends and she did well. But when she graduated, it was hard to actually find a job and do what she wanted to do with her life. [2016 edit: I am doing to get my Master's degree next spring and while I have also "rocked" university, I am both terrified and excited about what will come next! I need to go back to this particular section of Mindy's book to reread her thoughts.]
I love The Office, and that is what I, like most people, associate Mindy Kaling with. It was interesting to read how she got involved with the show and ended up writing some of the best episodes of the whole show (I am talking about Injury here... every The Office fan probably remembers this episode with warm and fuzzy feelings). It is amazing to read about the people she worked with (Rainn Wilson, Seth Myers, for god's sake) but I am also happy she did not go into too much detail about these since this book is about her, not the hot guys she has worked with (that list is enormous). I also love the fact that she does not overly glamorize her life - she talks about eating a lot, hanging out in sweatpants in her bed writing, and ditching parties a lot.
According to Hollywood standards, Mindy Kaling is almost overweight. But according to everything else, she is pretty much the average American woman. In the book, she discusses her weight in very humorist manner, which I really liked because of the fact that even though she does care about her weight, there are things she cares about more.
I love the fact that she decided to discuss some of her favorite films, comedians and comedy moments in this book because I am always interested in watching something people I admire love. She discusses her love for romantic comedies (there is a hilarious chapter in the book in which she talks about the different romantic comedy cliches), her favorite comedy moments of all time (a lot of Will Ferrell) and for example some film franchises she would love to reboot.
After reading this book I realized how much of the actual Mindy Kaling there is in her character in The Mindy Project. Mindy from The Mindy Project is maybe a bit more superficial and has a different job, but I think the essentials are kind of same. I can't wait to see what Mindy comes up next - the second season has been amazing, and oh my gosh, MINDY AND DANNY = FANGIRLING! [2016 edit: I LOVED THIS SHOW AND THE MINDY/DANNY SHIP SO MUCH AND NOW IT HAS ALL GONE TO HELL! I do admit though that the introduction of this new nurse guy in the ongoing season has potential].
If you are a fan of The Office or The Mindy Project or Mindy Kaling in general, you will probably like this one as much as I did.