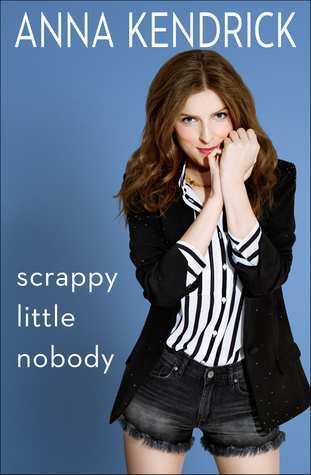 Release date:
November 15th, 2016
Author links:
Goodreads
-
Twitter
Publisher:
Touchstone
Description (from Goodreads):
A collection of humorous autobiographical essays by the Academy Award-nominated actress and star of
Up in the Air
and
Pitch Perfect
.
Even before she made a name for herself on the silver screen starring in films like
Pitch Perfect
,
Up in the Air
,
Twilight
, and
Into the Woods
, Anna Kendrick was unusually small, weird, and "10 percent defiant."
At the ripe age of thirteen, she had already resolved to "keep the crazy inside my head where it belonged. Forever. But here's the thing about crazy: It. Wants. Out." In
Scrappy Little Nobody
, she invites readers inside her brain, sharing extraordinary and charmingly ordinary stories with candor and winningly wry observations.
With her razor-sharp wit, Anna recounts the absurdities she's experienced on her way to and from the heart of pop culture as only she can—from her unusual path to the performing arts (Vanilla Ice and baggy neon pants may have played a role) to her double life as a middle-school student who also starred on Broadway to her initial "dating experiments" (including only liking boys who didn't like her back) to reviewing a binder full of butt doubles to her struggle to live like an adult woman instead of a perpetual "man-child."
Enter Anna's world and follow her rise from "scrappy little nobody" to somebody who dazzles on the stage, the screen, and now the page—with an electric, singular voice, at once familiar and surprising, sharp and sweet, funny and serious (well, not that serious).
Man, I am not sure what to think of this one, mostly because it was not really what I expected it to be. About halfway through the book I almost felt like giving up, but I am happy that I read until the end, because it does get better (I know a lot of people think you should not have to wait til the end for something to get good, but I think it was worth it with this one). And it is not like the first part was horrible. It just wasn't what I expected it would be.
I saw Up in the Air around the time it premiered, and I am of course familiar with the first few Twilight Saga films (I think I still haven't seen the very last film, which Kendrick makes reference to here), but it wasn't really until Pitch Perfect that I fully took notice of Anna Kendrick. I love Pitch Perfect, I think it is a brilliant film, and Anna Kendrick is amazing in it.
When I have read books similar to this, like those written by Mindy Kaling, Amy Poehler and Tina Fey, I have known much more about the authors before starting with the books. With Anna, I feel like I didn't know much, if anything, about the early days of her career (I had no idea she had been on Broadway). While I found those interesting, I couldn't really enjoy the ride, because I just continually kept waiting for essays about something I already know about her.
Kendrick has taken a very chronological approach with her essays, proceeding from her childhood and the early days of her career to her late-teens at Los Angeles, and from there to her growing fame. While this approach might seem the most logical one, after finishing with the book, I kept thinking how much more I would have personally enjoyed it if the essays were a bit more sporadically spread. Thus, I wouldn't have had to wait til the very end to read about the Anna Kendrick I know through her more recent work.
Anna Kendrick on screen in funny, but I am not so sure whether Anna Kendrick on page is my cup of tea, when it comes to humoristic content. I love dry, sarcastic humor, which I think Kendrick represents on screen, but her version of it on page just didn't fully deliver. There are some chuckle worthy moments there, but in general, I was kind of surprised of the fact that this book was a lot less funny than I expected it to be.
But hey, I need to bring up one of the greatest things I have ever read, which is this:
"If you think girls are supposed to object to sex until they find themselves incapable of resisting your magic penis, fuck you."
If all goes well, Kendrick has decades left in Hollywood, which means that she can come up with several more books like this. If you are looking for tales about Kendrick in Hollywood, maybe wait for the next installment. But if you are interested in Kendrick and her background, her days of struggling as a young actress in a shared L.A. apartment, then this might be just for you.
"I think self-doubt is healthy. And having to fight for the thing you want doesn't mean you deserve it any less."
"I gave up on being Nice. I started putting more value on other qualities instead: passion, bravery, intelligence, practicality, humor, patience, fairness, sensitivity.
"I will always put work before relationships, I will always think that children aren't for me, I will always find Buccaneer Days baffling."