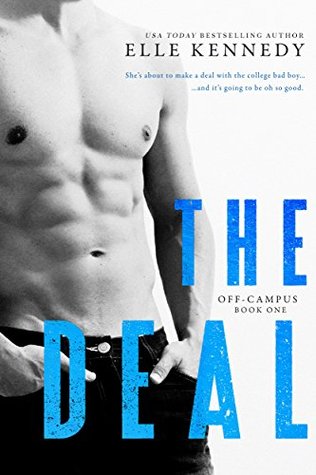 Release date: February 24, 2015
Author links:
Goodreads
-
Twitter
-
Website
Pages: 358
Purchase links:
Amazon
-
Book Depository
-
Adlibris
Description (from Goodreads):
She's about to make a deal with the college bad boy...

Hannah Wells has finally found someone who turns her on. But while she might be confident in every other area of her life, she's carting around a full set of baggage when it comes to sex and seduction. If she wants to get her crush's attention, she'll have to step out of her comfort zone and make him take notice…even if it means tutoring the annoying, childish, cocky captain of the hockey team in exchange for a pretend date.

...and it's going to be oh so good.

All Garrett Graham has ever wanted is to play professional hockey after graduation, but his plummeting GPA is threatening everything he's worked so hard for. If helping a sarcastic brunette make another guy jealous will help him secure his position on the team, he's all for it. But when one unexpected kiss leads to the wildest sex of both their lives, it doesn't take long for Garrett to realize that pretend isn't going to cut it. Now he just has to convince Hannah that the man she wants looks a lot like him.
Let's just start by saying that I FREAKING LOVED THIS BOOK! I feel like this is the book I have been wanting to read ever since I read the first book in Cora Carmack's Rusk University series - a book with a college setting, romance and athletes playing a sport so near and dear to my heart - ice hockey!
Hannah has left her hometown behind to attend college and focus on her passions, mainly singing. With her past still majorly playing a role in her present, she hasn't fully engaged in the college experience due to an emotional and traumatic baggage she has been carrying around since she was fifteen years old. When she sees Justin, the star of the football team, in her ethics class, she forms a kind of crush on him she has never experienced before. As an artist, Hannah moves in the different circles with the jocks, but she gets vibes from Justin that make her believe he is kind, gentle, intelligent and pretty much the kind of guy she has been dreaming for her whole life. Too bad she is invisible for Justin and way too shy and nervous to actually make a move.
Garrett is the star of the hockey team and the son of a famous hockey player. He is cocky, confident, handsome and extremely sexy - and he definitely knows that. He has a reputation of being a playboy, and to Hannah, he is the king of the jocks, the kind of guy she has nothing in common with. When Garrett asks Hannah to tutor him for an exam he has to retake for the ethics class, Hannah's instant answer it "NO WAY". But Garrett is very determined to get Hannah to help him, and as he notices Hannah's crush on Justin, he realizes that if Hannah helps him, he can help Hannah. So the two make a deal - Hannah will tutor Garrett while Garrett will help Hannah lift her status which in turn will help her to become desirable for Justin. Of course, things do not go as planned...
The description calls Garrett "bad boy", but I don't think that is really the correct categorization for him. Sure, he is cocky and confident and sleeps around, but he is not the kind of bad boy you sometimes find from novels like these, aka violent or aggressive. Actually, the more I got into this book, the more it proved to me what a good guy Garrett really is. That of course lead to me absolutely falling in love with him. I love his confidence and his sense of humor, but there is also an extremely vulnerable side of him that made me swoon. Most importantly, he is respectful and caring and honest.
Hannah is such a likable character to read about. Despite the horrible things that have happened to her in the past, she is strong and independent, and willing to see the positives in her life. She is caring, funny, and not afraid to admit to her mistakes and misconceptions. The way her relationship develops with Garrett is extremely well done, and I loved the fact that for a long time, they are just friends.
With this being a new adult novel, there is sex scenes in here, which I loved, by the way. I loved the intimacy between Hannah and Garrett, and the trust between the two. I also loved the respectful way Garrett treats Hannah and never forces her into anything she doesn't want to do. The intimate scenes between the two are HOT HOT HOT! I loved how "natural" the intimacy between the two feels, and how they can be themselves with each other. There is very little awkwardness and whole lot of hotness and chemistry and all that good stuff.
I am a big fan of family plot lines in contemporary novels, and this one definitely delivers on that front as well. The relationship between Hannah and her parents is colored by her past, while the relationship between Garrett and his father is very much tied to the expectations his father has on him. While the relationship between Hannah and Garrett develops, these family relationship will also play a huge role within the development of the story, and I think Kennedy does an exceptional job in intertwining all these elements. The pacing of the novel is executed amazingly, and as I started reading, I soon realized that it was quite difficult to put this book down.
As you can probably sense from my overuse of the word "love", I absolutely adored this book! Garrett will definitely be added to my list of hot book boyfriends and he definitely gets bonus points for being a hockey player. As a fan of hockey, I appreciated the actual game scenes and the behind the scenes stuff, and oh my, just the idea of reading more about this team makes me so freaking excited.
So yes, this book was perfection. Here are gifs of the guy who is also perfection, aka the hockey player I thought about while reading about Garrett...
WHY WOULD YOU EVEN WRITE ABOUT OTHER KIND OF ATHLETES IF YOU CAN WRITE ABOUT HOCKEY PLAYERS? RIGHT?