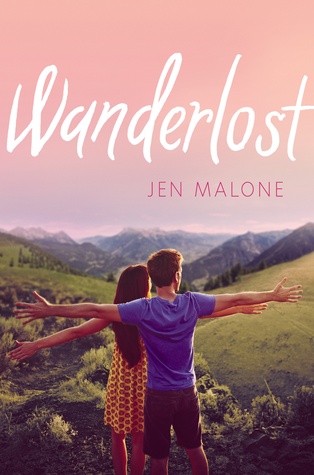 Release date:
May 31st, 2016
Author links:
Goodreads
-
Twitter
-
Website
Publisher:
HarperTeen
Pages:
352
Purchase links:
Amazon
-
Amazon UK
-
Amazon CA
-
B&N
-
Book Depository
-
IndieBound
-
iTunes
-
Google Books
-
Adlibris
Description (from Goodreads):
Not all those who wander are lost, but Aubree Sadler most definitely is on this novel's whirlwind trip through Europe.
Aubree can't think of a better place to be than in perfectly boring Ohio, and she's ready for a relaxing summer. But when her older sister, Elizabeth, gets into real trouble, Aubree is talked into taking over Elizabeth's summer job, leading a group of senior citizens on a bus tour through Europe.
Aubree doesn't even make it to the first stop in Amsterdam before their perfect plan unravels, leaving her with no phone, no carefully prepared binder full of helpful facts, and an unexpected guest: the tour company owner's son, Sam. Considering she's pretending to be Elizabeth, she absolutely shouldn't fall for him, but she can't help it, especially with the most romantic European cities as the backdrop for their love story.
But her relationship with Sam is threatening to ruin her relationship with her sister, and she feels like she's letting both of them down. Aubree knows this trip may show her who she really is—she just hopes she likes where she ends up.
Wanderlost
represents the reader with a kind of a dream scenario, a summer trip of a life time. When all of the aspects of it are put together it does not seem very realistic, but I think with a book like this it is not even necessary, because the interesting and likable characters and the swoonworthy guy make it a fun, relaxing summer read perfect for the beach or the pool.
Aubree feels most comfortable at home and has never really felt a need to travel. Unlike her sister, who seems to be always on the move, Aubree is looking forward to her summer before entering to college close to her home so she can still live with her parents. When Aubree's sister Elizabeth takes responsibility of something unplanned, her summer plans go down the toilet and she realizes that in order for her future to go as she has planned, she needs to find someone to substitute her as a guide on a senior road trip to Europe. Aubree is not at all interested when Elizabeth asks her to go to Europe instead of her, but eventually she feels like she has no other option. She packs her backs and to Europe she goes.
While Aubree is not at first into the idea of leaving home, I loved the fact that she eventually starts to embrace the idea of seeing the world - she is EXTREMELY privileged and if a character in such a position constantly complains, I lose my patience very soon (Royally Lost, I AM TALKING ABOUT YOU!) The seniors in Aubree's group are extremely entertaining and add a lot of humor to the book.
Sam, the guy Aubree meets on the trip, is super cute and the exchanges between them are witty and fun to read about. I would like to point out though that I think there was a lot of unnecessary awkwardness between them - for example Aubree is ashamed of what she likes to eat and that turns into a whole web of ridiculous lies. Those moments make this novel very cliche and at points I had a hard time seeing past them.
Wanderlost is nothing monumental, but it does make an entertaining summer contemporary if you are looking for one.