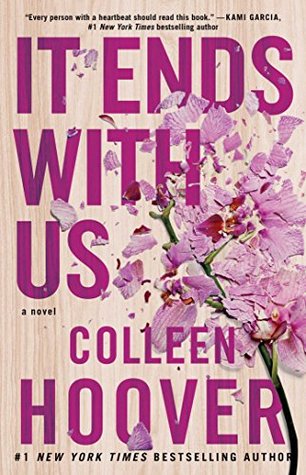 Release date:
August 2, 2016
Author links:
Goodreads
-
Twitter
-
Website
Publisher:
Atria Books
Pages:
384
Purchase links:
Amazon
-
Book Depository
Description (from Goodreads):
Lily hasn't always had it easy, but that's never stopped her from working hard for the life she wants. She's come a long way from the small town in Maine where she grew up—she graduated from college, moved to Boston, and started her own business. So when she feels a spark with a gorgeous neurosurgeon named Ryle Kincaid, everything in Lily's life suddenly seems almost too good to be true.
Ryle is assertive, stubborn, maybe even a little arrogant. He's also sensitive, brilliant, and has a total soft spot for Lily. And the way he looks in scrubs certainly doesn't hurt. Lily can't get him out of her head. But Ryle's complete aversion to relationships is disturbing. Even as Lily finds herself becoming the exception to his "no dating" rule, she can't help but wonder what made him that way in the first place.
As questions about her new relationship overwhelm her, so do thoughts of Atlas Corrigan—her first love and a link to the past she left behind. He was her kindred spirit, her protector. When Atlas suddenly reappears, everything Lily has built with Ryle is threatened.
Oh my, this just wasn't for me AT ALL. I didn't hate it as much as I thought I would after the first hundred pages or so, but It Ends with Us just wasn't the kind of reading experience I expected from Colleen Hoover.
Growing up, Lily got used to hearing her mother being beaten by her father. At first her father always said sorry and told it would never happen again, but as time went by, it became clear to everyone that it would not stop. The one way Lily's mother could get rid of the violence was by leaving. But how can you leave someone you love even when that person hurts you?
This whole "How can you leave someone you love, even if he hurts him" question becomes very prominent in It Ends with Us. As Lily starts navigating her own adult life, she meets Ryle, a handsome surgeon with a dark past (how surprising!). As their relationship gets deeper, Lily starts to realize that Ryle might share some characteristics with her recently deceased father. Characteristics Lily swore she would never invite to her own life.
Ryle is the ABSOLUTE WORST and even though the reader is probably meant to fall in love with him at first like Lily does, there is no way I could feel anything positive for a guy like that. He is arrogant (not in a good way) and violent and even before they enter into a relationship, the warning signs are there! He is probably supposed to be this great romantic hero at the beginning of the novel, but NO! He, for example, comes to Lily's door and begs for sex on his knees - apparently having sex once could help him forget her. As the novel processes I hated Ryle more and more and though Hoover does a fairly good job narrating Lily's thoughts and hesitations, I felt like something was missing. Throughout the novel, even at the beginning, Lily and Ryle lack any sort of chemistry and it feels like they don't really even know each other that well - they just have sex and then suddenly get very serious. If they would have had this epic love story that then turned sour I think I would have had an easier time understanding Lily's mindset and why she is hesitating.
When Lily was a teenager, she helped out a guy called Atlas who ended up becoming her first love. She hasn't seen Atlas for years, but he is still very much present in the novel through Lily's old diary entries. While Atlas was part of her life, Lily wrote "letters" to Ellen Degeneres, telling about her life and her love for Atlas. I feel like the Ellen-bit is a publicity stunt (like hey Ellen I mention you in my book) and completely unnecessary - the entries would read similarly without the whole "Dear Ellen" bit and occasional mentions of Ellen's show. Nevertheless the diary entries are a nice addition to the story and definitely made me like Atlas a lot more than Ryle. There is no love triangle in It Ends with Us, but relationships past and present start to merge and become the cause for both hurt and healing.
I formed my opinions about this book quite early and I feel like my early earned hatred for Ryle kept me quite negative throughout the book. In addition to Ryle being a total dick, I constantly felt like TOO MUCH was happening. The novel jumps quite a bit in time, and the very sudden twists and turns made me feel like I was reading a script for a soap opera. The characters remain quite one-dimensional and lack depth and I constantly kept looking for something to grab into so I could get more into the story. Atlas is a shining light within the story and a character I wish would have been more prominent within the narrative - he is pretty much the only character who kept occasionally reminding me why I have enjoyed some of Hoover's previous novels.
I know I am in the minority with my thoughts (the Goodreads rating for this novel is something ridiculous like 4.6 at the moment), which I think makes it even more important for me to write my thoughts down. I am definitely not giving up with Colleen Hoover though because she has written novels that I have absolutely loved. It Ends with Us just wasn't one of those stories for me.
"Did you just knock on twenty-nine doors so you could tell me that the thought of me is making your life hell and I should have sex with you so that you'll never have to think of me again?"
"His head drops between his shoulders and he shakes it back and forth. He pushes off the door and stands up straight. He half-turns, heading for the hallway, but then suddenly drops to his knees in front of me. He wraps his arms around my waist. "Please, Lily", he says through self-deprecating laughter. "Please have sex with me." He's looking up at me with puppy dog eyes and a pathetic, hopeful grin."
"I want you so, so bad and I swear, once you have sex with me you'll never hear from me again. I promise."
"I'm not the kind of guy who needs someone more than once."
"There's a three-second pause where I think this could go one of two ways. He's going to leave me. Or he's going to hurt me."