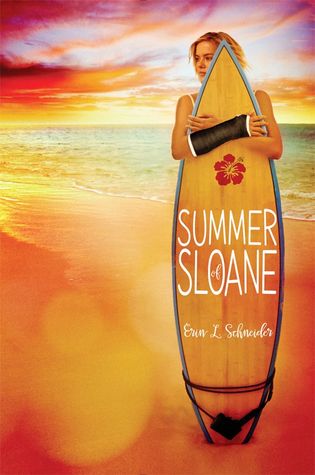 Release date:
May 3rd, 2016
Author links:
Goodreads
-
Twitter
-
Website
Publisher:
Disney-Hyperion
Pages:
291
Purchase links:
Amazon
-
Book Depository
Description (from Goodreads):
Warm Hawaiian sun. Lazy beach days. Flirty texts with her boyfriend back in Seattle.
These are the things seventeen-year-old Sloane McIntyre pictured when she imagined the summer she'd be spending at her mom's home in Hawaii with her twin brother, Penn. Instead, after learning an unthinkable secret about her boyfriend, Tyler, and best friend, Mick, all she has is a fractured hand and a completely shattered heart.
Once she arrives in Honolulu, though, Sloane hopes that Hawaii might just be the escape she needs. With beach bonfires, old friends, exotic food, and the wonders of a waterproof cast, there's no reason Sloane shouldn't enjoy her summer. And when she meets Finn McAllister, the handsome son of a hotel magnate who doesn't always play by the rules, she knows he's the perfect distraction from everything that's so wrong back home.
But it turns out a measly ocean isn't nearly enough to stop all the emails, texts, and voicemails from her ex-boyfriend and ex-best friend, desperate to explain away their betrayal. And as her casual connection with Finn grows deeper, Sloane's carefree summer might not be as easy to find as she'd hoped. Weighing years of history with Mick and Tyler against their deception, and the delicate possibility of new love, Sloane must decide when to forgive, and when to live for herself.
Secrets, lies and Hawaii.
A day before she is supposed to travel to Hawaii with her twin brother Penn to spend the summer with their mother, Sloane learns that her best friend Mick has slept with her boyfriend Tyler. With a shattered heart, a feeling of betrayal and a fractured hand (why her hand is broken will be explained early on in the novel) she embarks on a summer trip that seems like a bust from the very beginning. How can she enjoy anything when it feels like her whole world is falling apart?
Once at Hawaii, Sloane meets Finn, the son of a hotel owning millionaire. She starts to give swimming lessons to Finn's younger sister and eventually Finn and Sloane start to hang out outside the swimming pool. Finn is handsome and funny, but Sloane is not sure whether her heart is ready for anything romantic. But Finn is also a wonderful distraction, someone who keeps her away from her phone at all times, and eventually Sloane cannot resist her pull for him. But can she really be crushing on someone new when things were left unsolved at home? And is everything with Tyler really over?
I have been excited about this novel ever since I first heard about it, mostly because the description makes it sound like a perfect summer read. And don't get me wrong, I really liked this one, but it wasn't really what I expected. I guess I was expecting something easy and breezy, but ended up finding something a bit more serious. Summer of Sloane falls to cliches at times, but also feels extremely real. It doesn't sugar coat the emotions Sloane goes through from heartbreak to family relationships. It shows how jumping to conclusions too quickly often comes with consequences and proves that people can learn from their mistakes if you give them a chance for that. While I might not personally agree with some of the decisions Sloane makes or the actions she engages in, I felt like Schneider is able to capture the feelings of teenagers very well (and perhaps, as a teenager, I would have been able to relate with Sloane on a different way).
I wish there would have been more about Finn's backstory in this, because I feel like his family dynamics would have made an interesting read. The characterization of Mick and Tyler, at points, felt also quite one-dimensional. They are not completely evil, but especially Mick is a character I would have like to have known more of. What Mick and Tyler do is horrible, and I would have had a hard time forgiving them myself, but knowing more about their thinking would have added some depth to this novel. At the end of the day though this is the story of Sloane (as the title indicates) and as a story of a girl trying to keep going after a huge blow and disappointment, Summer of Sloane did not disappoint.
Why am I constantly getting so wrapped up in someone else that I stop seeing what's important to me?
I was listening to this song from my iPod while biking home one night and the lyrics instantly made me think of this book. Especially this line resonates so well with Sloane, Mick and Tyler:
"There'll be times when someone you know
Becomes someone you knew
But you'd do anything to change it"