For more information on Top Ten Tuesday click
here
.
Though historical fiction is not something I read often, once in a while there is nothing better than diving into a really good historical novel.
In general, I usually tend to navigate towards historical novels that are to some degree based on real people or actual events and especially novels that deal somehow with the entertainment industry or societal issues of the time.
I will first list some historical novels I've read and loved, after which I will move into introducing a couple of particular historical times/settings/events I would love to see being used, especially in context of young adult literature.
HISTORICAL NOVELS I'VE READ AND LOVED
The Phantom of the Opera
by Gaston Leroux - I was on 7th grade when my music teacher showed a clip from
The Phantom of the Opera
in our class. From that 3 minute clip, I was able to see that it was something I desperately had to see. My mom got me the DVD and I became obsessed (many of my friends from that time still reminiscence my sudden
Phantom
obsession). Obviously, I had to read the book too, and though it is very different than the musical/film, I loved it too! Both the historical setting and the location the events take place are so fascinating and this is period I would definitely like to read more about at some point.
Things Fall Apart
by Chinua Achebe - I read this book back in high school probably like 6 years ago and I am highly considering rereading it now because it would go well with this postcolonial theory class I am taking at the moment. This book was fascinating to me because it dealt with a historical setting/situation that was quite foreign to me and thus made me aware of some issues I had not thought about before. It is also really beautifully written book that will definitely make you think. Also, I think the fact that it is a novel about Africans written about an African is really important and offers an extremely interesting perspective!
Suuri Illuusioni
by Mika Waltari - Finnish author Mika Waltari is probably most well-known abroad for his historial novel
The Egyptian
(a book I unfortunately haven't read yet!) but while thinking about this list, Waltari's debut novel
Suuri Illusioni
came into my mind. Waltari was twenty years old while writing it in Paris and I think the rebellion and freedom of youth are so visible and tangible from that book! It's set in the 1920s, which is a setting I always love, especially when it allows me to "experience" the 1920s in a setting other than the United States. Though I very rarely read in Finnish, I think the prose in this one was very engaging and interesting and definitely made me want to check out more of Waltari's writing (he actually wrote also film scripts at the time and is the screenwriter of one of the most-watched film in Finland from year 1941 called
Kulkurin Valssi
).
All the Light We Cannot See
by Anthony Doerr - The fact that this was my favorite book I read in 2015 should tell you how much I adored this book! I was kind of hesitant to pick it up because it is a pretty big book, but I was instantly sucked in to the beautiful writing, the alternating storylines and the level of detail Doerr has put into this beauty! I have been interested about World War 2 ever since I first learned about it in history class and I have formed an interest especially towards stories that deal with the "ordinary" people of that time. THIS BOOK IS SO GORGEOUS AND I THINK YOU SHOULD ALL READ IT!
The Age of Innocence
by Edith Wharton - I read this within the last few months of 2015 for my American literature class and ABSOLUTELY loved it! I had seen the film a couple of times, but I never expected that book to be quite so good. I love Wharton's prose and her commentary of the New York society and its customs. This book made me think, but it also made me laugh and smirk. I am a huge Jane Austen fan, and though this is different from Austen's novels, there is something in here that made me think of Austen.
HISTORICAL PERIODS/EVENTS I WOULD LOVE TO READ ABOUT (IN YOUNG ADULT LITERATURE)
(IF YOU KNOW OF YOUNG ADULT NOVELS THAT ARE SET DURING THESE TIME PERIODS OR FOCUS ON THESE EVENTS, PLEASE LET ME KNOW!)
New Hollywood/American New Wave (mid-1950s to early 1980s)
The New Hollywood/American New Wave period - As some of you might know, I am a film graduate and currently working on post graduate degree. While I was doing my film degree, this New Hollywood/American New Wave period of American film making was something I focused on quite extensively and I think it would make an amazing setting for a historical young adult novel. Most critics agree that New Hollywood began in the mid-to-late-60s with the release of Arthur Penn's Bonnie and Clyde and ended in the early 80s (there are different interpretations of the end year of the period). Basically, New Hollywood was a period of filmmaking during which a lot of these big-time directors of these days started like Clint Eastwood, George Lucas, Terrence Malick, Martin Scorsese and Steven Spielberg. The Hollywood studio system was crumbling and these so-called "film brats" (film school educated young filmmakers) took influences from European cinema to create something that differed quite a bit from the technicolor musicals the studios were trying to get money with.
With equipment getting more lightweight and less expensive, the filmmakers moved away from the constraints of the studios and started to use their surroundings as settings for their films. There were also people like Roger Corman who gave funding to new talent; for example Jack Nicholson was involved with Roger Corman's productions at the beginning of his career.
I think the atmosphere of Hollywood at the time would make for an extremely interesting YA novel. There were a lot of parties, a lot of drugs, a lot of experimentation and a lot of amazing films! I am almost tempted to write something set during this time period myself!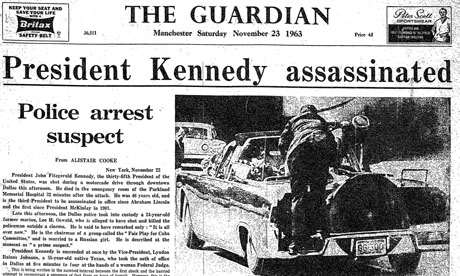 The assassination of John F. Kennedy (November 22, 1963)
So much has been written about this day,but I have never come across a young adult novels dealing with it. I have been interested in the Kennedys since I was a kid and especially the different theories surrounding JFK's assassination have always interested me and I have tried to read about it as much as possible. So much has been written about the events of that day that I think it would really awesome if a YA author were to use that setting somehow in a historical novel.
Wounded Knee at 1973
Wounded Knee "Incident" began in 1973 when followers of the American Indian Movement seized and occupied the town of Wounded Knee on the Pine Ridge Indian Reservation in South Dakota. This seize lasted for 71 days and brought the ideas of the American Indian Movement forward to a larger audience (Marlon Brando declined his Oscar for The Godfather and asked an Indian actress Sacheen Littlefeather to attend the ceremony instead of him to bring awareness to the events happening at Wounded Knee).
Due to the nature of the events, I would be especially interested in a novel from the perspective of an American Indian (most of the protesters were Oglala Lakota).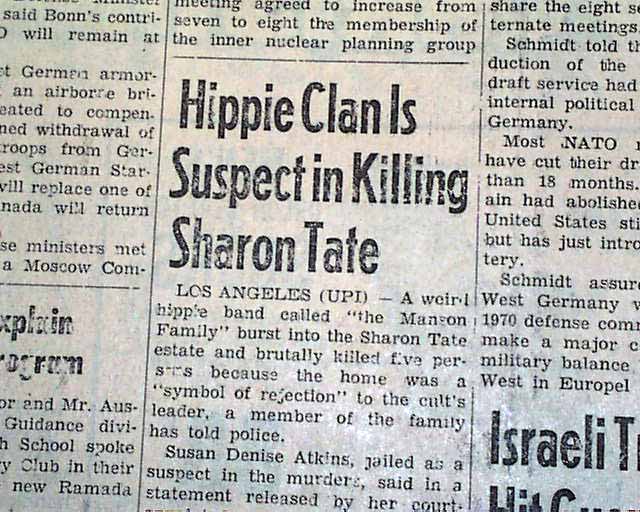 Charles Manson, Manson Family & Murders
Okay, now that I think about it, this might be a bit too heavy of a subject for a young adult novel, but there certainly ways this could be approached for a younger audience as well (and other hand, there are some pretty messed up topics that young adult novels have dealt with, so why not this). The reason I think this is would make an interesting is the fact that most of Manson's female "followers" were quite young (most of them met Manson when they were around 19 years old) - they met this charismatic man who made them promises of something better but just ended up pretty much brainwashing them. There probably are adult novels written about this (if you know any, please let me know!). I've read non-fiction titles related to this, but it would be interesting to check how this has been used in fiction.
Classical Hollywood Period
There are multiple books set during this period already (if you know any YA titles, please let me know!) but I would love reading something from a perspective of an aspiring female director/writer - women actually wrote quite a bit of films during this time - Frances Marion wrote scripts for actresses like Mary Pickford and was the first woman to win an Academy Award for Best Adapted Screenplay in 1930 for The Big House. She also worked as a journalist and was a combat corresponded during World War I, which definitely would also make a kickass story!
What are some of your favorite historical novels?