We have already passed the midpoint of February, but I didn't have time to write this until now, but here is is, a couple of days late. February ALWAYS go by so fast and I can't believe that in a bit over a week it is already March. My last week of 3rd semester kicks off on Monday and after that my schedule eases up a little bit. HOPEFULLY THEN I CAN GET OUT OF THIS HORRIBLE READING SLUMP I'VE BEEN IN FOR THE WHOLE MONTH!
If you have any recommendations of books that have taken you out of reading slumps, please let me know.
1. My postcolonial theory and media culture course
I have been taking a class on postcolonial theory and media culture since January and I can honestly say it has been one of the best classes I've taken during my almost five years of university education. It has opened up new concepts, introduced me to some amazing television and film content, and the discussions in class have been really interesting. We have talked for example about multiculturalism and humor, orientalism and stereotypes. Next week will be the last week of this class and we'll focus on black femininity/feminism - our task for Tuesday was to watch Beyonce and Nicki Minaj music videos, so that's my plan for the weekend!
2. Veronica Mars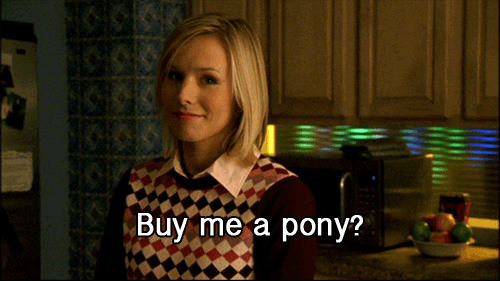 I have been meaning to watch this show for ages! It is so often mentioned in academic essays and articles about complexity in television (which is something I focus on in my master's thesis) and I feel like I knew quite a bit about it even though I had never watched it. I just started season 2 last night, and yes, I DO LOVE IT! At the beginning, I had a very hard time understanding how Logan can become someone Veronica can love, but oh my, I SEE IT NOW!
This means that there are now two fictional Logan's in my heart
3. Gilmore Girls Revival
Speaking of that other Logan... GILMORE GIRLS IS OFFICIALLY BACK AND FILMING! And we will get the new episodes already this year! As you might guess from the gif, Logan is my guy and I hope he and Rory will be endgame! Milo Ventimiglia will be back for three episodes, which has gotten the hopes of Team Jess members up, but it seems that the Life and Death Brigade will be back for two episodes, so it would seem logical that Logan is back for at least two episodes too (HOPEFULLY MORE!), because why would the L&D Brigade be there without Logan? I was tweeting about this a couple of nights ago, speculating that L&D guys are back for some sort of Yale reunion, or then more ideally, for Logan's bachelor party and Rory & Logan's wedding.
4. ONE MORE WEEK 'TIL FULLER HOUSE
I have been planning my
Fuller House
marathon for months now, and I can't believe it is almost here. My semester ends next Thursday (since I don't have classes on Friday) and I plan on going grocery shopping Thursday after class, so I can dedicate Friday to just watching
Fuller House
and crying happy tears because those episodes are probably going to be epic!
5. Sam Hunt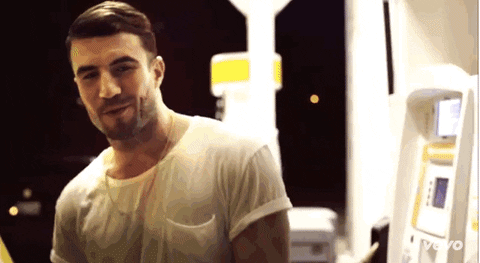 I've been listening to this guy since 2014 when his album was released, but I never knew what he looked like until earlier this week! I usually just listen to music from Spotify and honestly I'm not big on music videos, so there are a lot of artists I know by their music, not by their looks. But oh man, this man is a looker. Seriously, look at him. HIS MUSIC IS PERFECT AND HIS FACE IS PERFECT.
6. Broad City is BACK!
If you are not already watching
Broad City
, what are you doing with your life? I've had
Younger
as my
Broad City
substitute (
YOUNGER IS BRILLIANT TOO, CHECK IT OUT!)
but it is nice to have the comedic brilliance of Abbi and Ilana back! Their chemistry on screen is INSANE and I love how the show focuses mainly on their friendship rather than romance etc. I could watch this show on repeat for weeks and still not be bored.