I love TV. I watch a lot of TV. I like to write and talk about TV. So why not blog about it as well?
Fuller House
is almost here and I am FREAKING OUT BECAUSE I AM SO EXCITED! I have blogged about
Full House
before, but if you haven't seen those posts, you should just know that I
REALLY JUST LOVE FULL HOUSE A LOT!
Obviously, the premiere of
Fuller House
means that I need to go back and rewatch some of my favorite
Full House
episodes and I thought it would be fun to make some sort of list of the episodes I watch (because I know there are a lot of people out there like me who just live for lists!).
Full House premiered in 1987 and was on air for a total of 8 seasons. The finale of the show was aired in 1995. I wish I had the time to rewatch the whole series before February 26th and the premiere of Fuller House on Netlix, but since real-life responsibilities keep me away from a massive Full House binge, I had to go through the seasons and see which episodes I deemed worth a watch. So without further rambling, here they are...
Milka's Super Awesome List of Must-See Episodes of Full House
Our Very First Night (Season 1, episode 2)
I love Jesse, and one of my favorite things about him is the relationship he has with the girls, especially with Michelle. This early episode perfectly sets a stage for those relationships. There's also a music scene - John Stamos singing must me one of my favorite things ever! As the series develops, I especially love to witness D.J.'s growth, and I loved seeing her sassy side already in these early episodes. Also, John Stamos is wearing this red blouse that I would totally wear right now - it has buttons in the front and a longer back.
Joey's Place (Season 1, episode 10)
Guitar? Check! Leather vest? Check! Mullet? Check! Glasses? Check. Damn, John Stamos is just so hot! One of the things I love about Full House is how it juggles with fairly large cast, and focuses on multiple characters while still producing these episodes centered mainly on one particular character, in this case, Joey. While Joey is not my favorite character (and while I think his humor is often quite idiotic, to be honest). this episode came into my mind when I started to think about my most memorable Full House experiences. Maybe it's because of John Stamos and this hot look? Or perhaps it's that scene in the garage where Joey spurts water from his mouth while D.J. watches?
Tanner vs. Gibbler (Season 2, episode 2)
So, Kimmy Gibbler is pretty much my queen! I think this episode, where Kimmy turns 12 and brings her junior high friends to the surprise party organized by D.J. resonated so well with me due to the "girl feud" that develops between the two after Kimmy leaves the party to be with her "cooler" friends. The way this "feud" is solved, with the help of Jesse and Joey, brings the characters nicely together and as a whole, this episode tells a tale of a situation that is still probably very much a part of growing up (at least I remember situations like this being part of my early teens). This episode is also when Jesse and Becky meet for the first time (I WILL SHIP THEM TIL THE DAY I DIE)!
Beach Boy Bingo (Season 2, episode 6)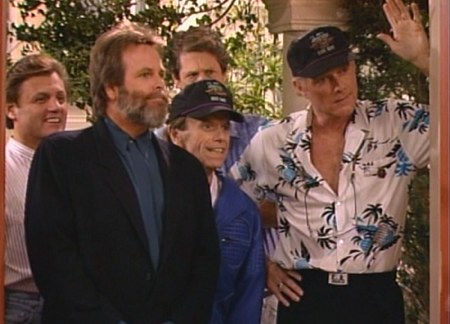 I don't know why I love these Beach Boys episodes so much, but I JUST DO! In this one, D.J. wins two tickets to The Beach Boys concert and has a hard time deciding who to take with her - Danny thinks he is the obvious choice, but also Jesse wants to go. In the end, everything is naturally solved and no one is left without a ticket - the enjoyment of the episode really comes from seeing how D.J. solves the problem and tries not to hurt no one. There's also that kickass concert scene in the end that for some reason always makes me cry.
And They Call It Puppy Love (Season 3, episode 7)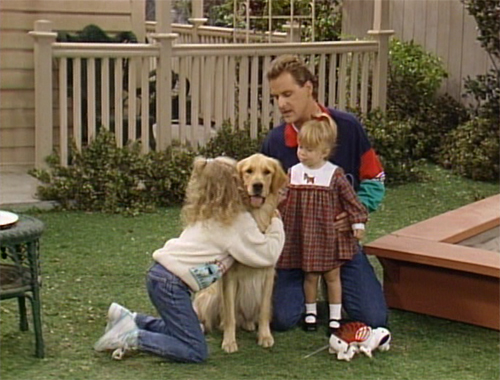 One word: PUPPIES. I am surprised it took this long for Tanner's to get a dog, because what else could make a suburban family even more perfect? I love toddler Michelle episodes, and I think this one about her love for a dog is a really touching one! I am a huge dog person and anything with a dog usually gets to me, so it is no wonder this episode made my list.
Those Better Not Be the Days (Season 3, episode 19)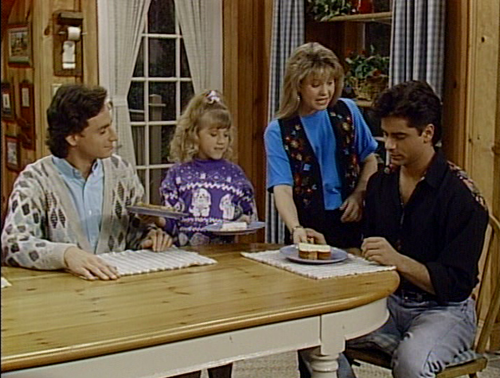 The guys are tired for the girls taking them for granted and they decide to teach the girls a lesson by forcing them to act like adults for a day. When their plan seems to be failing, they envision what the girls will be like in the future if they continue acting they are acting. Obviously, the girls are pretty much brats, but I wanted to include this here, BECAUSE NOW WE ACTUALLY GET TO SEE LIKE WHAT THE GIRLS ARE LIKE WHEN THEY GROW UP!
Shape Up (Season 4, episode 8)
It wasn't all fun and games for the Tanner's, like this episode from season 4 shows. After being invited to Kimmy's 14th birthday/pool party, D.J. gets anxious about the prospect of her friends seeing her in a swimsuit and decides to start dieting. She stops eating, and eventually collapses at a gym. After Stephanie, who is worried about D.J., tells the guys about what D.J. is doing, Danny tries to assure her that she is perfect and that her looks don't really matter that much to her friends.
Fuller House (Season 4, episode 20)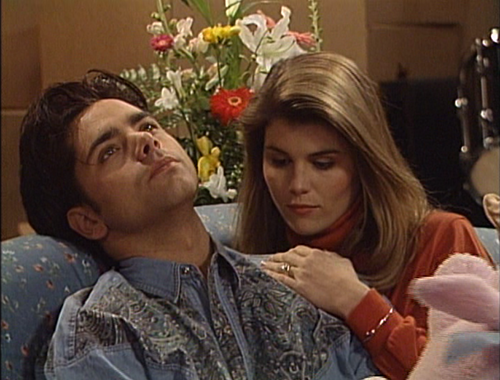 There actually was Fuller House even before Netflix's Fuller House! Jesse and Becky have gotten married and they return from their honeymoon to the Tanner House. When Becky tells Jesse that he should start packing so they can move to Becky's house, Michelle gets upset and backs her stuff so she can move in with Jesse and Becky. After Jesse tells that he has to leave without Michelle, there's a scene in which they both cry (Jesse at the doorway, Michelle on her bed) and even thinking about that scene makes me want to shed some tears. Towards the end of the episode, solution to this sadness is obviously found, and it is decided that Becky and Jesse will renovate the attic space and live there.
Captain Video - Part 1 & 2 (Season 5, episode 25 & 26)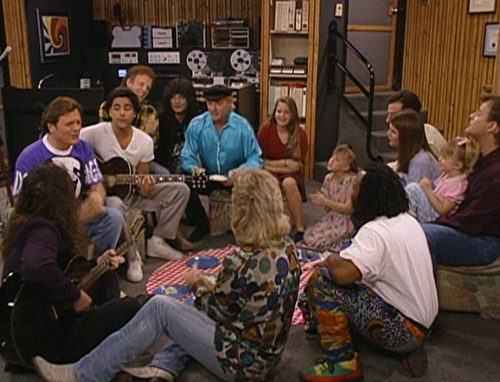 Another The Beach Boys episode! Also, since I love Jesse, it is no wonder I love this Jesse centered episode. After being fired from
The Ranger Joe Show
, Jesse starts to focus fully on music again and eventually ends up recording a single. When he is offered a recording contact, he is told that his version of
Forever
has to be turned into a dance song. After the dance song music video fails, Jesse does a music video that suits better with his style (
YOU CAN CHECK THAT BEAUTY FROM HERE
!) and that video is pretty the most beautiful and cliche thing I've ever seen - it has candles, shots of John Stamos kissing babies, and so much more.
The Last Dance (Season 7, episode 17)
This is one of the most upsetting sitcom episodes I've ever seen - WHY DID PAPOULI HAVE TO DIE? Jesse's grandfather visits the Tanner's and the family forms a bond with him. Then he dies of heart failure and Danny has to tell Michele that he has died. Michelle is obviously very upset, and by the end of the episode, it seems like only Jesse can really offer her some comfort. As I mentioned before, I LOVE the relationship between Jesse and Michelle, and here you can really see the strenght of it.
As I mentioned, I wish I would have had time to rewatch all episodes of Full House in preparation for Fuller House! But I think the episodes mentioned in this list gave me a nice welcome back to the lives of Tanners and after watching them I must say I am even more excited about the fact that VERY soon these wonderful characters will be part of my life again!
Which are some of your favorite Full House episodes? Will you be tuning in for Fuller House on Friday?