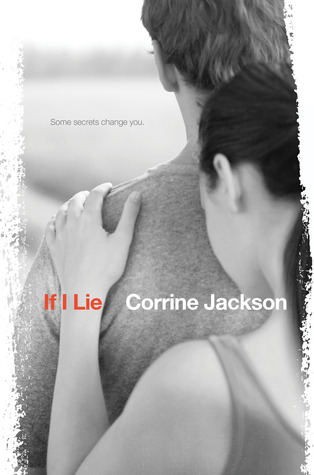 Release date: August 28, 2012
Author links:
Goodreads
-
Twitter
-
Website
Publisher: Simon Pulse
Pages: 276
Purchase links:
Amazon
-
Book Depository
Description (from Goodreads):
A powerful debut novel about the gray space between truth and perception.
Quinn's done the unthinkable: she kissed a guy who is not Carey, her boyfriend. And she got caught. Being branded a cheater would be bad enough, but Quinn is deemed a traitor, and shunned by all of her friends. Because Carey's not just any guy—he's serving in Afghanistan and revered by everyone in their small, military town.
Quinn could clear her name, but that would mean revealing secrets that she's vowed to keep—secrets that aren't hers to share. And when Carey goes MIA, Quinn must decide how far she'll go to protect her boyfriend…and her promise.
If I Lie was kind of a random, spontaneous pick for me to read. I found it while browsing through Scribd and while I had marked it as to-read on Goodreads years ago, I couldn't really remember reading anything about this book. With a fairly large amount of young adult books being published yearly, especially books that are not parts of series often have the fate of being somewhat forgotten. Though reading new book is AWESOME, I think the importance of reading backlist titles is important as well, because there are some true gems out there, like this 2012 contemporary debut by Corrine Jackson.
Quinn has grown up in a town where traditions are respected and the men who serve in the military are almost more than heroes - they are like saints. Quinn's own father served his country and now it is Quinn's boyfriend's Carey's turn to enter to the service. Everyone sees Quinn and Carey marrying and having a family as inevitable. That is what Quinn thought too. They have been friends for ages, and though she has noticed that Carey does not make her feel the way women in romance novels feel with the men they love, Quinn is comfortable with Carey... until he tells her a secret that changes everything.
After Carey ships off to Afghanistan, Quinn is caught kissing another guy. The identity of the guy is not clear to the little community Quinn lives in, but through one liplock, Quinn becomes the town slut. Who dare she kiss someone else when her boyfriend is putting himself in danger for his country? Unlike Quinn, the people around her are not aware of the secret Carey shared with Quinn, and though telling everyone the truth would probably make things easier, Quinn does not want to betray the truth of Carey. Then Carey goes missing and the possibility of him never making it home to tell the truth starts to look like a possibility.
If you are turned off my cheating plots, THIS DOES NOT HAVE ONE! The people around Quinn believe so, but the reality isn't so black and white. I just wanted to clear that out here because I would hate someone missing on this book just because of that. I am not quite sure what I was expecting from this novel, to be honest, but mainly I expected it to be more romantic, when actually it is more of a story of Quinn and the things she has to go through after promising to keep Carey's lie. I loved how Jackson tackles issues of Quinn's family life from her relationship with her somewhat distant father to her relationship with her mother, who walked away from her life when she was younger. The parallels the townies make between Quinn and her mother are interesting, and I loved the process Quinn goes through to prove that she is quite not like her mother in the end.
I've always been interested about the American military system and the things connected to it, especially when it comes to the portrayal of the lives of those who are left behind. Though that experience is not something I have had to go through, I would like to think that the way she writes about the things that happen back at home when a loved one is in constant danger. The fact that Quinn knows something no one else knows adds an interesting addition to the book, because as a reader, you know something most of the characters in the book don't know about and thus can form your own opinions about Carey and Quinn's situation from a better informed position than majority of the characters of the novel.
If I Lie wasn't quite what I expected, mostly because I expected a romantic tale. But if you are not looking for romance only, but rather a solid and well-written coming-of-age story, I think you should definitely check this one out! The characters are interesting and well-developed, the writing is beautiful and there were scenes here and there that really made me want to cry a little bit.