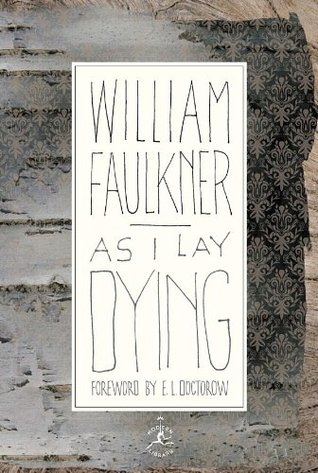 Release Year: 1930
Publisher of the pictured edition: Modern Library
Pages: 256
Purchase links:
Amazon
-
Book Depository
Description (from Goodreads):
Selected by the Modern Library as one of the 100 best novels of all time

From the Modern Library's new set of beautifully repackaged hardcover classics by William Faulkner—also available areSnopes, The Sound and the Fury, Light in August, Absalom, Absalom!, and Selected Short Stories
One of William Faulkner's finest novels,
As I Lay Dying,
originally published in 1930, remains a captivating and stylistically innovative work. The story revolves around a grim yet darkly humorous pilgrimage, as Addie Bundren's family sets out to fulfill her last wish: to be buried in her native Jefferson, Mississippi, far from the miserable backwater surroundings of her married life. Told through multiple voices,
As I Lay Dying
vividly brings to life Faulkner's imaginary South, one of literature's great invented landscapes, and is replete with the poignant, impoverished, violent, and hypnotically fascinating characters that were his trademark. Along with a new Foreword by E. L. Doctorow, this edition reproduces the corrected text of
As I Lay Dying
as established in 1985 by Faulkner expert Noel Polk.
This American Literature course I am taking right now has "forced" me to read several books that I've always seen as titles that I will get to someday and I am happy about that, because I am finding myself enjoying reading these (modern) classics much more than I expected. For a long time I have had this expectation towards classics that I don't quite know how to explain - I want to read them, but at the same time I am afraid that I am wasting time on books I don't fully get. I've been happy to note that once I actually manage to pick these books up, I really enjoy them.
To be completely honest, As I Lay Dying is one of those classics that I did not know much about before I started reading it. I know it is a book that is often on the reading list of American high school students, but since I only did a year of high school during which I was not asked to read any books, expect this shortened edition of The Crucible, I unfortunately missed on some of these wonderful classics from the American literature canon. We did read American literature in my Finnish high school, but the list did not include this one.
As I Lay Dying was published in 1930, during a time very different to ours. But though the world has changed, there is a sense of universality to this book that I found very touching. It is a about a family, about death, about religion, about the distinction between right and wrong. It is about respect, about societal rules and what happens when you break them. It is about making promises and keeping them. It is about finding your identity, about staying true to yourself, about learning from your experiences. It is also stylistically innovative and written in a way every single reader can take something away from. There are so many different ways to approach this book and probably equally many ways to understand and comprehend it.
What made this book a unique reading experience for me were the rapidly changing point-of-views of the narration. If my calculations are right, there are 15 different perspectives that are divided to 59 chapters. This means that the reader gets to experience the events that take place from perspectives that differ in age, levels of education and life experience. Some perspectives are closer to Addie, the woman who has died. Some are distant, but become closer as the novel processes. Balancing multiple points of view is difficult (sometimes even balancing a two does not work) and I think Faulkner does a brilliant job in moving his story forward while at the same time showing it to the reader through so many different eyes.
I won't go much further with this review because I want to save the good stuff for the essay I need to write about this one and the other books I have read for this course, but I do want to say something about the film adaptation of this novel. I haven't seen any of them, but I am curious now, because obviously for a film adaptation 15 different narrators/main characters is WAY too much. I was actually quite surprised that the James Franco directed film released in 2013 seems to be the only adaptation of this so far. I haven't heard super great things about the film, but I definitely plan on checking it out at some point just to see how Franco got this story transported to visual form.