"Stacking The Shelves is all about sharing the books you are adding to your shelves, may it be physical or virtual. This means you can include books you buy in physical store or online, books you borrow from friends or the library, review books, gifts and of course ebooks!"
For more information, click here.
It has been a while since I last posted for Stacking the Shelves, but since Harper put out some awesome ARCs up to Edelweiss this week, I thought I would share what I got with you. In the mix there are also a couple of titles I've acquired since my last STS post.
Frannie and Tru by Karen Hattrup (May 31st 2016 by HarperCollins)
When Frannie Little eavesdrops on her parents fighting she discovers that her cousin Truman is gay, and his parents are so upset they are sending him to live with her family for the summer. At least, that's what she thinks the story is. . . When he arrives, shy Frannie befriends this older boy, who is everything that she's not–rich, confident, cynical, sophisticated. Together, they embark on a magical summer marked by slowly unraveling secrets.
How it Feels to Fly by Kathryn Holmes (2016 by HarperTeen)
The movement is all that matters.
For as long as Samantha can remember, she's wanted to be a professional ballerina. She's lived for perfect pirouettes, sky-high extensions, and soaring leaps across the stage. Then her body betrayed her.
The change was gradual. Stealthy.
Failed diets. Disapproving looks. Whispers behind her back. The result: crippling anxiety about her appearance, which threatens to crush her dancing dreams entirely. On her dance teacher's recommendation, Sam is sent to a summer treatment camp for teen artists and athletes who are struggling with mental and emotional obstacles. If she can make progress, she'll be allowed to attend a crucial ballet intensive. But when asked to open up about her deepest insecurities, secret behaviors, and paralyzing fears to complete strangers, Sam can't cope.
What I really need is a whole new body.
Sam forms an unlikely bond with Andrew, a former college football player who's one of her camp counselors. As they grow closer, Andrew helps Sam see herself as he does—beautiful. But just as she starts to believe that there's more between them than friendship, disappointing news from home sends her into a tailspin. With her future uncertain and her body against her, will Sam give in to the anxiety that imprisons her?
For fans of Center Stage, and with shades of The Breakfast Club, this is a compelling novel about body, mind, and the courage that it takes to become who you're meant to be.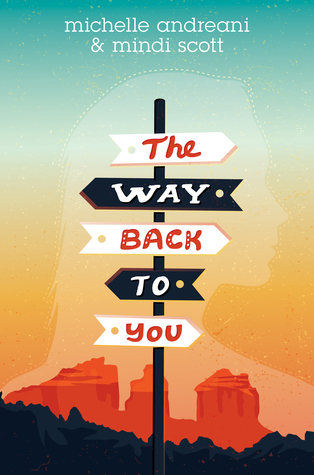 The Way Back To You by Michelle Andreani & Mindi Scott (May 3rd, 2016 by Katherine Tegen Books)
In this witty, heart-tugging novel, two teens take a spontaneous road trip across the Southwest to meet three strangers who received the life-saving organs of their late best friend—charting a journey of loss, hope, and love along the way.
Six months ago, Ashlyn Montiel died in a bike accident.
Her best friend Cloudy is keeping it together, at least on the outside. Cloudy's insides are a different story: tangled, confused, heartbroken.
Kyle is falling apart, and everyone can tell. Ashlyn was his girlfriend, and when she died, a part of him went with her. Maybe the only part he cares about anymore.
As the two people who loved Ashlyn best, Cloudy and Kyle should be able to lean on each other. But after a terrible mistake last year, they're barely speaking. So when Cloudy discovers that Ashlyn's organs were donated after her death and the Montiel family has been in touch with three of the recipients, she does something a little bit crazy and a lot of out character: she steals the letters and convinces Kyle to go on a winter break road trip with her, from Oregon to California to Arizona to Nevada. Maybe if they see the recipients—the people whose lives were saved by Ashlyn's death—the world will open up again. Or maybe it will be a huge mistake.
With hundreds of miles in front of them, a stowaway kitten, and a list of people who are alive because of Ashlyn, Cloudy and Kyle just may find their way to back to her...and to each other.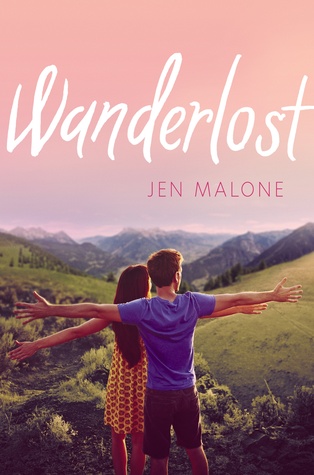 Wanderlost by Jen Malone (May 31st, 2016 by HarperTeen)
Seventeen-year-old Aubree has always idolized her adventurous older sister, even while utterly content to track Elizabeth's antics from the cozy comforts of home, in the tender care of doting parents. So when Elizabeth gets herself in "a touch of trouble" and, for the first time ever, actually needs Aubree's help, Bree is flattered but insistent.
There's no way she can do what Elizabeth is asking. Impersonate her recent-college-grad sis all summer, just so Elizabeth can score the recommendation she needs to land her dream position? Nope, nope, not gonna happen.
ESPECIALLY when Elizabeth's summer job is leading a bus tour.
A bus tour across Europe.
A senior citizens' bus tour across Europe.
And that's even before Bree finds out that the tour owner's super-cute son (who is decidedly NOT elderly) will be a last-minute addition.
Bree would have to be crazy. Or would she?
THESE ALL SOUND SO FREAKING EXCITING!
What did you add to your shelves this week?