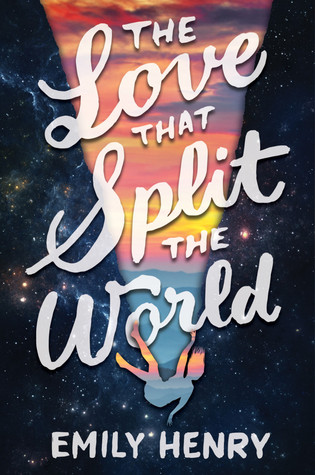 Release Date: January 26, 2016
Author links:
Goodreads
-
Twitter
Publisher: Razorbill
Age group: YA
Pages: 336
Purchase links:
Amazon
-
Book Depository
Description (from Goodreads):
Natalie Cleary must risk her future and leap blindly into a vast unknown for the chance to build a new world with the boy she loves.
Natalie's last summer in her small Kentucky hometown is off to a magical start... until she starts seeing the "wrong things." They're just momentary glimpses at first—her front door is red instead of its usual green, there's a pre-school where the garden store should be. But then her whole town disappears for hours, fading away into rolling hills and grazing buffalo, and Nat knows something isn't right.
That's when she gets a visit from the kind but mysterious apparition she calls "Grandmother," who tells her: "You have three months to save him." The next night, under the stadium lights of the high school football field, she meets a beautiful boy named Beau, and it's as if time just stops and nothing exists. Nothing, except Natalie and Beau.
Emily Henry's stunning debut novel is Friday Night Lights meets The Time Traveler's Wife, and perfectly captures those bittersweet months after high school, when we dream not only of the future, but of all the roads and paths we've left untaken.
First up, LETS TALK ABOUT THAT COVER! It really is a thing of beauty. In fact, it is so gorgeous that I would love to have it as a poster on my wall, right next to my bed. And let me tell you, that's a prime spot for a poster. So whoever designed that cover - FREAKING GOOD JOB! If I ever write a book, I would want you to design my cover.
Now that the cover admiration is over (I MEAN LOOK AT IT), it is time to talk about the book itself. My expectations were extremely high, probably the highest for any 2016 release I've heard about so far. Expectations can be dangerous, and I feel more often than not, the book itself does not match all of the anticipation and excitement I've centered around it. That wasn't the case with The Love that Split the World. This book completely and utterly blew me away and provided me with a memorable reading experience.
If you are familiar with my blog or my previous reviews, you might know that I like to drag Friday Night Lights and my lover Tim Riggins to every conversation possible. When the official descriptions for books actually mention Friday Night Lights, I am ready to party! With The Love that Split the World, there's also a mention of The Time Traveler's Wife, which I was not a huge fan of, but honestly, because that FRIDAY NIGHT LIGHTS mention is there, I don't really care (the thing is though that if it would have only mentioned The Time Traveler's Wife, I probably would not have been as excited). The FNL reference is not there for a reason. There's football involved in this story, though that definitely isn't the focus of it. And then there's Beau, who instantly reminded me of Tim Riggins. He's bit of a partyboy (at least that's his reputation), he lives with his washed out brother (Billy Riggins, anyone?) and even the way he is described to look like instantly made me see Tim Riggins (I often see Tim Riggins in many descriptions, just because he is SO DREAMY).
So, how does our main character Natalie and Beau (aka almost-as-dreamy-as-tim-riggins) meet? Well, to get an answer to that, we first need to look into Natalie. In her childhood Natalie spent many a night talking to "Grandmother", a mysterious apparition that shows up on her bedside and tells her stories that are part of Natalie's personal history. When Natalie was a baby, she was adopted by her parents from a young Native American girl who struggling with honey and the rules of her reservation saw it best to give her child elsewhere. After those first few years old ignorant bliss, Natalie started to notice that she does not exactly look like the rest of her family. Through the stories told by Grandmother, she gets a touch into her true heritage and identity.
Natalie is about to graduate and spend her last summer in Kentucky before attending college when Grandmother shows up again after three years of absence. This time she tells Natalie that she has three months to save "him" without specifying who that "him" is. The next time, the roads of Natalie and Beau get entwined and very soon Natalie realizes that Beau will play a huge role in her mission for the summer.
The characters in this book are so great! Natalie is such an interesting character to read about, and I loved the fact that as a reader, I got a chance to make discoveries about her at the same time she does. This made it easy for me to identify with her, to some extent, and more importantly, to feel for her and to connect with her on a very deep level. I also really liked the fact that there are two guys in Natalie's life without a very epic and cliche love triangle. There's Matt, Natalie's first love and ex-boyfriend who proves himself to be something completely different Natalie thought. And then there's the wonderful Beau, who's slightly mysterious and might not be heard of for days (there will be a very good explanation for that), but who's also so kind that it kind of makes Natalie want to cry.
I am also a huge fan of YA novels that involve some kind of family component, and this one has that too! The fact that Natalie is adopted creates an interesting tension between the daughter who is trying to find herself and the family that is desperately trying to prove to Natalie that she fits in despite her different heritage. I love the way Emily Henry writes the interactions between Natalie and her family, especially Nat and her mother.
For a while now, I've been a huge fan of amazing friendship narratives! And believe it or not, The Love that Split the World has that too (it really is true, this book pretty much has anything I want from a YA novel). The friendship between Natalie and her best friend Megan is complex, loving, filled with humor and not without its problems. They do not agree about everything and their friendships is not just pillow fights and talking about boys (okay I don't remember when I actually read a friendship story that was like this, but you probably get my point), which makes them much more real. They are not afraid to laugh at each other and I got the feeling that whatever they come across, they will get through it with each other's support.
I bet a lot of the things I have mentioned in this review so far instantly make you think about a contemporary novel (expect maybe the randomly appearing grandmother), but The Love that Split the World is so much more. There's an element of time travel in it which adds an element of the fantastical to it. Then there's also this aspect to the novel that introduces the reader to psychological terms and practices through the counselling Natalie does in an attempt to get in contact with Grandmother to gain more information about her mission. The stories Grandmother tells to Natalie also add an element of fantasy to the story as well as an almost dream-like quality.
Emily Henry writes with so much detail that at no point while reading this I felt like "naah, this does not just feel real/explained enough/logical". From page one until the very end, I was extremely immersed with this story and couldn't stop turning the pages so I could learn what happens to Natalie, her family, Beau, Matt, Megan and the others. While reading this book, I continually had the sense that Emily Henry has put so much passion and research and love towards the details of this story and its characters.
The Love that Split the World is a marvel of young adult literature, a beautiful and vivid tale about family, trust, heritage and first love. It took my breath away, provided me with an extremely enjoyable reading experience and proved to me, once again, why I love young adult literature so damn much.