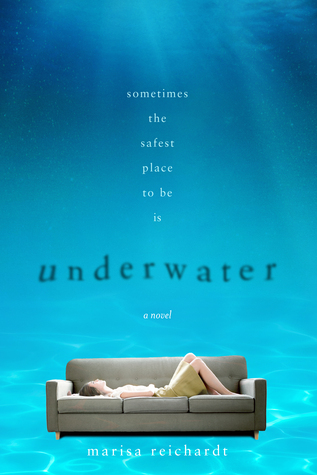 Release date: January 12, 2016
Author links:
Goodreads
-
Twitter
-
Website
Publisher: Farrar, Straus & Giroux
Age group: YA
Pages: 288
Purchase links:
Amazon
-
Book Depository
(Review copy from Netgalley)
Description (from Goodreads):
Morgan didn't mean to do anything wrong that day. Actually, she meant to do something right. But her kind act inadvertently played a role in a deadly tragedy. In order to move on, Morgan must learn to forgive—first someone who did something that might be unforgivable, and then, herself.
But Morgan can't move on. She can't even move beyond the front door of the apartment she shares with her mother and little brother. Morgan feels like she's underwater, unable to surface. Unable to see her friends. Unable to go to school.
When it seems Morgan can't hold her breath any longer, a new boy moves in next door. Evan reminds her of the salty ocean air and the rush she used to get from swimming. He might be just what she needs to help her reconnect with the world outside.
Underwater is a powerful, hopeful debut novel about redemption, recovery, and finding the strength it takes to face your past and move on.
Oh man, this is one of those books that's really hard to review for two reasons. One, I did not want to give away any of the mystery of the book and thus spoil it for someone. Two, I ABSOLUTELY FREAKING LOVED IT AND WRITING REVIEWS FOR BOOKS THAT I JUST WANT TO SHOUT LOVING THINGS ABOUT IT DIFFICULT.
I want to start by suggesting that you ADD THIS TO YOUR GOODREADS RIGHT NOW, PREORDER IT AND THEN START TO COUNT DAYS FOR JANUARY 12TH BECAUSE WITH THIS BOOK, YOU ARE IN FOR A TREAT.
I had heard good things about Underwater from some of my blogging pals, but I never expected it to be this good. And I am kind of happy I didn't, because though I generally do not like surprises, being surprised by a book is one of the best things I know.
Underwater focuses on Morgan who hasn't left her apartment for months. Instead of going to normal high school, she has spend most of the junior year taking online classes that allow her to stay inside in her pajamas. She has a rhythm - take classes, watch TV, eat tomato soup and grilled cheese sandwiches every day for lunch. Why does not Morgan go outside, you may ask? She is scared. She is afraid of losing control. She is terrified of the things that can happen to her if she leaves the protective walls of the apartment. She feels like danger lurks everywhere. No place is safe, expect her apartment. And going to a normal school, living normal life like she used to, feels like something she can never do again.
When Evan moves to the apartment next door, he brings with him the smell of ocean and sun. He reminds Morgan of the time before her life came crashing down. He gives her hope of maybe someday being okay again. But unlike Evan, Morgan cannot go outside, even if a part of her would want it. Morgan does not want to burden Evan with her reality, but at the same time she feels like Evan might be able to help her. And maybe Morgan can help Evan too, since she knows something about what happened to someone close to Evan.
There's much more to this book than the slowly budding relationship of Morgan and Evan. I loved the relationship between Morgan and Brenda, the therapist Morgan sees twice a week. This kind of patient-therapist relationships are extremely important because of the stigma that is still unfortunately present. I feel like too often relationships like this are portrayed without proper research and because of that they are flat, prejudiced and tend to support the stigmatized attitudes. Reichardt carefully and skillfully builds the relationship between Morgan and Brenda, showing the benefits of therapy and what goes into the process.
There's also wonderful family dynamics found from this novel. I loved the relationship between Morgan and her little brother who does not quite understand why Morgan is staying inside, but manages to provide her with support, love and distractions. The dynamic between Morgan and her mother is also extremely interesting, especially after Morgan's distant father is added to the mix.
Reichardt writes so well and in a way that made it impossible for me to put this book down. The way she writes the thoughts and feelings of Morgan is extremely touching and easy to connect with despite the fact that I have never experienced the things Morgan goes through. By the end of this book, I had tears in my eyes, because the power of Reichardt prose and characterization managed to take me by storm.
There was an element to this book that I did not expect at all. I don't want to spoil it to anyone because I loved the process of figuring it out, puzzling together the pieces of information Reichardt gives, but I can say that it has something to do with why Morgan is so afraid.
Though the subject matter of the book and the things Morgan goes through can get very dark, this novel has an incredible sense of hope and new changes that are up for grabs as soon as soon as Morgan feels like she's ready. Underwater is an incredibly promising, mind-blowingly good debut novel that makes me eagerly anticipate Reichardt's future as an author.