"Stacking The Shelves is all about sharing the books you are adding to your shelves, may it be physical or virtual. This means you can include books you buy in physical store or online, books you borrow from friends or the library, review books, gifts and of course ebooks!"
For more information, click here.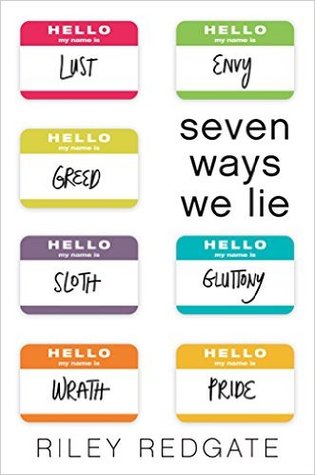 Seven Ways We Lie by Riley Redgate (March 8, 2016 by Amulet Books)
Paloma High School is ordinary by anyone's standards. It's got the same cliques, the same prejudices, the same suspect cafeteria food. And like every high school, every student has something to hide—whether it's Kat, the thespian who conceals her trust issues onstage; or Valentine, the neurotic genius who's planted the seed of a school scandal.

When that scandal bubbles over, and rumors of a teacher-student affair surface, everyone starts hunting for someone to blame. For the unlikely allies at the heart of it all, their seven ordinary-seeming lives result in extraordinary change.
The Last Great Adventure of the PB&J Society by Janet Sumner Johnson (April 2016 by Capstone Young Readers)
Some things are better together. Like peanut butter and jelly. Or Annie and Jason. So when her best friend's house is threatened with foreclosure, Annie Jenkins is bursting with ideas to save Jason's home. She could sell her appendix on eBay. (Why not?) Win the lottery. (It's worth a shot!). Face the evil bankers herself. (She's one tough cookie, after all.) Or hunt down an elusive (and questionably real) pirate treasure. Whatever the plan, it has to work, or this is undoubtedly THE LAST GREAT ADVENTURE OF THE PB&J SOCIETY.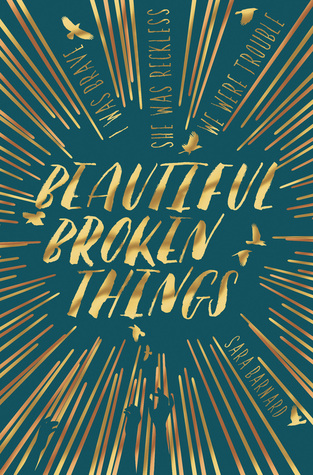 Beautiful Broken Things by Sara Barnard (February 11, 2016 by Macmillan Children's Books)
I was brave
She was reckless
We were trouble

Best friends Caddy and Rosie are inseparable. Their differences have brought them closer, but as she turns sixteen Caddy begins to wish she could be a bit more like Rosie – confident, funny and interesting. Then Suzanne comes into their lives: beautiful, damaged, exciting and mysterious, and things get a whole lot more complicated. As Suzanne's past is revealed and her present begins to unravel, Caddy begins to see how much fun a little trouble can be. But the course of both friendship and recovery is rougher than either girl realises, and Caddy is about to learn that downward spirals have a momentum of their own.
PURCHASES:
Missoula: Rape and the Justice System in a College Town by Jon Krakauer
From bestselling author Jon Krakauer, a stark, powerful, meticulously reported narrative about a series of sexual assaults at the University of Montana ­— stories that illuminate the human drama behind the national plague of campus rape
Missoula, Montana, is a typical college town, with a highly regarded state university, bucolic surroundings, a lively social scene, and an excellent football team
—
the Grizzlies
—
with a rabid fan base.
The Department of Justice investigated 350 sexual assaults reported to the Missoula police between January 2008 and May 2012. Few of these assaults were properly handled by either the university or local authorities. In this, Missoula is also typical.
A DOJ report released in December of 2014 estimates 110,000 women between the ages of eighteen and twenty-four are raped each year. Krakauer's devastating narrative of what happened in Missoula makes clear why rape is so prevalent on American campuses, and why rape victims are so reluctant to report assault.
Acquaintance rape is a crime like no other. Unlike burglary or embezzlement or any other felony, the victim often comes under more suspicion than the alleged perpetrator. This is especially true if the victim is sexually active; if she had been drinking prior to the assault — and if the man she accuses plays on a popular sports team. The vanishingly small but highly publicized incidents of false accusations are often used to dismiss her claims in the press. If the case goes to trial, the woman's entire personal life becomes fair game for defense attorneys.
This brutal reality goes a long way towards explaining why acquaintance rape is the most underreported crime in America. In addition to physical trauma, its victims often suffer devastating psychological damage that leads to feelings of shame, emotional paralysis and stigmatization. PTSD rates for rape victims are estimated to be 50%, higher than soldiers returning from war.
In
Missoula
, Krakauer chronicles the searing experiences of several women in Missoula — the nights when they were raped; their fear and self-doubt in the aftermath; the way they were treated by the police, prosecutors, defense attorneys; the public vilification and private anguish; their bravery in pushing forward and what it cost them.
Some of them went to the police. Some declined to go to the police, or to press charges, but sought redress from the university, which has its own, non-criminal judicial process when a student is accused of rape. In two cases the police agreed to press charges and the district attorney agreed to prosecute. One case led to a conviction; one to an acquittal. Those women courageous enough to press charges or to speak publicly about their experiences were attacked in the media, on Grizzly football fan sites, and/or to their faces. The university expelled three of the accused rapists, but one was reinstated by state officials in a secret proceeding. One district attorney testified for an alleged rapist at his university hearing. She later left the prosecutor's office and successfully defended the Grizzlies' star quarterback in his rape trial. The horror of being raped, in each woman's case, was magnified by the mechanics of the justice system and the reaction of the community.
Krakauer's dispassionate, carefully documented account of what these women endured cuts through the abstract ideological debate about campus rape. College-age women are not raped because they are promiscuous, or drunk, or send mixed signals, or feel guilty about casual sex, or seek attention.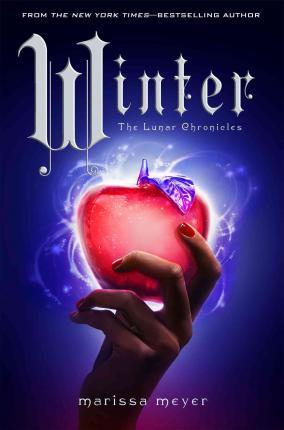 Winter (The Lunar Chronicles #4) by Marissa Meyer
Princess Winter is admired by the Lunar people for her grace and kindness, and despite the scars that mar her face, her beauty is said to be even more breathtaking than that of her stepmother, Queen Levana.

Winter despises her stepmother, and knows Levana won't approve of her feelings for her childhood friend--the handsome palace guard, Jacin. But Winter isn't as weak as Levana believes her to be and she's been undermining her stepmother's wishes for years. Together with the cyborg mechanic, Cinder, and her allies, Winter might even have the power to launch a revolution and win a war that's been raging for far too long.

Can Cinder, Scarlet, Cress, and Winter defeat Levana and find their happily ever afters?
Beloved #1 New York Times bestselling author Colleen Hoover returns with an unforgettable love story between a writer and his unexpected muse.
Fallon meets Ben, an aspiring novelist, the day of her scheduled cross-country move. Their untimely attraction leads them to spend Fallon's last day in L.A. together, and her eventful life becomes the creative inspiration Ben has always sought for his novel. Over time and amidst the various relationships and tribulations of their own separate lives, they continue to meet on the same date every year. Until one day Fallon becomes unsure if Ben has been telling her the truth or fabricating a perfect reality for the sake of the ultimate plot twist.
What did you add to your shelves this week?