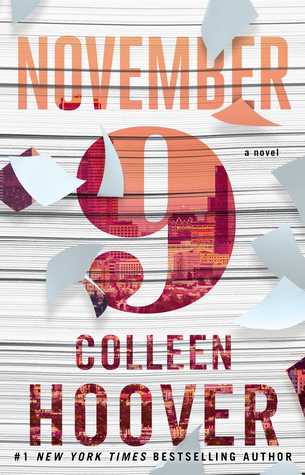 Publication date: November 10, 2015
Author links:
Goodreads
-
Twitter
-
Website
Publisher: Atria Books
Pages: 320
Purchase links:
Amazon
-
Book Depository
Description (from Goodreads):
Beloved #1 New York Times bestselling author Colleen Hoover returns with an unforgettable love story between a writer and his unexpected muse.
Fallon meets Ben, an aspiring novelist, the day before her scheduled cross-country move. Their untimely attraction leads them to spend Fallon's last day in L.A. together, and her eventful life becomes the creative inspiration Ben has always sought for his novel. Over time and amidst the various relationships and tribulations of their own separate lives, they continue to meet on the same date every year. Until one day Fallon becomes unsure if Ben has been telling her the truth or fabricating a perfect reality for the sake of the ultimate plot twist.
Oh Colleen Hoover, once again you have left me conflicted about what to feel. My feelings are very similar to what I was feeling after I finished with Hopeless. While I liked November 9 and was intrigued by it, there was this little voice inside my head constantly bugging me and telling me that the whole situation between Fallon and Ben just feels a tad too unrealistic for my tastes. The case was definitely the same while reading a about Dean and Sky from Hopeless. I hope with this review I am able to express my conflicted thoughts, at least to some extent.
Fallon meets Ben on the anniversary of an accident that completely changed her life. As the daughter of a somewhat famous actor, she grew up dreaming about becoming an actress, and she actually reached that dream when she was cast as a lead of a TV show that sounds very much like something Disney Channel would play. But when she got caught in a fire and severely burned parts of her face and upper body, her dreams of being an actress seemed like something she was to forget. After the accident, her relationship between her father has been complicated and tension filled, and it is during a tense meal at a restaurant that Ben comes into her life. Their eyes meet, Ben notices Fallon and sees her in a way she has not been looked at since the fire, and the rest is history...
Ben dreams of becoming a writer, but it seems like the perfect story of him to work on hasn't shown up yet. When he meets Fallon, it seems like things are finally clicking together, and the day he spends with her is one of the most inspiring days of his life. When the two decide what to do when it is time for Fallon to leave to New York. They are both 18, with full lives ahead of then, and though there definitely is chemistry between the two, Fallon is determined to follow the advice her mother gave her and not engage in a committed relationship until she is 23 years old. So Fallon leaves, but the couple decides that they will meet every year on November 9th for the next five years and spend the day together.
Now it is time to bring up the first "this just feels a bit too unrealistic" issue I had with the novel. Basically, Ben and Fallon decide that they will block each other from all social media and that they will not keep tabs on each other. But I mean, come on, could a person in our contemporary society filled with gadgets and the internet and ways to "stalk" other people resist the urge of checking on someone. Even if they have blocked each other, these people do have friends whose accounts they could use to check on each other. The idea of not knowing anything about the other person for a year is romantic, I guess, but I just feel like it is not very realistic during this day and time. Or then I am just a nosy bastard who cannot believe other people wouldn't act the same as me in a situation like this.
Number two "this just feels a bit too unrealistic" issue had to so with the plot twist the summary for the book also mentions. I won't go into detail with this one since it might ruin the experience that this book is, but let's just say that I kind of saw it coming. I feel like if the synopsis wouldn't have mentioned that there is a plot twist, I wouldn't have kept looking for it so intensively. But since the mention is there, and since I love to figure things out before they are actually revealed to me, I kept reading this book and constantly looking for that plot twist to take place, taking every little possible hint of it into consideration.
Despite these issues, the connection between Fallon and Ben kept me reading this book (and also the fact that I had to know whether my hunch about that plot twist was correct). Hoover is brilliant at combining heartfelt (and heartbreaking) romantic narratives with humor and stories about growing up and finding yourself despite difficult circumstances her characters find themselves in. Her books are the type that very quickly become addictive and very quick to put down, and despite the fact that I had my issues with it, I couldn't stop reading it until I reached the end.
Instalove and a general dislike for it are kind of a thing within the book blogging community, and I really liked how Hoover brought instalove into November 9 and kind of justified use of it within the narrative. I mean, Fallon and Ben meet, spend the day together and instantly seem to have feelings. That feels like instalove to me. But the way Hoover puts it in and brings it to the character discussions made me forget it, and thus it never became one of those "issues" for me that I have mentioned here.
So, I am not really sure how to feel about November 9. There were some elements in it that I really liked, including Hoover's writing, the chemistry between Ben and Fallon and the little links it was with Hoover's Ugly Love. But there are those aforementioned issues that kept bugging me throughout the reading process that definitely show in my rating for the book. If you are a fan of Hoover's previous novels, you probably don't even need me to tell you to check this one out, since you probably have already done so, but if you are new to Hoover, rather than picking this one up, go and buy Maybe Someday, because that is definitely the best Hoover book to this day (at least from the ones I've read).
QUOTES:
FINAL THOUGHTS:
- I cannot help it, but seeing the name Fallon on the pages always made me think of Jimmy Fallon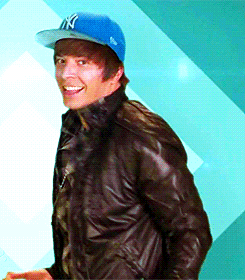 - Fallon and Ben's conversation about Ben's novel and Fallon's wish to put it on her TBR pile
- I wish the problematic relationship between Fallon and her father would have been taken into the story even more extensively that it was (I guess I am a sucker for father-daughter relationships since I haven't had one myself since I was 12)