It's the middle of October and I thought it would be fun to share with you some of my obsessions from the last month or so. I've been writing these down in my calendar as possible ideas to blog about, but I thought the best way would be just to share them all combined to one post.
After a long search of a podcast that had enough episodes for me not to have to wait for a new one weekly, I ended up choosing You Must Remember This, a podcast hosted and produced by Karina Longworth. I started by listening to the series focused on Charles Manson and his connections with Hollywood and now for the past couple of weeks I've been going through the episodes on the Star Wars series, which focuses on different Hollywood figures and their lives during the times to war (mainly the Second World War).
I always say that I love classical Hollywood cinema, but this series really has made me realize how many films there are out there that I still need to watch! The way Longworth has put these stories together is done with bravado and more than once I have found myself biking a bit slower home from university just so I can spend a lot more time listening to the podcast (I only listen to podcasts while I am out and about because I find that when I try to listen to them at home I find it hard to concentrate since there always seems to be something else I should be doing at the same time).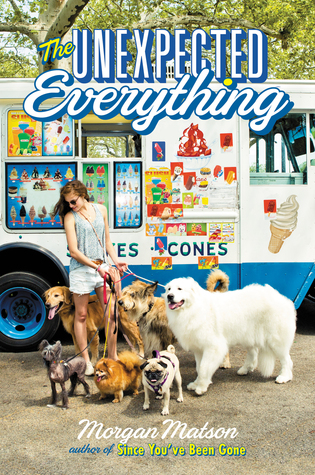 Ahhh, I need this book! This cover is pretty much perfection and makes me think of summer and my puppy and ice-cream. It also reminds me to Since You've Been Gone, which is an absolutely beautiful book and if this is even half as awesome as it was, we are in for something amazing!
The Unexpected Everything will be published on May 3rd, 2016 by Simon & Schuster.
3. The Golden Girls
After finishing with Full House, I needed a new sitcom to watch and I thought I might as well continue with sitcom classics. Though the show lacks the seriality I usually like to see in the sitcoms I watch, it is a lot of fun to watch and I love how there's something in every single one of these ladies that I can connect with. Dorothy is wonderfully sarcastic and cynical, Blance would rule Tumblr with her sexually colored comments, Rose has naivety that hides sudden glimpses of wisdom and Sophia is pretty much just the queen of everything.
There are also some episodes that feel super absurd right now, for example one is season 3 in which Rose worries about nuclear war and dreams about going to Soviet Union on a peace process.
4. Grilled Cheese
After reading an ARC of UNDERWATER by Melisa Reichardt, which features a lot of scenes involving grilled cheese sandwiches, I started to crave for one and since then I've been trying to perfect my recipe in order to find the process of making a perfect grilled cheese sandwich. Just looking at that picture makes me hungry.
5. Hallmark movies
Once in every two or three months, I suddenly get an urge to watch Hallmark original movies. They are predictable, cheesy and all pretty much the same. They feature characters with jobs like a Christmas tree decorator or a toy-maker. Usually they are set in these Utopian little towns in which everyone seems to be comfortably middle class and happy. But despite all of this, I am obsessed with watching them. One of the highlights of the fall for me is the releasing of the Hallmark Christmas schedule and the information about new films. There's usually always one film that features a royal and a commoner love story, and those are ALWAYS my favorite.
6. Fargo season 2
Last year I gave season 1 of Fargo on DVD for my little brother as a Christmas present and we ended up spending the night between Christmas Eve and Christmas Day watching the series. So when I heard that season 2 was in the making, I knew that it would be one of my most expected TV events of 2015. The first episode of season 2 premiered earlier this week and wow, it was awesome and definitely promises a lot of interesting things for the rest of the season. The cast is also pretty amazing, and despite the fact that I usually don't like Kirsten Dunst, I was positively surprised by her in the opening episode.
8. 'She Used to Be Mine' by Sara Bareilles
I love Sara Bareilles and I am absolutely obsessed with this song, which I think is one of my favorites from her whole discography. I've been a fan of Sara since like 2007 and every single time she comes up with something new I am reminded of how awesome she is. She Used to Be Mine is from Sara's upcoming album called What's Inside: Songs from Waitress which will be released on November 11th.
The songs on the album are from her stage adaptation of the 2007 film Waitress (which is an awesome film by the way that has one of my celeb crushes Nathan Fillion as the male lead) that will come to Broadway in 2016.
What have you been obsessed with lately?