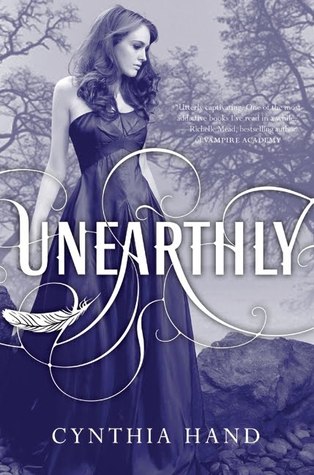 Release date: January 4, 2011
Info about the author:
Goodreads
-
Twitter
-
Website
Publisher: HarperTeen
Age group: YA
Pages: 435
Buy the book:
Amazon
-
Book Depository
Description (from Goodreads):
In the beginning, there's a boy standing in the trees...
Clara Gardner has recently learned that she's part angel. Having angel blood run through her veins not only makes her smarter, stronger, and faster than humans (a word, she realizes, that no longer applies to her), but it means she has a purpose, something she was put on this earth to do. Figuring out what that is, though, isn't easy.

Her visions of a raging forest fire and an alluring stranger lead her to a new school in a new town. When she meets Christian, who turns out to be the boy of her dreams (literally), everything seems to fall into place and out of place at the same time. Because there's another guy, Tucker, who appeals to Clara's less angelic side.

As Clara tries to find her way in a world she no longer understands, she encounters unseen dangers and choices she never thought she'd have to make between honesty and deceit, love and duty, good and evil. When the fire from her vision finally ignites, will Clara be ready to face her destiny?

Unearthly is a moving tale of love and fate, and the struggle between following the rules and following your heart.
After reading Hand's latest novel,
The Last Time We Say Goodbye
, I knew that I would simply HAVE to read more of Cynthia Hand's prose. I had been aware of the
Unearthly
series for a while now, but until gaining an experience from Hand's contemporary writing, I had brushed the series of as something that probably's wouldn't interest me. I am not really big on angel books, especially after reading Susan Ee's
Angelfall
which everyone else seems to love but me. For days, I kept browsing through reviews of
Unearthly
from Goodreads, trying to make my mind about whether I should read it or not. After having a chat about it on Twitter, I became pretty confident about that fact that I should probably give it a chance. And oh my, I am so happy that I did, because I AM SO IN LOVE WITH THIS BOOK!
Clara's mother is an angel-blood, which means that there's blood of angels running in her veins as well. With that, comes a responsibility – it starts with visions, which get more and more intense as Clara's purpose gets closer. A boy in a forest fire, a sadness that fills her every time she sees him. When Clara tells her mother about the visions, she knows what needs to be done. They back their stuff and move from California to Wyoming – a place that Clara can decipher from her visions. There she enters a new school alongside her younger brother Jeffrey and comes face to face with the boy from her vision – the strikingly handsome Christian. But there's also another guy there, Tucker, that Clara feels drawn for, even when it fights against her purpose.
Seriously, this book, SO GOOD! From page one, I was sucked into the world that Clara inhabits – a world just like ours, a world found from so many contemporary YA novels. What makes this world different is the fact that some people in it have the blood of angels running in their veins. As a huge fan of YA contemporary, I was so happy to realize how much this book actually reminded me of a contemporary romance. Yes, there's the whole angel thing in there, but really, it is more about growing up, high school, friendships and family relationships – the ingredients for an amazing contemporary novel.
I loved the dynamic between Clara, Christian and Tucker, and though I am not generally a huge fan of love triangles, I think Hand really makes it work. I am team Tucker all the way! When talking about this book with my friend, she said "you'll probably like it – the love interest had a pick-up truck". Yes, I am easy to please. For years, I've been so into this Southern/Western gentleman/cowboy thing and I think pick-up truck is the sexiest vehicle out there. I am pretty sure I would sell an organ just to be able to have a ride with Tucker on his blue, rusty truck named Bluebell (which instantly reminded me to
Hart of Dixie
and by babe Wade Kinsella).
Clara's such a likable character. The things she feels are so realistic and though there were a couple of scenes during which I was kind of annoyed with her, I was able to understand her and the things she does and feels. The situation she finds herself from is confusing and scary, and I loved to read about her going through the motions in an attempt to understand her destiny and her purpose. The relationship she has with her mother is so realistic and one that I really hope Hand opens up more in the books that follow in the trilogy. Though her brother Jeffrey does not play a huge role in this one, I have a feeling that he will have a bigger role in the following book as well, to which I am really looking forward to.
Hand's prose is so beautiful, vivid and occasionally extremely lyrical. She writes so well about feelings and the inner thoughts of her characters, and though, as a I said, I am not normally a big fan on angel books, I really found myself enjoying the information Hand gives about the world of the angel-bloods and the responsibilities they have. I am actually quite surprised of how much I actually liked this novel and I really CANNOT wait to see what happens to Clara and the ones closest to her in the two remaining books of the trilogy.