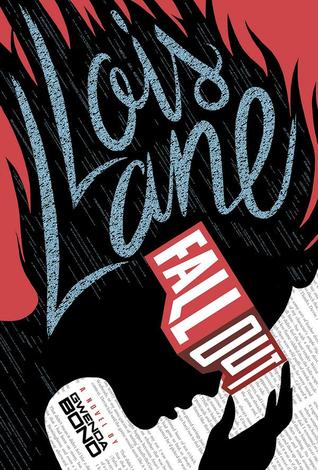 Release date: May 1, 2015
Author links:
Goodreads
-
Twitter
-
Website
Publisher: Switch Press
Age group: YA
Pages: 304
Purchase the book:
Amazon
-
Book Depository
Description (from Goodreads):
Lois Lane is starting a new life in Metropolis. An Army brat, Lois has lived all over—and seen all kinds of things. (Some of them defy explanation, like the near-disaster she witnessed in Kansas in the middle of one night.) But now her family is putting down roots in the big city, and Lois is determined to fit in. Stay quiet. Fly straight. As soon as she steps into her new high school, though, she can see it won't be that easy. A group known as the Warheads is making life miserable for another girl at school. They're messing with her mind, somehow, via the high-tech immersive videogame they all play. Not cool. Armed with her wit and her new snazzy job as a reporter, Lois has her sights set on solving this mystery. But sometimes it's all a bit much. Thank goodness for her maybe-more-than-a friend, a guy she knows only by his screenname, SmallvilleGuy.
Though I am a Batman girl through and through, there has always been a soft spot in my heart for Clark Kent and especially Lois Lane, the kickass female journalist with a nose for the news. When I first heard about Lois Lane: Fallout, I instantly got excited and I knew that this was a book I simply had to read. Luckily I do not regret my decision of buying it because oh my, this one was REALLY good!
Lois Lane is an Army brat, which means that she has been moving around A LOT. As a result of that, she has never really had close friends and it seems like the only memories she has from the places she has lived at are the marks on her school record. Now that her family has located somewhat permanently to Metropolis, Lois decides (and promises her family) to stay our of trouble and to actually find people that she can call her friends. But it seems like trouble is looking for Lois, because as soon as she enters her new school, she comes face to face with a situation in which a student is not taken seriously about her accusations of bullying. Since there's nothing Lois hates more than bullies, she decides that in order to bring justice to the situation, she needs to act.
The group causing problems for students is called Warheads (brilliant name, btw) and their MO is to torment these smart, computer-savvy students in this game called Worlds War Three. In order to play the game, the players need something called holosets, which allow the players to enter a 3D game world. As a group, the Warheards bring havoc inside the game and as a result of a new, shady experiment, also outside the game within the halls of the school. When Lois is hired by the new youth tangent of The Daily Planet, The Daily Scoop, she starts to look into the Warheads in an attempt to figure out how to expose them and to help her friends.
Though having friends from school makes Lois extremely happy, there's also a guy in her life she definitely sees as a friend, and potentially as something even more. That guy is SmallvilleGuy, a boy she has been chatting with online. A boy so mysterious that she does not actually know his true identity. Immersed with the narrative of the book are chats between Lois and SmallvilleGuy, which very quickly became my favorite part of the novel.
I bet we can all make our judgments about the identity of SmallvilleGuy. What makes the story and the chats so fun and interesting then is the fact that the reader knows exactly who the guy is whereas Lois has no idea about his identity. I have seen the first three seasons of Smallville (I REALLY NEED TO CONTINUE WATCHING THAT SHOW) which focus on the high school years of Clark Kent, and I think Lois Lane: Fallout is a brilliant way to imagine the teen years of Lois Lane and the role Clark Kent has in her life during that time.
Lois is such a fun and independent and headstrong character. She has a good sense of humor, she is a bit stubborn and skeptical and maybe also slightly sarcastic. I loved the family dynamics, especially between Lois and sister, and I really hope that Bond will extend that relationship in the sequel. Lois lives according to her principles and I feel like in general this book gives a very positive and empowering image of Lois. No character is perfect, and maybe there are some instances that made me think that Lois could have acted a bit differently, but she is only a human, and like most of us, sometimes blinded by emotions, prejudice and such. Lois is the type of female character I want to read more about - funny and loving, but also kickass and one ready to take control!
When I purchased this book I did not realize that is actually the first book in a series. Though I have been trying to avoid starting new series since there are so many series I still have to finish, I do not regret picking this one up. Though I do hate fact that I need to wait for the next book until next spring. I am so ready to read more about Lois, her adventures in journalism and her budding friendships with her new friends and with SmallvilleGuy, the mystery guy from Kansas.