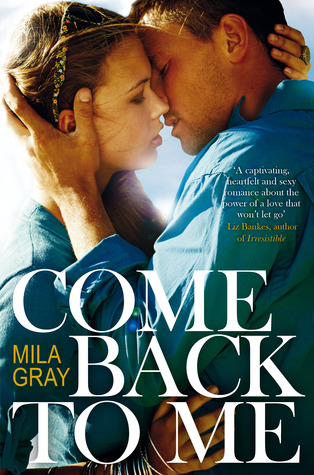 Release date: July 19, 2014
Author links:
Goodreads
-
Website
Publisher: Pan Macmillan
Age group: NA
Pages: 373
Purchase the book:
Amazon
-
Book Depository
Description (from Goodreads):
Home on leave in sunny California, Marine and local lothario Kit Ryan finds himself dangerously drawn to his best friend's sister, Jessa - the one girl he can't have.

But Kit's not about to let a few obstacles stand in his way and soon Jessa's falling for his irresistible charms.

What starts out as a summer romance of secret hook-ups and magical first times quickly develops into a passionate love affair that turns both their worlds upside down.

When summer's over and it's time for Kit to redeploy, neither Kit nor Jessa are ready to say goodbye. Jessa's finally following her dreams and Kit's discovered there's someone he'd sacrifice everything for.

Jessa's prepared to wait for Kit no matter what. But when something more than distance and time rips them apart they're forced to decide whether what they have is really worth fighting for.

A breathtaking, scorchingly hot story about love, friendship, family and finding your way back from the edge of heartbreak.
Every single time I read a description for a book, particularly new adult title, that mentions a soldier, I am instantly intrigued. I don't know it is in those story lines that interests me, but it seems like every single time I know that there are lovers that are touched by the army/navy/marines/etc, I am already looking for tissues. And it's not only books. Just thinking about The Lucky One with Zac Efron makes me misty eyed.
Come Back to Me has been on my radar since I first heard about it around its publication in 2014. Though I am not a big fan of covers with people on them, especially if they are super cheesy (as some NA covers tend to be), this cover did not completely turn me a way from the book, of which I am glad of. Now that I've read the book, I can say that Come Back to Me was A LOT like I expected it to be, but I do have to admit that there were some surprises there too.
Jessa's brother Riley and his best friend Kit are Marines, just like Jessa and Riley's father and Kit's father before them. Because of that, Jessa knows how it feels to say goodbye to someone you love without having a complete certainty that you will ever see your loved one again. When Riley and Kit arrive back to California for leave, Jessa is reminded of her feelings towards Kit, the guy who has been a part of his life for AGES but who never seems to have looked at her quite in the same way she looks at him. What Jessa does not know is that Kit has been harboring confused feelings towards Jessa for a while now, and as they spend more time together, things that to evolve and suddenly they realize that the attraction they have been feeling for each other is mutual. Now the only problem is that Riley and Jessa's father would kill Kit if they were to know about the relationship.
I think Grey does a pretty good job in creating the family dynamics in Come Back to Me. Jessa's father, still carrying the memories of war with him, suffers from PTSD and often the rest of his family, Jessa included, have to walk on eggshells just to make sure they don't trigger any of her father's pressure points. Jessa's father's hatred towards Kit's runs deep, and while I occasionally did think her father was quite harsh, I did feel like Grey did a good job in explaining why the father acts the way he does. I feel like the relationship between Jessa and Riley could have been developed a bit better, but at the same time, I do understand that more focus was clearly out on Jessa and Kit. After all, this is essentially a book about lovers, not siblings.
The chemistry between Jessa and Kit is alright... I did feel like they are good for each other, but at no point did I really feel like their love for each other is giving me ALL THE FEELS (you know what I mean... sometimes couples are just so adorable and meant to be that you just cannot control the feels). What I appreciated about Kit is the fact that he is not violent or destructive or anything like that - he does not use Jessa or make her feel like she needs to be something else in order for him to love her. I still feel like too often in books like this the male characters are under a thin cape of misogyny and violence and often the female characters should probably be more afraid of the guys than in love with them. Kit is not like that, and he actually seems to be a really decent and loving guy.
My interest towards Jessa and her actions and decisions grew as I kept reading the novel and while at the beginning I felt like she was bit of a cliche (virgin, shy, easy to control), I started to like her much more as she opened up a little bit and realized that she needs to take control of her own life in order to reach her dreams. Kit definitely has a role in this new found independence, but I would not go as far as to suggest that Kit is the reason she changes. She makes those decisions herself, which I loved.
Grey writes well and at no point did I really feel like I was bored or done with this book. There are some very emotional parts in this book, especially towards the end of the novel. With it being a new adult title, you should know that there is some sexual content in here (though not as graphic as in some new adult titles). I definitely recommend Come Back to Me for those who are already familiar with the new adult genre and especially for those who are looking forward to delving into new adult contemporaries.