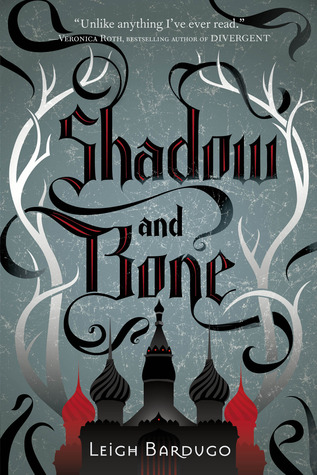 Release date: June 5, 2012
Info about the author:
Goodreads
-
Twitter
-
Website
Publisher: Henry Holt and Co.
Age group: YA
Pages: 368
Buy the book:
Amazon
-
Book Depository
Description (from Goodreads):
Surrounded by enemies, the once-great nation of Ravka has been torn in two by the Shadow Fold, a swath of near impenetrable darkness crawling with monsters who feast on human flesh. Now its fate may rest on the shoulders of one lonely refugee.
Alina Starkov has never been good at anything. But when her regiment is attacked on the Fold and her best friend is brutally injured, Alina reveals a dormant power that saves his life—a power that could be the key to setting her war-ravaged country free. Wrenched from everything she knows, Alina is whisked away to the royal court to be trained as a member of the Grisha, the magical elite led by the mysterious Darkling.
Yet nothing in this lavish world is what it seems. With darkness looming and an entire kingdom depending on her untamed power, Alina will have to confront the secrets of the Grisha . . . and the secrets of her heart.
Shadow and Bone is the first installment in Leigh Bardugo's Grisha Trilogy.
I have had this book on my goodreads to-be-read list since I first heard about prior to its publication. That was a time I did not have much time to read due to being busy with university and I found myself being extremely careful with what I picked to-be-read. I have had an e-copy of this book for at least two years and I have been meaning to read it for such a long time, but it wasn't until now that I finally picked it up.
The hype around this trilogy and the fact that I waited so long to read it had garnered huge expectations around this book. While some those expectations were fulfilled, there were other things that let me a bit cold. All and all, Shadow and Bone became a book that did not blow my mind away, but managed to persuade me to keep interested about the trilogy as a whole, which means that at some point, I will tackle the second and third book just to read more about these characters and this wonderfully inventive fictional world.
Ravka, a nation lacking the glory it once had, has been divided in two by shadow fold, a path of darkness where deadly monsters lurk, ready to consume the flesh of those brave enough to enter the fold and attempt crossing it. The society is ruled by a king who lives in a beautiful place. He is surrounded by Grisha, who are people with inhuman capabilities that range from being able to summon fire to being able to "tailor" ones looks. The Grisha are beautiful, powerful and led by The Darkling, a man of considerable age with a body and a face of a young man.
Alina Starkov grew up as an orphan and is now member of an army regiment ready to enter the Shadow Fold. Since she was a child, she has had Mal, an orphan boy, as her confidant, and she has grown older, she has started to feel towards Mal feelings that are not purely friendly, but more on the romantic side. After an accident at the fold, Alina is whisked to the King's palace - for a girl that has never been good in anything, she is suddenly basked with attention. She is told that her power, something that she has been able to keep hidden, even from herself, could be the savior of Ravka and could help to return it back to its glory.
As time goes by, Alina starts to get used to the routines of the Royal Palace. She goes through training and tries to get control of her power. She is educated on the history and traditions of The Grisha and the more time she spends with her kind, the more she starts to understand herself. But still, a part of her is missing in the form of Mal, her oldest friend and the boy she believed herself to be in love with. As Alina spends more time with the mysterious Darkling, the leader of the Grisha, she starts to question her feelings... Is the Darkling actually as interested as he seems? Is he just playing with her to gain more power? What is her whole within the Grisha? Can she really be the savour and the returner of the glory?
The character relationships in Shadow and Bone are something that you can find from pretty much every single book similar to it, be it either dystopian or fantasy. There's a girl who has been plain or unnoticed for her whole life until that one moment that brings into attention her beauty, her power. In an instant, she becomes special. Then there's that one guy she has grown up with, a guy who knows her better than anyone else, a guy that usually is in love with her without her knowing about it, or vice versa. In the case of Shadow and Bone, this familiar guy is someone the girl loves secretly, thinking that she will never have a true chance with him. After she learns about her true destiny, a new guy enters to her life that makes her question everything that she has believed before. A love-triangle type of situation ensues and the girl is made to question her decisions and her feelings, big time!
Though I am not a huge fan of love triangles, I was not too bothered with the one found from Shadow and Bone. It definitely is a factor that dropped my rating, but at the same time, it could have been done in a much worse manner. I think Bardugo manages to keep a pretty good balance between the romance stuff and the rest and allows the reader also to familiarize herself with the workings of the society and the feelings Alina goes through as she learns about her powers.
The strongest attribute of
Shadow and Bone
, without a doubt, is Bardugo's prose and world-building. The way Bardugo described Ravka made it possible for me to build that world in my mind while reading the novel. The traditions of the people, the training of the Grisha and the day to day events of Alina in an environment new to hear are vividly, to an extent, almost cinematically described. It was Bardugo's writing, the way she uses language, that kept me going and made this book an extremely quick read. The way Bardugo writes is also the main reason I want to keep going with this series.
Shadow and Bone proved to be a book worth a read, despite the fact that I found it slightly difficult to feel anything for the characters. Bardugo's writing convinced me to keep a look out for the second book in the trilogy and I am hoping to read it very soon. Her fictional world and the customs of that world are well established and my wish is that they will both be even more extensively developed in the books to come.