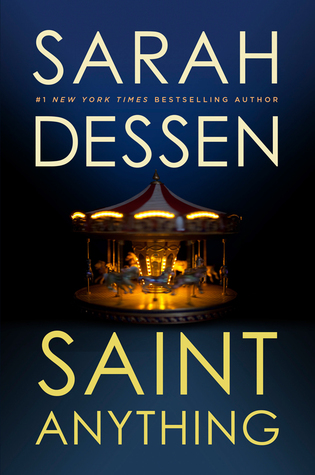 Release date: May 5, 2015
Author Links:
Goodreads
-
Twitter
-
Website
Publisher: Viking Juvenile
Age group: YA
Pages: 417
Purchase the book:
Amazon
-
Book Depository
Peyton, Sydney's charismatic older brother, has always been the star of the family, receiving the lion's share of their parents' attention and—lately—concern. When Peyton's increasingly reckless behavior culminates in an accident, a drunk driving conviction, and a jail sentence, Sydney is cast adrift, searching for her place in the family and the world. When everyone else is so worried about Peyton, is she the only one concerned about the victim of the accident?
Enter the Chathams, a warm, chaotic family who run a pizza parlor, play bluegrass on weekends, and pitch in to care for their mother, who has multiple sclerosis. Here Sydney experiences unquestioning acceptance. And here she meets Mac, gentle, watchful, and protective, who makes Sydney feel seen, really seen, for the first time.
The uber-popular Sarah Dessen explores her signature themes of family, self-discovery, and change in her twelfth novel, sure to delight her legions of fans.
Every single time Sarah Dessen publishes something new, I want to have a party. Though I still haven't managed to read every single book this wonderful writers has written, I've read the majority and fell in love with every single word and character. Saint Anything was no different.
In Saint Anything Sarah Dessen introduces us to Sidney. For her whole life, Sidney has been in the shadow of her charismatic, handsome older brother Peyton. When Peyton's reckless and criminal behavior leads to a jail sentence, Sidney gets more and more distanced from her family. Despite the fact that Peyton is not physically present in her every day life, her parents' constant worry and attention towards Peyton does not stop.
After Peyton's arrest, Sidney decides that she needs to make a change. She leaves her private school where everyone knows about Peyton and enrolls to a public high school where she thinks she can be invisible and start again. There she can be "just Sidney", not "Peyton's little sister Sidney". One day after school she stops at a pizza parlour and meets Mac and Layla Chatman and quickly finds herself with a new set of friends. Layla is loud, funny and honest and able to bring out a side in Sidney she did not know she had. Mac is quiet, strong and protective, and for the first time in a long time Sidney feels like someone sees her just as she is. No longer she's invisible.
I love the way Sarah Dessen writes YA contemporary. She really takes her time with characterization and the way she writes character growth is spot on! Her novels are not just romances, but also stories about friendship, family and self-discovery. I instantly felt like Sidney was a character I wanted to know more about. For a long time, she has felt like she is invisible and that no one really knows who she really is. She is not quite sure she herself even knows that. Growing up in the shadow of her brother has meant that she has always received less attention than her brother. Now that Peyton is in prison, her parents make stricter rules for Sidney, but still remain occupied with Peyton's life behind the bars.
The thing I liked most about Sidney is the fact that she seems to be the only one in her family who questions Peyton's actions. The way especially her mother talks about Peyton makes her feel like they don't fully understand what Peyton has done - they almost treat him like a victim, instead of the boy who Peyton hurt. Sidney feels like it is her job to carry the worry about the victim on her shoulders - she cannot stop thinking about the young boy, now in a wheelchair, whose life Peyton destroyed.
Parents tend to play a huge role in Dessen's novels and what I love about that is the fact that despite the fact that usually there is a drift between the young adult and the parents, Dessen never "demonizes" the parents, but rather allows the reader to understand why the parents act the way they do. Sometimes in YA novels there is a tendency to make the parents seem like the "bad guys" just because they care (rules etc), and I am happy to say that Dessen does not fall in to this trap. Instead, she writes parents that are problematic and sometimes wrong, but who also care and love and want the best for their children.
In addition to the romance and the family drama, Dessen has added a very interesting, very important storyline to the novel involving the main character Sidney and Ames, a friend of Peyton's. I think the importance of this story line relies on the fact that Sidney is right about the intentions of Ames - right away from the opening of the novel you get the vibe that Ames might be dangerous. The tension to the novel is brought through the exchanges between Sidney and Ames and the fact that Sidney's parents do not seem to see what is going on. I also loved how Sidney's friends trusted Sidney's judgement about Ames and did not question it. Throughout the novel the presence of Ames can be felt - it feels creepy and it feels somewhat hostile, and I think that makes it so real. I appreciate Dessen for tackling such a difficult subject with grace and honesty.
If you are looking for a book with romance, friendships, family drama and wonderful set of characters, look no further. Saint Dessen was everything and so much more I expected it to be!