"Stacking The Shelves is all about sharing the books you are adding to your shelves, may it be physical or virtual. This means you can include books you buy in physical store or online, books you borrow from friends or the library, review books, gifts and of course ebooks!"
For more information, click here.
FOR REVIEW: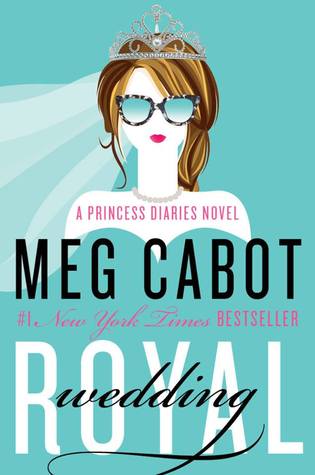 Royal Wedding (Princess Diaries #11) by Meg Cabot
From the #1 New York Times bestselling author of the Princess Diaries series, comes the very first adult installment, which follows Princess Mia and her Prince Charming as they plan their fairy tale wedding--but a few poisoned apples could turn this happily-ever-after into a royal nightmare.
For Princess Mia, the past five years since college graduation have been a whirlwind of activity, what with living in New York City, running her new teen community center, being madly in love, and attending royal engagements. And speaking of engagements. Mia's gorgeous longtime boyfriend Michael managed to clear both their schedules just long enough for an exotic (and very private) Caribbean island interlude where he popped the question! Of course Mia didn't need to consult her diary to know that her answer was a royal oui.
But now Mia has a scandal of majestic proportions to contend with: Her grandmother's leaked "fake" wedding plans to the press that could cause even normally calm Michael to become a runaway groom. Worse, a scheming politico is trying to force Mia's father from the throne, all because of a royal secret that could leave Genovia without a monarch. Can Mia prove to everyone--especially herself--that she's not only ready to wed, but ready to rule as well?
PURCHASES:
Rachel Walker is devoted to God. She prays every day, attends Calvary Christian Church with her family, helps care for her five younger siblings, dresses modestly, and prepares herself to be a wife and mother who serves the Lord with joy. But Rachel is curious about the world her family has turned away from, and increasingly finds that neither the church nor her homeschool education has the answers she craves. Rachel has always found solace in her beliefs, but now she can't shake the feeling that her devotion might destroy her soul.
THE DEFINITIVE WORK OF AMERICAN TRUE CRIME FROM "AMERICA'S BEST TRUE-CRIME WRITER"
(Kirkus Reviews)
Utterly unique in its astonishing intimacy, as jarringly frightening as when it first appeared, Ann Rule's
The Stranger Beside Me
defies our expectation that we would surely know if a monster lived among us, worked alongside of us, appeared as one of us. With a slow chill that intensifies with each heart-pounding page, Rule describes her dawning awareness that Ted Bundy, her sensitive coworker on a crisis hotline, was one of the most prolific serial killers in America. He would confess to killing at least thirty-six young women from coast to coast, and was eventually executed for three of those cases. Drawing from their correspondence that endured until shortly before Bundy's death, and striking a seamless balance between her deeply personal perspective and her role as a crime reporter on the hunt for a savage serial killer -- the brilliant and charismatic Bundy, the man she thought she knew -- Rule changed the course of true-crime literature with this unforgettable chronicle.
A debut psychological thriller that will forever change the way you look at other people's lives.
Rachel takes the same commuter train every morning. Every day she rattles down the track, flashes past a stretch of cozy suburban homes, and stops at the signal that allows her to daily watch the same couple breakfasting on their deck. She's even started to feel like she knows them. "Jess and Jason," she calls them. Their life—as she sees it—is perfect. Not unlike the life she recently lost.
And then she sees something shocking. It's only a minute until the train moves on, but it's enough. Now everything's changed. Unable to keep it to herself, Rachel offers what she knows to the police, and becomes inextricably entwined in what happens next, as well as in the lives of everyone involved. Has she done more harm than good?
A compulsively readable, emotionally immersive, Hitchcockian thriller that draws comparisons to
Gone Girl
,
The Silent Wife
, or
Before I Go to Sleep
, this is an electrifying debut embraced by readers across markets and categories.
What did you add to your shelves this week?