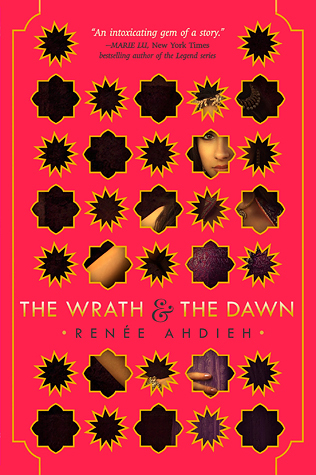 Release Date: May 12, 2015
Info about the author:
Goodreads
-
Twitter
-
Website
Publisher: G.P. Putnam's Sons Books for Young Readers
Age group: YA
Pages: 395
Buy the book:
Amazon
-
Book Depository
Description (from Goodreads):
A sumptuous and epically told love story inspired by A Thousand and One Nights

Every dawn brings horror to a different family in a land ruled by a killer. Khalid, the eighteen-year-old Caliph of Khorasan, takes a new bride each night only to have her executed at sunrise. So it is a suspicious surprise when sixteen-year-old Shahrzad volunteers to marry Khalid. But she does so with a clever plan to stay alive and exact revenge on the Caliph for the murder of her best friend and countless other girls. Shazi's wit and will, indeed, get her through to the dawn that no others have seen, but with a catch . . . she's falling in love with the very boy who killed her dearest friend.

She discovers that the murderous boy-king is not all that he seems and neither are the deaths of so many girls. Shazi is determined to uncover the reason for the murders and to break the cycle once and for all.
Oh man, you know those books that everyone hypes up and seems to love. For me, The Wrath and the Dawn was a book like that. I was so excited to pick it up because I was so sure that I would love it. But like with quite many books that I expected to love from 2015 releases, I was left cold with The Wrath and the Dawn. Unfortunately, this debut just wasn't more at all.
The premise of the novel sounds so intriguing. Khalid is the king of kings, the Caliph of Khorasan. He is 18 years old and known among his people as a monster. Why, you might ask? Well, because every night he takes a new wife and every dawn that wife is killed. Why is he killing these women? That's the mystery. Enter Shahrzad, a 16-year-old girl who volunteers to marry Khalid. The reason for this volunteering position that could very easily be the end of her? A hunger for revenge.
The morning after the wedding of Khalid and Shahrzad, Shazi is still alive. Her wit and her stories along with her will and quick mouth keep her alive, and as time goes by, Shazi starts to notice that instead for harboring murderous thoughts towards the young man who killed her best friend, she is curious and intrigued... and feeling feelings that she should not be feeling. As she spends more time in the palace, she starts to learn more about Khalid and his past and becomes determined to find the reason for why the murders took place and what she can do to stop them.
The whole "inspired by A Thousand and One Nights" tag line got me excited, mostly because when compared to some of the other retellings, I am not that familiar with A Thousand and One Nights. Since my familiarity with those stories is very limited, I cannot really say much about what kind of remake/inspiration piece this is. There are a lot of stories in this book - stories that the characters tell. Shazi, for example, tells Khalid about Aladdin. And there's this old man who gives Shazi a carpet that could show her the way...
So, why wasn't I impressed? I found myself struggling most with the love triangle/romance situation and the actions of Shazi. I found the courageous girl who enters the life of a dangerous man in order to gain revenge so generic, especially since there's also the guy she leaves behind, the childhood love that is determined to save the girl from the hands of this dangerous man. Well, of course the dangerous man ends up being much more than just a monster and the girl realizes that the boy she left behind might just have to stay in her past. Thinking of this relationship dynamic brings so many books into my mind and I found myself struggling with an attempt to find something original from this setting.
I really wanted to like Shazi. She's strong and witty, but at the same time, I was annoyed with the way her feelings change so quickly - first she is all "I am going to kill him" and the next moment she has feelings towards Khalid that she tries to suppress. Recently, I have found myself extremely annoyed with these story lines which put a lot of focus on the feelings that the main character desperately tries to suppress - I mean, we know that they are going to get together, right? That is what happens in 99% of these books. So why take all that time just to have these "I should not think of him but I do" situations.
Though the story itself did not convince me, I do have to point out that Ahdieh writes beautifully! She uses the English language in a way that convinced me to keep reading and though the story didn't work for me, I have to give a thumbs up for the way this book is written. Just for the use of language alone I am probably going to give a go for the second book to see whether the story will start to work for me or not.
So yeah, The Wrath and the Dawn wasn't for me. It was a bit too predictable and generic for my tastes - while reading it, I continually felt like I have read that book before, just in a different type of world with differently named characters. If you like books like this and if the synopsis catches your interest, I think you should give it a go, just for Ahdieh's prose alone. The majority opinions on this book are highly positive, so chances are that you are in that group as well.