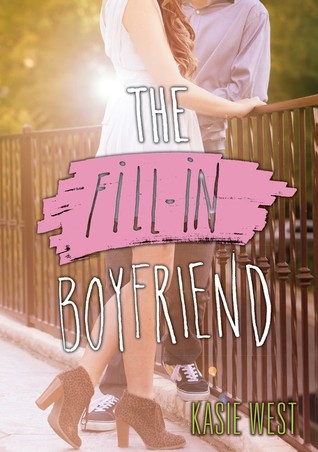 Release date: May 5, 2015
Info about the author:
Goodreads
-
Twitter
-
Website
Publisher: HarperTeen
Age group: YA
Pages: 352
Buy the book:
Amazon
-
Book Depository
Description (from Goodreads):
When Gia Montgomery's boyfriend, Bradley, dumps her in the parking lot of her high school prom, she has to think fast. After all, she'd been telling her friends about him for months now. This was supposed to be the night she proved he existed. So when she sees a cute guy waiting to pick up his sister, she enlists his help. The task is simple: be her fill-in boyfriend— two hours, zero commitment, a few white lies. After that, she can win back the real Bradley.
The problem is that days after prom, it's not the real Bradley she's thinking about, but the stand-in. The one whose name she doesn't even know. But tracking him down doesn't mean they're done faking a relationship. Gia owes him a favor and his sister intends to see that he collects: his ex-girlfriend's graduation party — three hours, zero commitment, a few white lies.
Just when Gia begins to wonder if she could turn her fake boyfriend into a real one, Bradley comes waltzing back into her life, exposing her lie, and threatening to destroy her friendships and her new-found relationship.
Kasie West's most recent contemporary release The Fill-in Boyfriend starts from a school parking lot where Gia Montgomery gets dumped by her older boyfriend Bradley just as they are about to walk in to Gia's prom. Not only is she hurt by the break up, she is also faced with a problem - how can she walk into the prom alone after talking about having a boyfriend for several months? In her mind, the only solution to the situation is to find a guy to fill in for Bradley for a couple of hours. Luckily, there's a guy waiting in a car at the parking lot.
After Gia succeeds to fool her friends and make them believe that the guy she attended the prom with was actually Bradley, Gia had planned on winning Bradley over somehow. But as she tries to come up with a plan, she realizes that rather than thinking of Bradley, she is thinking of the guy who helped her, a guy whose name she doesn't even know. When Gia tries to get the mystery guy's sister to help her, she is suddenly whisked into a situation in which she has to be the fill-in. The problem is that rather than being a fake-girlfriend to this new guy, she starts to wish that what they have would be real.
The Fill-in Boyfriend was exactly what I expected it to be - light, cute and slightly predictable. It is one of those contemporary reads that puts a smile on your face and makes you forget your worries for a while. It's entertaining and quick to read and not only does it include a romance, it also includes character growth and a narrative about a problematic friendship.
Though I enjoyed the story and found Gia to be fairly likable as a character, I partly felt like the web of lies she spins is a bit too much at points. Though I understand why she feels like she cannot tell the truth to her friends, I was not able to relate with that problem at all, and at points I felt like the whole fake-boyfriend material was taken a bit too far. Luckily, the novel is not only about the lie, but also about the growth of Gia and the process she has to go through in order to realize that she should not have to lie in order to be accepted by her friends.
Surprisingly to me, the romance had a lot smaller role in the novel than I first expected. Though I loved the aspects of the story which focused on Gia's growth as a young woman, I kept hoping for more of those classic Kasie West fluffy scenes with this very loyal and nerdy, Firefly t-shirt wearing mysterious love interest.
The Fill-in Boyfriend is a very solid, funny and occasionally romantic contemporary read that will most likely entertain the fans of Kasie's previous contemporaries. And even if you haven't read Kasie West before, I recommend checking this one out if you like contemporary reads that you can leave with a smile.