"Stacking The Shelves is all about sharing the books you are adding to your shelves, may it be physical or virtual. This means you can include books you buy in physical store or online, books you borrow from friends or the library, review books, gifts and of course ebooks!"
For more information, click here.
Dream Things True by Marie Marquart (September 1, 2015 by St. Martin's Griffin) (TO BE REVIEWED AT WINTERHAVEN BOOKS)
A modern-day Romeo and Juliet story in which a wealthy Southern boy falls in love with an undocumented Mexican girl and together they face perils in their hostile Georgia town.

Evan, a soccer star and the nephew of a conservative Southern Senator, has never wanted for much -- except a functional family. Alma has lived in Georgia since she was two-years-old, excels in school, and has a large, warm Mexican family. Never mind their differences, the two fall in love, and they fall hard. But when ICE (Immigration and Customs Enforcement) begins raids on their town, Alma knows that she needs to tell Evan her secret. There's too much at stake. But how to tell her country-club boyfriend that she's an undocumented immigrant? That her whole family and most of her friends live in the country without permission. What follows is a beautiful, nuanced, well-paced exploration of the complications of immigration, young love, defying one's family, and facing a tangled bureaucracy that threatens to completely upend two young lives.
The Wrath and the Dawn by Renee Ahdieh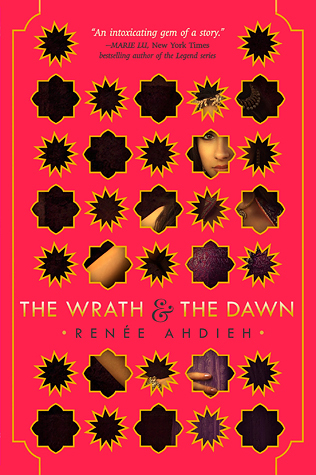 A sumptuous and epically told love story inspired by A Thousand and One Nights

Every dawn brings horror to a different family in a land ruled by a killer. Khalid, the eighteen-year-old Caliph of Khorasan, takes a new bride each night only to have her executed at sunrise. So it is a suspicious surprise when sixteen-year-old Shahrzad volunteers to marry Khalid. But she does so with a clever plan to stay alive and exact revenge on the Caliph for the murder of her best friend and countless other girls. Shazi's wit and will, indeed, get her through to the dawn that no others have seen, but with a catch . . . she's falling in love with the very boy who killed her dearest friend.

She discovers that the murderous boy-king is not all that he seems and neither are the deaths of so many girls. Shazi is determined to uncover the reason for the murders and to break the cycle once and for all.
Backlash by Sarah Darer Littman
He says: You're an awful person.
He says: What makes you think I would ever ask you out?
He says: The world would be a better place without you in it.

Lara just got told off on Facebook.


She thought that Christian liked her, that he was finally going to ask her to his school's homecoming dance. They've been talking online for weeks, so what's with the sudden change? And where does he get off saying horrible things on her wall? Even worse - are they true?

It's been a long time since Lara's felt this bad, this depressed, this ugly. She's worked really hard to become pretty and happy - and make new friends after what happened in middle school.

Bree used to be best friends with overweight, depressed Lara, but constantly listening to Lara's issues got to be too much. Secretly, Bree's glad Christian called Lara out. Lara's not nearly as amazing as people think. But no one realized just how far Christian's harsh comments would push Lara. Not even Bree.

As online life collides with real life, things spiral out of control, and not just for Lara. Because when the truth starts to come together, the backlash is even more devastating than anyone could have ever imagined.
What did you add to your shelves this week?