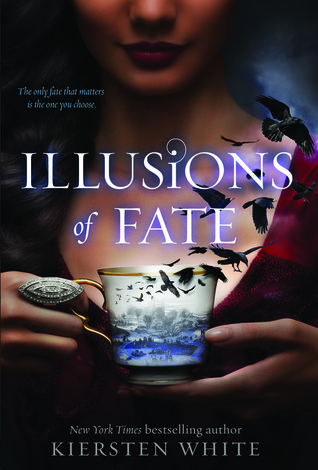 Release date: September 9, 2014
Info about the author:
Goodreads
-
Twitter
-
Website
Publisher: HarperTeen
Age group: YA
Pages: 275
Buy the book:
Amazon
-
Book Depository
Description (from Goodreads):
Downton Abbey meets Cassandra Clare in this lush, romantic fantasy from New York Times bestselling author Kiersten White.

"I did my best to keep you from crossing paths with this world. And I shall do my best to protect you now that you have."

Jessamin has been an outcast since she moved from her island home of Melei to the dreary country of Albion. Everything changes when she meets Finn, a gorgeous, enigmatic young lord who introduces her to the secret world of Albion's nobility, a world that has everything Jessamin doesn't—power, money, status…and magic. But Finn has secrets of his own, dangerous secrets that the vicious Lord Downpike will do anything to possess. Unless Jessamin, armed only with her wits and her determination, can stop him.

Kiersten White captured readers' hearts with her New York Times bestselling Paranormalcy trilogy and its effortless mix of magic and real-world teenage humor. She returns to that winning combination of wit, charm, and enchantment in Illusions of Fate, a sparkling and romantic new novel perfect for fans of Cassandra Clare, The Madman's Daughter, and Libba Bray.
Dear
Illusions of Fate
, THANK YOU for taking me out of a brief reading slump.
Jessamin is from Melei, a beautiful island nation filled with colorful flowers and affectionate people. Now living in Albion, a country known for its stiff traditions and distaste for Melei, Jessamin, with her dark skin and hair, does not exactly fit in. Studying a school where everyone sees her as an island rat and working in a hotel just to earn enough money for living, Jessamin's life is far from luxury. Everything changes when she meets Finn, a dashing young lord who reveals her the world of Albion nobility, filled with magic and danger in the form of Lord Downpike, a man determined to find out everything about Finn's magical powers. When Downpike realizes that he can use Jessamin to get what he wants from Finn, Jessamin is pulled into a world she never expected to encounter.
Illusions of Fate
was my first even Kiersten White novel and it definitely has made me interested to read more. Jessamin is a great main character – she's witty, independent and headstrong. She wants to be in control of her own life and does not accept help easily. When she meets Finn, it is really difficult for her to accept all the attention he is willing to give her due to their difference in social standing. For too many times, Jessamin has seen Albion men taking Melei lovers, intrigued by the exotic color of their skin and the island life, just to leave them heartbroken and used after they are done with them. Finn represents everything Jessamin despises, but for some reason, she just cannot stay away from him.
I do get why Jessamin finds Finn all dreamy and swoonworthy, but unfortunately for me, his character was not established well enough for me to actually fall in love with him. But despite that, I found him to be witty, charming and full of surprises. The chemistry between Jessamin and Finn is well established and I enjoyed the slow-burning process of finding out how their relationship develops.
The magical aspect in this book is quite well thought out, though very often it is in lesser focus in comparison to the relationship dynamics between Jessamin, Finn and Downpike. For someone who is looking for a really well established fictional world,
Illusions of Fate
might be bit of a disappointment, but for a reader who wants an intriguing story of romance and magic set in a world different from ours
,
this one is a perfect pick.
The side characters, though not very well established, are interesting, especially Lord Downpike and Eleanor, a friend of Jessamin and Finn. Though this novel is a standalone, these characters offer a chance to White to extend this fictional world if she desires to do so. White writes well and
Illusions of Fate
is really fast paced, which makes it one of those books that you can just delve into for hours.
Though
Illusions of Fate
was only a mediocre read for me, meaning that it did not really change my life or anything, I am grateful about the fact that it pulled me away from a brief reading slump caused by reading two books that just did not work for me at all in a row. I definitely recommend
Illusions of Fate
to all lovers of paranormal romance – especially to those who have loved books like
The Selection
and
The Elite
. The focus on the nobility and a girl who finds herself from a situation that she never expected to be in really reminded me of Kiera Cass's series. And hey, there's no love triangle here!!!