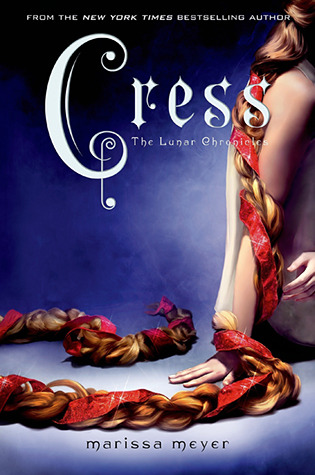 Release date: February 4, 2014
Info about the author:
Goodreads
-
Twitter
-
Website
Publisher: Feiwel & Friends
Age group: YA
Pages: 550
Buy the book:
Amazon
-
Book Depository
Description (from Goodreads):
In this third book in the Lunar Chronicles, Cinder and Captain Thorne are fugitives on the run, now with Scarlet and Wolf in tow. Together, they're plotting to overthrow Queen Levana and her army.

Their best hope lies with Cress, a girl imprisoned on a satellite since childhood who's only ever had her netscreens as company. All that screen time has made Cress an excellent hacker. Unfortunately, she's just received orders from Levana to track down Cinder and her handsome accomplice.

When a daring rescue of Cress goes awry, the group is separated. Cress finally has her freedom, but it comes at a high price. Meanwhile, Queen Levana will let nothing prevent her marriage to Emperor Kai. Cress, Scarlet, and Cinder may not have signed up to save the world, but they may be the only hope the world has.
Oh wow. It has been almost a year since I read
Cinder
and
Scarlet
and I seriously have no idea why I did not pick up
Cress
earlier. I think it was partly due to my stupidity and partly due to the fact that I knew that the fourth book is coming only later this year, which means that now that I have read
Cress
, the wait for the next book will be excruciating one.
Cress
continues from where
Scarlet
left off, and this time, our main heroine is a girl who has spent the last seven years alone living inside a satellite. She's lunar, but born as a shell, which means that she does not have the lunar power. A disgrace to her society due to her shell status, she was given away by her parents only days after her birth, and during the 17 years of her life, she has learned to cope on her own. As an expert hacker, she has been valuable for Queen Levana as a provider of information about the happening on Earth. What her Lunar supervisors don't know is that she has been in connection with Cinder and her gang and that her loyalties lie somewhere else than the Lunar Court.
I really, really liked all the way from the beginning of the this book. After reading Cinder and Scarlet, I regarded Cinder as my favorite of the two, but I must now say that Cress has become my favorite. The fact that she has spent the last seven years alone of the satellite has made her come up with fantasy worlds, worlds in which she is an opera singer, an adventurer and so on. When she finally gets in contact with other people and the real world she's so wonderfully awkward and excited that I just couldn't help falling in love with her. Seeing the detailed, carefully constructed world Meyer has created for this series through the eyes of Cress, who's also new to that world, was so interesting and rewarding. Though I loved the world building in both
Cinder
and
Scarlet
, I feel like Meyer really hits the jackpot with
Cress
. The building of the fictional world, mixed with action and wonderful characterization, makes a book that is really difficult, almost impossible, to put down.
Let's talk about Thorne. The wonderful, charming, charismatic Thorne. I have had a crush on his since the moment he is first introduced by Meyer, but it's really in
Cress
that I fully fall in love with him. As a result of a failed plan to save Cress from the satellite, their stories and destinies become entwined and seeing Thorne through the eyes of Cress just adds so much to his characterization. For a long time, Cress has felt that she really knows Thorne due to her extensive research on him – she has harboured a load of fantasies on him, about them meeting and instantly falling in love. When she meets Thorne, she quickly becomes to realize that he might not quite be the man she expected him to to be and that just adds a whole lot of fun and touching and heartwarming encounters to this novel. I loved the development of the relationship between Cress and Thorne and I cannot wait to see what happens to them in
Winter
.
The narrative of Cress jumps around lunar and the earth between the different characters. We have Cress and Thorne, trying to find their way to civilization after the satellite accident. We have Cinder, Wolf and Iko trying to figure a way to stop the royal wedding. Then there's Scarlett who finds herself from a very unexpected situation from a place unknown to her. We also get to read about Dr. Erland and his process to find a cure for the letumosis and Prince Kai, trying to face the reality of his marriage to Queen Levana. As the novel processes, these different stories start to entwine and eventually end up explosively. The way Meyer builds the story is so well done and really just sucked me in instantly.
There are also a couple of new characters added to the mix like Jacin, a pilot for Queen Levana's head thaumaturge who gets entwined into the story through the satellite accident. Another important character is Winter, the Lunar princess who will be the focus of the final novel in the series. The little we get to know about Winter REALLY makes me curious about the next and final novel and I cannot wait to see how this all turns out.
Cress
is just the perfect kind of read – it has a lot of action, sweet romance, humour, tragic storylines and an ending that makes me want to start a time-machine building process just so I could go ahead in time and get my hands on Winter. Though all three novels in the Lunar Chronicles have been AMAZING, so far,
Cress
definitely is my favorite.