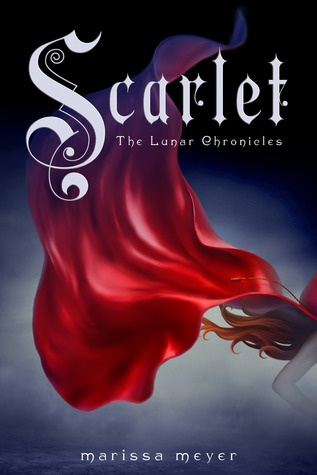 Release Date: February 5, 2013
Info about the author:
Goodreads
-
Twitter
-
Website
Publisher: Feiwel & Friends
Age group: YA
Pages: 454
Buy the book:
Amazon
-
Book Depository
Description (from Goodreads):
Cinder, the cyborg mechanic, returns in the second thrilling installment of the bestselling Lunar Chronicles. She's trying to break out of prison--even though if she succeeds, she'll be the Commonwealth's most wanted fugitive. Halfway around the world, Scarlet Benoit's grandmother is missing. It turns out there are many things Scarlet doesn't know about her grandmother or the grave danger she has lived in her whole life. When Scarlet encounters Wolf, a street fighter who may have information as to her grandmother's whereabouts, she is loath to trust this stranger, but is inexplicably drawn to him, and he to her. As Scarlet and Wolf unravel one mystery, they encounter another when they meet Cinder. Now, all of them must stay one step ahead of the vicious Lunar Queen Levana, who will do anything for the handsome Prince Kai to become her husband, her king, her prisoner.
After completely falling in love with
Cinder
– the characters, the fictional world that Meyer has created, Meyer's writing – I simply had to pick up
Scarlet
the moment I finished with the first book of the series. I find reviewing series quite hard because I don't want to give out any spoilers, but I'll try to best to just give you a generic idea of what this book is about.
So in
Scarlet
, we are introduced to Scarlet Benoit, a French girl living in a farm with her grandmother. Scarlet's grandma has gone missing, and it seems like the police are not extremely interested in putting effort into finding the woman who has a reputation of being a bit loony and eccentric. But Scarlet knows that her grandmother wouldn't just have left without saying a word to Scarlet, and she is determined to find her grandmother, with or without the help of the authorities.
Enter Wolf, a street fighter with some possible information about Scarlet's grandmother. Scarlet has a difficult time trusting strangers, especially the dangerous looking and attractive Wolf who could easily snap her into two pieces. Scarlet soon realizes that despite the fact that she might not trust Wolf, she must join forces with him in order to reach her grandmother and more the she learns about where Wolf comes from, she starts to realize that she might not know her grandmother at all.
Back in New Beijing, Cinder is attempting a prison break. Soon Thorne, an American prisoner, is dragged to the action as well, and they find themselves running away from the authorities. Prince Kai, now an Emperor, has been given an ultimatum from Levana, and time is running out – if he does not manage to fill the demands of the Lunar queen, the earth will be in grave danger.
I feel like in general,
Scarlet
was a bit slower than
Cinder
. With
Cinder
I felt like every single page was extremely action-packed and exciting, whereas with this there were a couple of slow parts I kind of struggled with. Since I loved Kai in the first book, I was kind of sad to see that his character had been kind of diminished into a small side character. Unlike
Cinder
, which was very much tied down to Cinder and the New Beijing setting,
Scarlet
moves around between characters and locations, and at first it was kind of distracting, but once I got used to the huge jumps, I was fine with it. Though I love Cinder as a character, I was kind of sad that Scarlet did not get a whole book to herself. But on the other hand, not knowing more about Cinder would have sucked as well.
I obviously fell in love with Thorne – he's funny and handsome and I literally cannot wait to know more about him and see how he develops as a character. I also loved the fact that though he thought Cinder was attractive and all, there really was not threat for a love triangle because of Cinder's feelings for Kai. Don't get me wrong, I do like love triangles, but it's refreshing to read one without once in a while.
I know opinions of about Wolf vary – some completely love him, whereas some don't trust him. I found him to be an interesting character, and I feel like reading the novella about him (
The Queen's Army
) really helped me to connect with the character and to understand him and his actions. I read the novella before I started with
Scarlet
since it is labelled as #1.5, but if you want to keep Wolf's background as a mystery, I recommend that you restrain yourself from reading it.
Though Scarlet is badass and interesting as a character, I kind of felt distanced from her for some reason. I liked her and I felt for her, but I did not really connect with her in any level, at least not in the same way I for example connected with Cinder already during the first book. I hope that we get to know more about her in
Cress
because I would like to know more about her and maybe find that connection then.
All in all,
Scarlet
was a really enjoyable read and a great sequel to
Cinder
. I will definitely keep going with this series and can't wait to read
Cress.