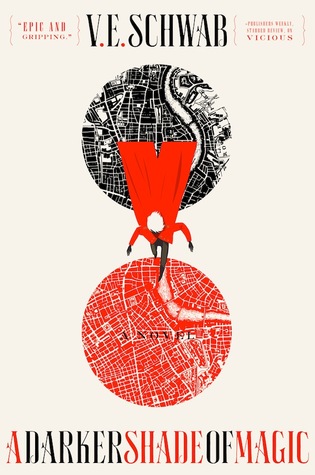 Release date: February 24, 2015
Info about the author:
Goodreads
-
Twitter
-
Website
Publisher: Tor Books
Age group: Adult
Pages: 400
Buy the book:
Amazon
-
Book Depository
Description (from Goodreads):
Kell is one of the last Travelers—rare magicians who choose a parallel universe to visit.

Grey London is dirty, boring, lacks magic, ruled by mad King George. Red London is where life and magic are revered, and the Maresh Dynasty presides over a flourishing empire. White London is ruled by whoever has murdered their way to the throne. People fight to control magic, and the magic fights back, draining the city to its very bones. Once there was Black London - but no one speaks of that now.

Officially, Kell is the Red Traveler, personal ambassador and adopted Prince of Red London, carrying the monthly correspondences between royals of each London. Unofficially, Kell smuggles for those willing to pay for even a glimpse of a world they'll never see. This dangerous hobby sets him up for accidental treason. Fleeing into Grey London, Kell runs afoul of Delilah Bard, a cut-purse with lofty aspirations. She robs him, saves him from a dangerous enemy, then forces him to another world for her 'proper adventure'.

But perilous magic is afoot, and treachery lurks at every turn. To save all of the worlds, Kell and Lila will first need to stay alive — trickier than they hoped.
am not a big fantasy reader, mostly due to the fact that I often find it extremely hard to relate to the characters in fantastical settings that just feel so out of reach for me. With Harry Potter and Ready Player One as exceptions, all of my all time favorite books are somehow connected to reality and they all are titles that I can relate to on some sort of level. Because of my ever-present need to find characters and stories that I can insert myself into, stories that can make me feel something that I have felt in my own life or I can think of feeling, I have stuck to contemporary reads and character driven stories. Since I always associate fantasy with plot-driven storylines and excessive world-building, I have sort of distanced myself from it. But once in a while, the hype reaches me and I feel like I must venture out of my comfort zone to see what all the buzz is about.
A Darker Shade of Magic
was my first V.E. Schwab read, but it definitely won't be my last. Very early on in the book, I noticed how character-driven it actually is and how well Schwab blends together world-building and character relationships, thus making it a book that someone who is not ordinarily a fantasy reader can really delve into as well. Schwab's fictional world is so imaginative and well-developed, yet it also left me questioning just the right amount, which means that I will definitely want to keep going with this series.
A Darker Shade of Magic
follows Kell, a young magician with an ability to travel between the parallel universes and Lila, a young woman supporting herself through thievery while dreaming about a future as a pirate with her own ship. The parallel universes in the novel, Grey London, Red London, White London and Black London are all very distinctively described and build, though the reader is left with some questions, especially about Black London, which probably will be answered in the following novels within the series. I loved seeing the different Londons, first through the eyes of Kell, to whom they are part of his ordinary life. He is used to traveling between the different realities, seeing the different Royals in every parallel London. When his roads cross with Lila, seeing the Londons again through her eyes gives the locations new life and further prove Schwab's talent as a world builder and an excellent writer.
Both Kell and Lila are such interesting, well-developed characters. They feel much older than they actually are, probably due to their difficult, eventful lives. Though Kell is treated by the Red London Royal family as a family member, he often feels like he is just an object for the family, a magical entity that they can use to prove their might. The exception is Rhy, the Prince of Red London, who Kell really seems as his brother. Rhy is such an interesting character – a bit of a playboy yet quite vulnerable and dependent on Kell. Lila's life at Grey London does not match the luxury of Kell's life within the Court – out of necessity, she has learned to take care of herself through thievery and mischieve. Lila is independent and strong and hungry for adventure. In short, she is one of those kickass characters that alone makes this book worth a read.
At points,
A Darker Shade of Magic
reads almost like a historical fiction piece, especially when it comes to the different Londons and their histories. I really hope this aspect is something that Schwab will further develop within the sequels that will follow.
A Darker Shade of Magic
wasn't a book that I was able to binge read on one sitting, just because it is so full of detail that I simply had to put it down at points to think about it.
Though
A Darker a Shade of Magic
did not convert me into a fantasy reader, it make me more open-minded about the possibilities of fantasy fiction. I definitely want to read
Vicious
now and I am certainly more open to reading more fantasy titles. Schwab is such a talented writer who has ability to weave into her stories history, cross-dressing thiefs who dream of pirate ships and magic while at the same time being able to be just a right amount of humoristic. I highly recommend this to everyone, especially those of you who like me usually shy away from fantasy.
Look how gorgeous the second cover looks. Too bad the UK covers are not as gorgeous.