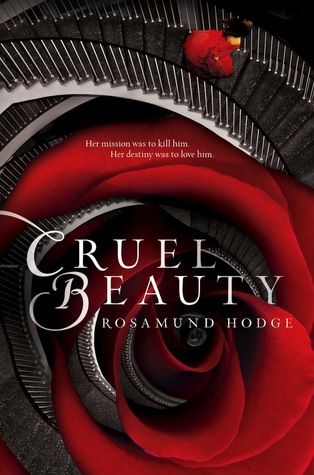 Release Date: January 28, 2014
Info about the author:
Goodreads
-
Twitter
-
Website
Publisher: Balzer + Bray
Age group: YA
Pages: 342
Buy the book:
Amazon
-
Book Depository
Description (from Goodreads):
Graceling meets Beauty and the Beast in this sweeping fantasy about one girl's journey to fulfill her destiny and the monster who gets in her way-by stealing her heart.

Based on the classic fairy tale Beauty and the Beast, Cruel Beauty is a dazzling love story about our deepest desires and their power to change our destiny.

Since birth, Nyx has been betrothed to the evil ruler of her kingdom-all because of a foolish bargain struck by her father. And since birth, she has been in training to kill him.

With no choice but to fulfill her duty, Nyx resents her family for never trying to save her and hates herself for wanting to escape her fate. Still, on her seventeenth birthday, Nyx abandons everything she's ever known to marry the all-powerful, immortal Ignifex. Her plan? Seduce him, destroy his enchanted castle, and break the nine-hundred-year-old curse he put on her people.

But Ignifex is not at all what Nyx expected. The strangely charming lord beguiles her, and his castle-a shifting maze of magical rooms-enthralls her.

As Nyx searches for a way to free her homeland by uncovering Ignifex's secrets, she finds herself unwillingly drawn to him. Even if she could bring herself to love her sworn enemy, how can she refuse her duty to kill him? With time running out, Nyx must decide what is more important: the future of her kingdom, or the man she was never supposed to love.
I remember seeing this book around a lot around the time it was released. I added it to my Goodreads TBR back then, thinking that I must get it to my hands instantly. But once it was released and more and more reviews gave it only a so-so rating, I kind of forgot it. Now that the second book in the series is close to publication, I finally thought it would be a time to read this one.

Cruel Beauty fits into the category of fairytale retellings that just seems to grow and grow. Knowing that this one was claimed as a retelling of Beauty and the Beast, one of my favorite fairytales of all time, my expectations were pretty high. Before starting this, I was hoping for a kickass main character, a problematic love interest and some awesome magic. The beginning of the book promised so much, but as the novel processed, I unfortunately found myself enjoying the story less and less, as a result of which my overall opinion about this book is just... meh. I didn't hate it, but I did not really like or love it either.

The main character Nyx has been raised to marry a monster. Before she was born, her father made a deal with the Gentle Lord, a demon of bargains, and promised that when his wife gives birth to twin girls, he will give the other one as a wife to the Gentle Lord when the girl turns 17. So when the girls were born and their mother lost her life in childbirth, Nyx was sacrified and raised to become the wife to the man everyone in Arcadia feared. On her 17th birthday, she is married to the demon and taken to the castle – she is prepared to suffer for the rest of her life, but she is also determined to avenge her mother's death and destroy the Gentle Lord in the process.

The way Hodge first establishes Nyx made me really excited about this novel. Nyx is not one of those innocent, clueless girls that suddenly finds about her destiny. Rather, she has been raised to become a killer of a monster – she's bitter and finds her father's decision unjust, but she also knows her destiny and her status as the only hope of Arcadia. When she goes to the castle of the Gentle Lord, she is prepared to hate him, to struggle through the motions of marriage just to fulfil her destiny. But when she realizes that The Gentle Lord, Ignifex, is not what she expected, her mission gets more complicated.

The one thing that I really found myself struggling with is the fact that it feels like Hodge had felt forced to insert some sort of love triangle into the story. Rather than just focusing on the relationship between Nyx and Ignifex, a third guy Shade, a shadow of Ignifex and a servant to him was inserted into the story. Whereas Ignifex was supposed to be this dark, mysterious figure, Shade is portrayed as a somewhat righteous, wronged man, an ally for Nyx. Love triangles work sometimes and really add something to the story, but in this case, this whole situation just felt so incredibly forced and as the story processes, it got more and more difficult for me to go on with it.

I am not really a high fantasy reader and do not require 100 pages of world-building, but still, some of it would be nice! I am kind of sad that Hodge had not developed the premise of this world more – there are glimpses of interesting things there, but they are not really developed... AT ALL. The whole Hermetic magic aspect feels so underdeveloped that for most of the time I had no idea what was going on. How does this magic work? What is it's purpose? How does the magic of the Gentle Lord work? Towards the end of the novel, I a list of so many questions in my head and unfortunately most of them were left unanswered. The only reason I am really considering reading the second book is the fact that I want to see whether Hodge has developed her world-building skills.

For someone looking for mainly relationship focused, kind of soapy read set in a fantasy setting, Cruel Beauty is a good pick. If you are looking for a well-build fantasy world, I suggest that you pick something else.