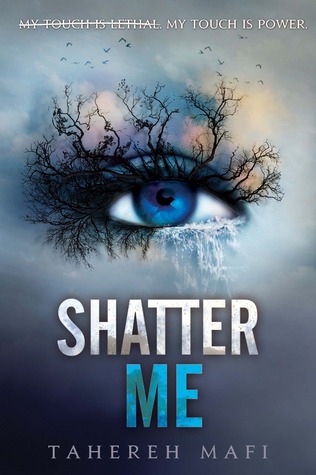 Release date: November 15, 2011
Info about the author:
Goodreads
-
Twitter
-
Website
Publisher: HarperCollins
Age group: YA
Pages: 340
Buy the book:
Amazon
-
Book Depository
Description (from Goodreads):
Juliette hasn't touched anyone in exactly 264 days.
The last time she did, it was an accident, but The Reestablishment locked her up for murder. No one knows why Juliette's touch is fatal. As long as she doesn't hurt anyone else, no one really cares. The world is too busy crumbling to pieces to pay attention to a 17-year-old girl. Diseases are destroying the population, food is hard to find, birds don't fly anymore, and the clouds are the wrong color.
The Reestablishment said their way was the only way to fix things, so they threw Juliette in a cell. Now so many people are dead that the survivors are whispering war – and The Reestablishment has changed its mind. Maybe Juliette is more than a tortured soul stuffed into a poisonous body. Maybe she's exactly what they need right now.
Juliette has to make a choice: Be a weapon. Or be a warrior.
My expectations before starting with Shatter Me were extremely high. I feel like it is one of those series I've only heard good things about. Honestly, now that I think about it, I don't think I've read/heard any bad reviews about it. Well, now that I've read it, I can say that I wasn't disappointed and the first book definitely made me curious to see how the story develops.
Juliette hasn't touched anyone for 264 days. Since she was born, her touch has done things to people that she has not meant. Her touch has hurt, it has made people scared of her, and finally, it had killed someone. Now she's locked up in a cell, sitting in darkness and counting the days, the minutes and the seconds she has been alone. Outside the cell walls, the world is falling - diseases are ravaging the population, food is becoming nonexistent and the clouds are not white anymore. Then, after months of loneliness, someone is thrown into Juliette's cell. Someone she knows. Someone she might have had feelings for before. Quickly, it becomes clear that her cellmate might not be there under shady circumstances, and finally, Juliette is taken to one of the Reestablishment leaders who wants to use her as a weapon. Her touch is fetal, and what is a better weapon than that? But Juliette does not want to kill, which means that she has to take risks and make decisions that might have consequences she cannot erase.
From page one, Mafi's writing blew me away. The way she gives Juliette a voice is so masterfully and lyrically done that I found myself gasping my breath and reading some parts out loud, just to get everything out Mafi's writing. Though I am not a fan of audio books in general, this is one that I would definitely like to listen to as an audio book, just because at parts this novels reads like the most beautiful poetry known to man. The voice Mafi gives to Juliette makes her so real - she is vulnerable, but also extremely strong and ready to fight for what she believes in. She is also confused of her identity and what she should stand for.
Adam, a boy Juliette used to go to school with, is so sweet and protective and just heroic in so many different ways. He does not see Juliette as a monster, but as someone he wants to help. Warner, a believer in the reestablishment is kind of wacky and obsessive, which makes me even more curious about the following novels, because I've heard so many (female) readers identifying themselves as members of "Team Warner".
The description of the future is interesting and gets better towards the end of the book, and I'm really looking forward to see how it all turns out.