For more information, click
here
.
This week's topic is Ten Books I Wouldn't Mind Santa Bringing This Year
I usually don't get books for Christmas, for several different reasons. Books are really expensive in Finland and since I mainly read in English, the selection here is quite small. Also, my mother probably would not know what to buy for me. She also works in a library and thinks that buying books does not make sense because she can bring me books from her work. If I do get books, I purchase them myself as ebooks.
We are more of an DVDs for Christmas type of family, but despite that, I'll make a list of 10 books I would not mind getting for Christmas.
1.
You by Caroline Kepnes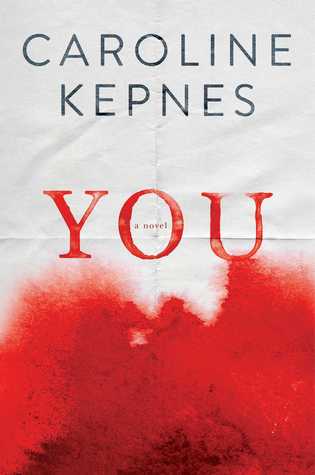 Love hurts...

When aspiring writer Guinevere Beck strides into the East Village bookstore where Joe works, he's instantly smitten. Beck is everything Joe has ever wanted: She's gorgeous, tough, razor-smart, and as sexy as his wildest dreams.

Beck doesn't know it yet, but she's perfect for him, and soon she can't resist her feelings for a guy who seems custom made for her. But there's more to Joe than Beck realizes, and much more to Beck than her oh-so-perfect façade. Their mutual obsession quickly spirals into a whirlwind of deadly consequences . . .

A chilling account of unrelenting passion, Caroline Kepnes's You is a perversely romantic thriller that's more dangerously clever than any you've read before.

2. All The Light We Cannot See by Anthony Doerr
Marie Laure lives with her father in Paris within walking distance of the Museum of Natural History where he works as the master of the locks (there are thousands of locks in the museum). When she is six, she goes blind, and her father builds her a model of their neighborhood, every house, every manhole, so she can memorize it with her fingers and navigate the real streets with her feet and cane. When the Germans occupy Paris, father and daughter flee to Saint-Malo on the Brittany coast, where Marie-Laure's agoraphobic great uncle lives in a tall, narrow house by the sea wall.

In another world in Germany, an orphan boy, Werner, grows up with his younger sister, Jutta, both enchanted by a crude radio Werner finds. He becomes a master at building and fixing radios, a talent that wins him a place at an elite and brutal military academy and, ultimately, makes him a highly specialized tracker of the Resistance. Werner travels through the heart of Hitler Youth to the far-flung outskirts of Russia, and finally into Saint-Malo, where his path converges with Marie-Laure.

Doerr's gorgeous combination of soaring imagination with observation is electric. Deftly interweaving the lives of Marie-Laure and Werner, Doerr illuminates the ways, against all odds, people try to be good to one another. Ten years in the writing, All the Light We Cannot See is his most ambitious and dazzling work.

3. Sweet Thing by Renee Carlino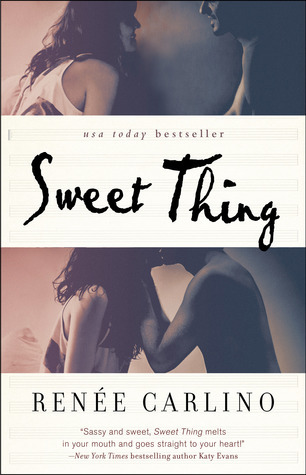 "You have to teach your heart and mind how to sing together…then you'll hear the sound of your soul."

Mia Kelly thinks she has it all figured out. She's an Ivy League graduate, a classically trained pianist, and the beloved daughter of a sensible mother and offbeat father. Yet Mia has been stalling since graduation, torn between putting her business degree to use and exploring music, her true love.

When her father unexpectedly dies, she decides to pick up the threads of his life while she figures out her own. Uprooting herself from Ann Arbor to New York City, Mia takes over her father's café, a treasured neighborhood institution that plays host to undiscovered musicians and artists. She's denied herself the thrilling and unpredictable life of a musician, but a chance encounter with Will, a sweet, gorgeous, and charming guitarist, offers her a glimpse of what could be. When Will becomes her friend and then her roommate, she does everything in her power to suppress her passions-for him, for music-but her father's legacy slowly opens her heart to the possibility of something more.

A "heartbreaking and romantic" (Aestas Book Blog) debut, Sweet Thing explores the intensity and complexities of first love and self-discovery.

4. These Gentle Wounds by Helene Dunbar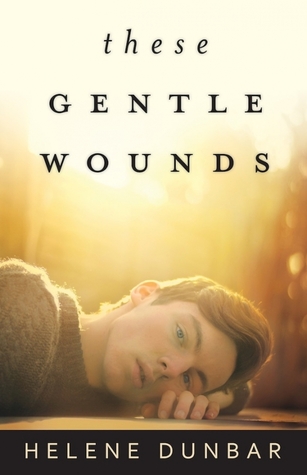 Sometimes I wish I'd lost a leg or something. Everyone can understand that. They never get it when what's been broken is inside your head.

Five years after an unspeakable tragedy that changed him forever, Gordie Allen has made a new home with his half-brother Kevin. Their arrangement works since Kevin is the only person who can protect Gordie at school and keep him focused on getting his life back on track.

But just when it seems like things are becoming normal, Gordie's biological father comes back into the picture, demanding a place in his life. Now there's nothing to stop Gordie from falling into a tailspin that could cost him everything—including his relationship with Sarah, the first girl he's trusted with the truth. With his world spinning out of control, the only one who can help Gordie is himself . . . if he can find the strength to confront the past and take back his future.

5. The Secret Side of Empty by Marie E. Andreu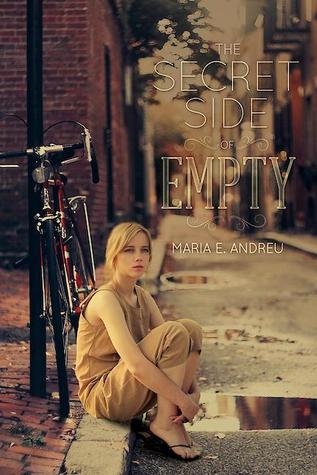 As a straight-A student with a budding romance and loyal best friend, M.T.'s life seems as apple-pie American as her blondish hair and pale skin. But M.T. hides two facts to the contrary: her full name of Monserrat Thalia and her status as an undocumented immigrant.

But it's harder to hide now that M.T.'s a senior. Her school's National Honor Society wants her to plan their trip abroad, her best friend won't stop bugging her to get her driver's license, and all everyone talks about is where they want to go to college. M.T. is pretty sure she can't go to college, and with high school ending and her family life unraveling, she's staring down a future that just seems empty. In the end, M.T. will need to trust herself and others to stake a claim in the life that she wants.

Author Maria E. Andreu draws from her personal experience as a (formerly) undocumented immigrant to explore an issue that affects over one million children in the U.S. But while the subject matter is timely, it is M.T.'s sharp, darkly funny voice and longing for a future that makes this story universally poignant.

6. Illusions of Fate by Kiersten White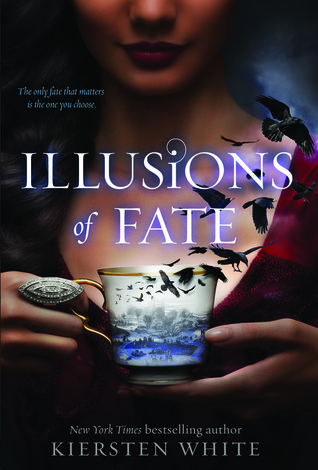 Downton Abbey meets Cassandra Clare in this lush, romantic fantasy from New York Times bestselling author Kiersten White.

"I did my best to keep you from crossing paths with this world. And I shall do my best to protect you now that you have."

Jessamin has been an outcast since she moved from her island home of Melei to the dreary country of Albion. Everything changes when she meets Finn, a gorgeous, enigmatic young lord who introduces her to the secret world of Albion's nobility, a world that has everything Jessamin doesn't—power, money, status…and magic. But Finn has secrets of his own, dangerous secrets that the vicious Lord Downpike will do anything to possess. Unless Jessamin, armed only with her wits and her determination, can stop him.

Kiersten White captured readers' hearts with her New York Times bestselling Paranormalcy trilogy and its effortless mix of magic and real-world teenage humor. She returns to that winning combination of wit, charm, and enchantment in Illusions of Fate, a sparkling and romantic new novel perfect for fans of Cassandra Clare, The Madman's Daughter, and Libba Bray.

7. Lies We Tell Ourselves by Robin Talley
In 1959 Virginia, the lives of two girls on opposite sides of the battle for civil rights will be changed forever.

Sarah Dunbar is one of the first black students to attend the previously all-white Jefferson High School. An honors student at her old school, she is put into remedial classes, spit on and tormented daily.

Linda Hairston is the daughter of one of the town's most vocal opponents of school integration. She has been taught all her life that the races should be kept "separate but equal."

Forced to work together on a school project, Sarah and Linda must confront harsh truths about race, power and how they really feel about one another.

Boldly realistic and emotionally compelling, Lies We Tell Ourselves is a brave and stunning novel about finding truth amid the lies, and finding your voice even when others are determined to silence it.
8. How It Ends by Laura Wiess
Following her stunning and critically acclaimed novels Such a Pretty Girl and Leftovers, Laura Wiess crafts a riveting and emotionally powerful tale of beauty, destruction...and love.

Seventeen-year-old Hanna has been in love with Seth for as long as she can remember, but now that she and Seth are in an actual relationship, love isn't all it's cracked up to be. Seth is controlling and all they seem to do anymore is fight. If that's what love is, Hanna doesn't want any part of it. Besides, she has something else on her mind: graduation. But she's been ignoring the school's community service requirement, and now she needs to rack up some hours in a hurry.

Hanna volunteers as a caretaker for her neighbor Mrs. Schoenmaker—an elderly woman with advanced Parkinson's whose husband can't always be there to watch over her. While caring for Mrs. S., Hanna becomes mesmerized by an audiobook that the older woman is listening to, a love story of passion, sacrifice, and complete devotion. She's fascinated by the idea that love like that really exists, and slowly, the story begins to change her. But what Hanna doesn't know is that the story she's listening to is not fiction—and that Mrs. Schoenmaker and her husband's devotion to each other is about to reach its shattering, irrevocable conclusion....

Spellbinding, timeless, and achingly poignant, How It Ends is a story of how love ends, how it begins, and how people and events have the ability to change who we are without our even realizing it.

9. Sing Me To Sleep by Angela Morrison

THE TRANSFORMATION

Beth has always been "The Beast",that's what everyone at school calls her because of her awkward height, facial scars, and thick glasses. Beth's only friend is geeky, golden-haired Scott. That is, until she's selected to be her choir's soprano soloist, and receives the makeover that will change her life forever.

THE LOVE AFFAIR

When Beth's choir travels to Switzerland, she meets Derek: pale, brooding, totally dreamy. Derek's untethered passion,for music, and for Beth, leaves her breathless. Because in Derek's eyes? She's not The Beast, she's The Beauty.

THE IMPOSSIBLE CHOICE

When Beth comes home, Scott, her best friend in the world, makes a confession that leaves her completely torn. Should she stand by sweet, steady Scott or follow the dangerous, intense new feelings she has for Derek?

THE HEARTBREAK

The closer Beth gets to Derek, the further away he seems. Then Beth discovers that Derek's been hiding a dark secret from her that could shatter everything.

10. Behind the Scenes by Dahlia Adler
High school senior Ally Duncan's best friend may be the Vanessa Park - star of TV's hottest new teen drama - but Ally's not interested in following in her BFF's Hollywood footsteps. In fact, the only thing Ally's ever really wanted is to go to Columbia and study abroad in Paris. But when her father's mounting medical bills threaten to stop her dream in its tracks, Ally nabs a position as Van's on-set assistant to get the cash she needs.

Spending the extra time with Van turns out to be fun, and getting to know her sexy co-star Liam is an added bonus. But when the actors' publicist arranges for Van and Liam to "date" for the tabloids just after he and Ally share their first kiss, Ally will have to decide exactly what role she's capable of playing in their world of make believe. If she can't play by Hollywood's rules, she may lose her best friend, her dream future, and her first shot at love.
What are you hoping to see under your Christmas tree this year?