"Stacking The Shelves is all about sharing the books you are adding to your shelves, may it be physical or virtual. This means you can include books you buy in physical store or online, books you borrow from friends or the library, review books, gifts and of course ebooks!"
For more information, click here.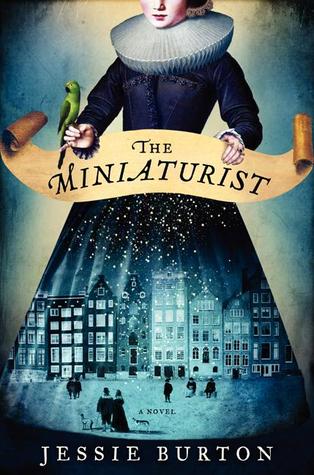 Set in seventeenth century Amsterdam-a city ruled by glittering wealth and oppressive religion-a masterful debut steeped in atmosphere and shimmering with mystery, in the tradition of Emma Donoghue, Sarah Waters, and Sarah Dunant.

"There is nothing hidden that will not be revealed…"

On a brisk autumn day in 1686, eighteen-year-old Nella Oortman arrives in Amsterdam to begin a new life as the wife of illustrious merchant trader Johannes Brandt. But her new home, while splendorous, is not welcoming. Johannes is kind yet distant, always locked in his study or at his warehouse office-leaving Nella alone with his sister, the sharp-tongued and forbidding Marin.

But Nella's world changes when Johannes presents her with an extraordinary wedding gift: a cabinet-sized replica of their home. To furnish her gift, Nella engages the services of a miniaturist-an elusive and enigmatic artist whose tiny creations mirror their real-life counterparts in eerie and unexpected ways . . .

Johannes' gift helps Nella to pierce the closed world of the Brandt household. But as she uncovers its unusual secrets, she begins to understand-and fear-the escalating dangers that await them all. In this repressively pious society where gold is worshipped second only to God, to be different is a threat to the moral fabric of society, and not even a man as rich as Johannes is safe. Only one person seems to see the fate that awaits them. Is the miniaturist the key to their salvation . . . or the architect of their destruction?

Enchanting, beautiful, and exquisitely suspenseful, The Miniaturist is a magnificent story of love and obsession, betrayal and retribution, appearance and truth.
From my JALS (Jane Austen Ladies Society) Secret Santa
On Dublin Street by Samantha Young
Jocelyn Butler has been hiding from her past for years. But all her secrets are about to be laid bare ...

Four years ago, Jocelyn left her tragic past behind in the States and started over in Scotland, burying her grief, ignoring her demons, and forging ahead without attachments. Her solitary life is working well - until she moves into a new apartment on Dublin Street, where she meets a man who shakes her carefully guarded world to its core.

Braden Carmichael is used to getting what he wants, and he's determined to get Jocelyn into his bed. Knowing how skittish she is about entering a relationship, Braden proposes an arrangement that will satisfy their intense attraction without any strings attached.

But after an intrigued Jocelyn accepts, she realizes that Braden won't be satisfied with just mind-blowing passion. The stubborn Scotsman is intent on truly knowing her . . . down to the very soul.
Graffiti Moon by Cath Crowley
Senior year is over, and Lucy has the perfect way to celebrate: tonight, she's going to find Shadow, the mysterious graffiti artist whose work appears all over the city. He's out there somewhere—spraying color, spraying birds and blue sky on the night—and Lucy knows a guy who paints like Shadow is someone she could fall for. Really fall for. Instead, Lucy's stuck at a party with Ed, the guy she's managed to avoid since the most awkward date of her life. But when Ed tells her he knows where to find Shadow, they're suddenly on an all-night search around the city. And what Lucy can't see is the one thing that's right before her eyes.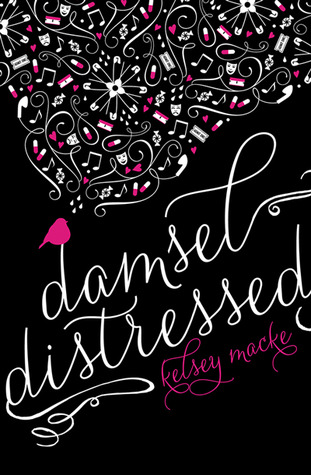 Damsel Distressed by Kelsey Macke
Hot girls get the fairy tales. No one cares about the stepsisters' story. Those girls don't get a sweet little ending; they get a lifetime of longing
Imogen Keegen has never had a happily ever after–in fact, she doesn't think they are possible. Ever since her mother's death seven years ago, Imogen has pulled herself in and out of therapy, struggled with an "emotionally disturbed" special ed. label, and loathed her perma-plus-sized status.

When Imogen's new stepsister, the evil and gorgeous Ella Cinder, moves in down the hall, Imogen begins losing grip on the pieces she's been trying to hold together. The only things that gave her solace–the theatre, cheese fries, and her best friend, Grant–aren't enough to save her from her pain this time.

While Imogen is enjoying her moment in the spotlight after the high school musical, the journal pages containing her darkest thoughts get put on display. Now, Imogen must resign herself to be crushed under the ever-increasing weight of her pain, or finally accept the starring role in her own life story.

And maybe even find herself a happily ever after.

Enhance the experience with the companion soundtrack, Imogen Unlocked, by the author's band, Wedding Day Rain.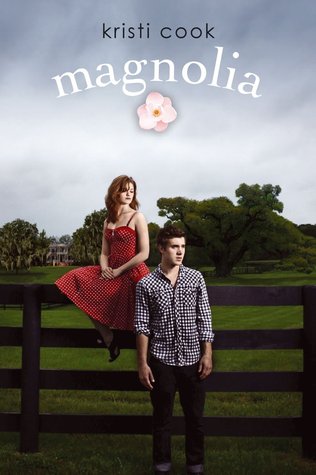 Magnolia by Kristi Cook

In Magnolia Branch, Mississippi, the Cafferty and Marsden families are southern royalty. Neighbors since the Civil War, the families have shared vacations, holidays, backyard barbecues, and the overwhelming desire to unite their two clans by marriage. So when a baby boy and girl were born to the families at the same time, the perfect opportunity seemed to have finally arrived.

Jemma Cafferty and Ryder Marsden have no intention of giving in to their parents' wishes. They're only seventeen, for goodness' sake, not to mention that one little problem: They hate each other! Jemma can't stand Ryder's nauseating golden-boy persona, and Ryder would like nothing better than to pretend stubborn Jemma doesn't exist.

But when a violent storm ravages Magnolia Branch, it unearths Jemma's and Ryder's true feelings for each other as the two discover that the line between love and hate may be thin enough to risk crossing over.
Other cool stuff I got for Christmas
What did you add to your shelves this week?