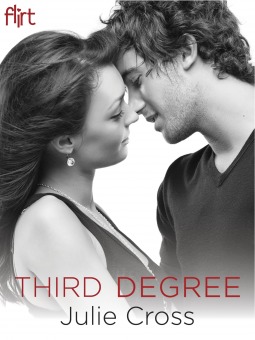 Release date: March 25th 2014
Info about the author:
Goodreads
-
Twitter
-
Website
Publisher: Flirt
Age group: New Adult
Pages: 240 (ebook)
Buy the book:
Amazon
Description (from Goodreads):
Fans of Monica Murphy and Tammara Webber will savor this New Adult novel—a story about coming of age in the heat of the moment—from Julie Cross, the internationally bestselling author of the Tempest trilogy.

I used to be "Isabel Jenkins, child prodigy." As lame as that sounds, at least it was an identity. But now I'm not sure what I am. I just failed the most important exam of my life—the emotional readiness test required to get into a medical residency program—and it turns out my parents can't stand each other. Now I'm trying to figure out how to pick up the pieces of my life, and that means re-enrolling as a college freshman, but this time I'm shutting the books and majoring in being eighteen.

But so far, my roommate hates me and I'm not into the party scene. The only good thing about school has been getting to know my insanely hot RA. Marshall Collins makes me wonder about everything I missed while I was growing up too fast. Pretty soon we're hanging out constantly, but for the first time, I find myself wanting more than a no-strings-attached physical relationship. And the lesson I really need is one Marsh definitely can't teach me: love. Because I'm going to be alone forever if I don't learn fast.
MY THOUGHTS:
Isabel Jenkins is used to being the smartest person in the room. She went to medical school when her peers were still in junior high and has completed her surgical intership by the age of 19. When she is not accepted to her chosen surgical residency program as a result of her failed psychological evaluation, Isabel has to figure out what to do with the six months she has to wait until she can take the test again. Realizing that she has missed most of the important milestones of adolescence, Isabel enrolls to a university close to her home in an attempt to be a "normal" adolescent.
Fitting into the university crowd isn't easy for Isabel. Her roommate seems to hate her, her teacher's cannot stand her know-it-all attitude and she feels like thinking about Marshall, her RA, is keeping her away from possibly dating other guys. She feels like Marshall really gets her, which is something she is not used to. The more they spend time together, the more comfortable Isabel gets with herself and the fact that she does not always have to be the logical one or the logical fun. She learns to have fun and not take everything so seriously. But then something is revealed about Marshall and she realizes that she might be able to be there for Marshall not only as a friend but also as something else.
A couple of my Goodreads friends recommended this one to me a while ago and I added it to my TBR since the synopsis sounded fairly interesting. And yeah, this book did end up being a fairly entertaining read, though there are some things I should maybe complain about before moving on to the stuff I liked about it.
First of all, I felt like I did not really form any sort of connection with Marshall. I find it important for me to fall in love with the male interest to be able to fully be immersed in the reading experience within the new adult genre - that happened for example with Colleen Hoover's Maybe Someday. While I did like Marshall, I wasn't able to fall head over heels in love with him - he's nice and handsome and kind, but I found the character development lacking a bit. I felt for him, but just not enough.
Isabel might be a difficult character for some to like, but I personally found her interesting to read about. She's know-it-all and does not excel in social situations, which is something I was able to identify with to some extent. Also, she kind of reminded me of Christina Yang from Grey's Anatomy, who's one of my favorite TV characters of all time! She's also pretty sarcastic, which is ALWAYS a plus. Though I found the whole "child prodigy" thing interesting, I feel like at points the whole "being a surgeon at 18" did not really work because it wasn't established well enough. We know that she went to medical school when she was really young and became an intern as soon as she turned 18, but I felt like I wanted to know more about her status within the group of her colleagues and so on.
The story was fell constructed and it is generally well written. Third Degree is a quick read that is occasionally funny, occasionally romantic and also has those moments that just make you want to cry. Though I had some problems with both Isabel and Marshall, I did find myself wanting to know more about them and what will happen to them. I believe this is a stand-alone novel, which is a plus in a world of multiple series that are just too difficult to keep up with. Even if there comes a sequel, I probably won't read it, because I was more than happy with how this ended.