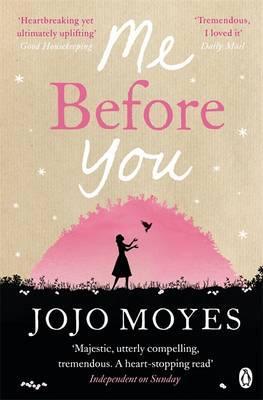 Release date: January 5, 2012
Info about the author:
Goodreads - Twitter - Website
Publisher: Michael Joseph/Penguin
Age group: Adult
Pages: 480 (paperback)
Buy the book:
Amazon
-
Book Depository
Description (from Goodreads):
Lou Clark knows lots of things. She knows how many footsteps there are between the bus stop and home. She knows she likes working in The Buttered Bun tea shop and she knows she might not love her boyfriend Patrick.
What Lou doesn't know is she's about to lose her job or that knowing what's coming is what keeps her sane.
Will Traynor knows his motorcycle accident took away his desire to live. He knows everything feels very small and rather joyless now and he knows exactly how he's going to put a stop to that.
What Will doesn't know is that Lou is about to burst into his world in a riot of colour. And neither of them knows they're going to change the other for all time.
MY THOUGHTS:
I had heard A LOT of things about this book before reading it. I actually bought a copy of it already during the spring of this year, thinking that I would read it during the summer. But then someone told me that it is super sad and should not be read during the summer time... So I left it in Edinburgh for summer when I traveled home. Later on, I heard that it is really difficult to put down. I heard that the characters are great and that the expectations for the movie adaptation are super high.

From the synopsis to the novel I made my own deductions. I thought Lou is a bit OCD because of the whole "she knows how many steps there are between the bus stop and home." After reference to the motorcycle accident, I knew that Will would somehow be disabled, but I did not expect the level of disablement that actually happens. I read adult "romance" novels so rarely I kind of expected his injury would be more on the mental side (stripping of his pride) and that there would be a really cliche recovery moment that just happens out of the blue. So yes, I was expecting for a cliche, syrupy story. I got something completely different....
At the age of 26/27 (she has her birthday during the timeline of the book), Lou as never left her little hometown. She works in a cafe, still lives with her parents and seems to be stuck in a relationship with a guy who she does not seem to have anything in common with anymore. She dresses differently than the people around her and she is constantly ridiculed by her family (though this is apparently done in a humoristic manner), and when the cafe she has been working in for over 6 years suddenly closes down, she finds herself in a situation she has never faced before - 26, unemployed, expected to be the breadwinner for the whole family. After some failed attempts with jobs given by the job centre, Lou is directed towards a job as a personal carer for a disabled man... That is how she meets Will.
Will used to be a big deal. He lived in London, had a successful job, beautiful women around him, the money to travel around the world. He I lived in a world of luxury and excess. But one faithful morning he is injured in a motorcycle accident and everything changes. He becomes a quadriplegic, meaning that he loses control of most of his limbs and his everyday tasks and actions become dependent on other people. He is put in a wheelchair and wheeled away from London to live with his parents in a small English town that feels very small and claustrophobic to him. He loses all hope and just want to die. And then he meets Lou...
In a cliche Nicholas Sparks type of romance these characters would first hate each other, then suddenly fall in love and in the end Will would either go through a miraculous recovery or he would die, but it would be in this very grand manner after everything they have ever wanted to say to each other. His last words would probably be "I love you" and then Lou, in a 10 years later chapter, would still hold on to him and no one else. But as I said, this was not what I expected. Lou and Will do hate each other first and the process of actually getting to a point that they can stand each other even a little takes time. Will is stubborn, depressed and ready to give up. Lou finds herself in a situation in which her optimism and open personality suddenly do not take effect. As Will realizes that there really is no other option than to try and get through the days with Lou, he starts to open up and gradually they start to realize that they actually like spending time together. Will talks about his life before the accident and Lou talks about her family. They start to take small trips together and Lou starts to spend more time at Will's that was specified in the job agreement.
Though the two characters find a connection, it feels like there is a quiet time bomb ticking in the background. Lou has been given a 6 month contract to the job and it has been agreed that if the mood of Will does not change, something else has to be tried after that. Lou desperately wants to make Will happy, but as time goes by, she starts to realize there might not be anything that can make this man happy, not after what he has left behind due to the accident.
The romance in this book is actually pretty toned down. There are no cliche romantic grand gestures (if you are waiting for a proposal in front of a fountain while there are fireworks in the sky... this book is not for you) and it is actually more of a story about a friendship than a fiery romance. The connection between Lou and Will is tangible and the way it develops is totally worth the read! They both become so real on the pages of the novel that in the end you feel like you actually know them... at least that is what happened to me. I wanted good things for them both, I wanted them to be happy.
Moyes writes well and though the subject matter of this book is pretty heavy, there are incredibly funny bits in this book as well. When starting with it I did not know that it was set in England (for some reason I expected it to be set in US) and for a while I was not quite sure what to feel about the setting, but eventually I did start to like it and maybe actually got some of the very dry British humor from there. I am used to reading romance novels set in US, but this was a nice breath of fresh air and definitely made me more open to other contemporary stories set in UK.
The novel is told mostly through the point of view of Lou, but the short chapters that occasionally take place from point of view of the characters around Lou and Will give a new perspective to the bond that is forming between them, opening the story up a bit more. In general, Me Before You was a rather quick read (and indeed, difficult to put down), and though it is sad, there is also a very shining glimpse of hope found from there. I cried, but not all the tears were a result of sadness.
The film adaptation of the novel is expected to come out in 2015 with Emilia Clarke (Game of Thrones) as Lou and the gorgeous Sam Claflin (The Hunger Games films) as Will. The main cast sounds amazing on paper, so my expectations for the adaptation are pretty high. I mean, Sam Claflin... COME ON.