"Stacking The Shelves is all about sharing the books you are adding to your shelves, may it be physical or virtual. This means you can include books you buy in physical store or online, books you borrow from friends or the library, review books, gifts and of course ebooks!"
For more information, click here.
QUICK UPDATE:
If you actively check my blog, you have probably figured out that I haven't been very active recently. I've been posting reviews on weekly basis, but other than that, there hasn't been any activity on my blog for over a month. And that's all because of fourth year, my final year of uni and all the work that comes with it. I am working on my dissertation at the moment along with other course work, which means that pretty much every day I have to spend hours studying, after which updating this blog has the last thing on my mind.
Don't get me wrong. I do miss blogging like crazy. I miss the wonderful book blog environment and all the people that makes this such a fun experience. Unfortunately, I haven't even been reading anything recently, unless film books count. So there really isn't anything I could review (you probably aren't interested in reviews of film books). Well, anyway, I just wanted to let you know that I am still here and I am definitely going to keep this blog going, just with a little less content for now.
Here are a couple of books I've added to my collection since my last STS post! Hopefully I'll find the time and inspiration to get to these soon!
Unspoken (The Lynburn Legacy #1) by Sarah Rees Brennan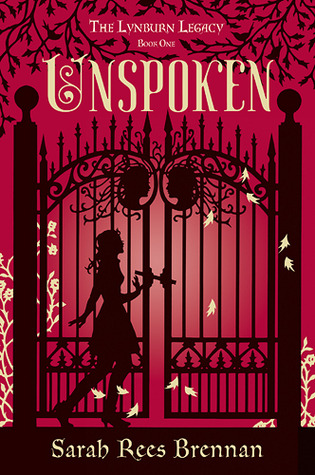 Kami Glass loves someone she's never met . . . a boy she's talked to in her head ever since she was born. She wasn't silent about her imaginary friend during her childhood, and is thus a bit of an outsider in her sleepy English town of Sorry-in-the-Vale. Still, Kami hasn't suffered too much from not fitting in. She has a best friend, runs the school newspaper, and is only occasionally caught talking to herself. Her life is in order, just the way she likes it, despite the voice in her head.
But all that changes when the Lynburns return.
The Lynburn family has owned the spectacular and sinister manor that overlooks Sorry-in-the-Vale for centuries. The mysterious twin sisters who abandoned their ancestral home a generation ago are back, along with their teenage sons, Jared and Ash, one of whom is eerily familiar to Kami. Kami is not one to shy away from the unknown—in fact, she's determined to find answers for all the questions Sorry-in-the-Vale is suddenly posing. Who is responsible for the bloody deeds in the depths of the woods? What is her own mother hiding? And now that her imaginary friend has become a real boy, does she still love him? Does she hate him? Can she trust him?
Midwinterblood by Marcus Sedgwick
Have you ever had the feeling that you've lived another life? Been somewhere that has felt totally familiar, even though you've never been there before, or felt that you know someone well, even though you are meeting them for the first time? It happens. In 2073 on the remote and secretive island of Blessed, where rumour has it that no one ages and no children are born, a visiting journalist, Eric Seven, and a young local woman known as Merle are ritually slain. Their deaths echo a moment ten centuries before, when, in the dark of the moon, a king was slain, tragically torn from his queen. Their souls search to be reunited, and as mother and son, artist and child, forbidden lovers, victims of a vampire they come close to finding what they've lost. In a novel comprising seven parts, each influenced by a moon - the flower moon, the harvest moon, the hunter's moon, the blood moon - this is the story of Eric and Merle whose souls have been searching for each other since their untimely parting.
Columbine by Dave Cullen
Ten years in the making and a masterpiece of reportage, "Columbine" is an award-winning journalist's definitive account of one of the most shocking massacres in American history.
It is driven by two questions: what drove these killers, and what did they do to this town?
*****
"On April 20, 1999, two boys left an indelible stamp on the American psyche. Their goal was simple: to blow up their school, Oklahoma City-style, and to leave a lasting impression on the world. Their bombs failed, but the ensuing shooting defined a new era of school violence--irrevocably branding every subsequent shooting 'another Columbine.
"When we think of Columbine, we think of the Trench Coat Mafia; we think of Cassie Bernall, the girl we thought professed her faith before she was shot; and we think of the boy pulling himself out of a school window--the whole world was watching him. Now, in a riveting piece of journalism nearly ten years in the making, comes the story none of us knew. In this revelatory book, Dave Cullen has delivered a profile of teenage killers that goes to the heart of psychopathology. He lays bare the callous brutality of mastermind Eric Harris and the quavering, suicidal Dylan Klebold, who went to the prom three days earlier and obsessed about love in his journal.
"The result is an astonishing account of two good students with lots of friends, who were secretly stockpiling a basement cache of weapons, recording their raging hatred, and manipulating every adult who got in their way. They left signs everywhere, described by Cullen with a keen investigative eye and psychological acumen. Drawing on hundreds of interviews, thousands of pages of police files, FBI psychologists, and the boys' tapes and diaries, he gives the best complete account of the Columbine tragedy.
Code Name Verity (Code Name Verity, #1) by Elizabeth Vein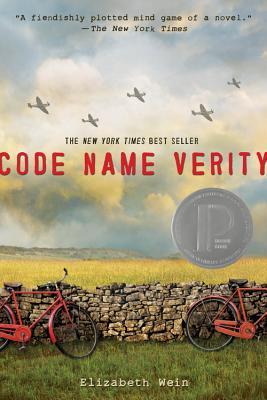 Oct. 11th, 1943-A British spy plane crashes in Nazi-occupied France. Its pilot and passenger are best friends. One of the girls has a chance at survival. The other has lost the game before it's barely begun.
When "Verity" is arrested by the Gestapo, she's sure she doesn't stand a chance. As a secret agent captured in enemy territory, she's living a spy's worst nightmare. Her Nazi interrogators give her a simple choice: reveal her mission or face a grisly execution.
As she intricately weaves her confession, Verity uncovers her past, how she became friends with the pilot Maddie, and why she left Maddie in the wrecked fuselage of their plane. On each new scrap of paper, Verity battles for her life, confronting her views on courage, failure and her desperate hope to make it home. But will trading her secrets be enough to save her from the enemy?
A Michael L. Printz Award Honor book that was called "a fiendishly-plotted mind game of a novel" in
The New York Times
,
Code Name Verity
is a visceral read of danger, resolve, and survival that shows just how far true friends will go to save each other.
Have you read any of these?
Do you think one of these could take me out of my very extended reading slump and make me want to spend my free time doing more reading (in addition to school work) rather than watching Netflix?