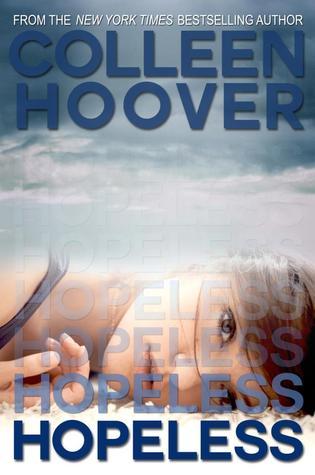 Release Date: December 17, 2012
Info about the author:
Goodreads
-
Twitter
-
Website
Age group: YA
Pages: 327 (ebook)
Buy the book:
Amazon
-
Book Depository
Description (from Goodreads):
Sometimes discovering the truth can leave you more hopeless than believing the lies…
That's what seventeen-year-old Sky realizes after she meets Dean Holder. A guy with a reputation that rivals her own and an uncanny ability to invoke feelings in her she's never had before. He terrifies her and captivates her all in the span of just one encounter, and something about the way he makes her feel sparks buried memories from a past that she wishes could just stay buried.
Sky struggles to keep him at a distance knowing he's nothing but trouble, but Holder insists on learning everything about her. After finally caving to his unwavering pursuit, Sky soon finds that Holder isn't at all who he's been claiming to be. When the secrets he's been keeping are finally revealed, every single facet of Sky's life will change forever.
After hearing so many good things about Colleen Hoover and her writing, I decided that it is finally time for me to join the bandwagon. I decided to star with
Hopeless
purely because of the fact that the goodreads rating was so high and a lot of people I have befriended on the site seemed to have liked it a lot. One thing I did not realize when selecting it was that it is YA rather than NA, but since I had already marked it as "currently reading" on Goodreads, I decided to go with it.
We are introduced to Sky. She has been adopted when she was about 5 years old and she cannot remember much from her life before that. Her adoptive mother Karen is loving and caring and understanding, but sometimes her weird rules about technology seem just that - weird! They don't have a television or a computer and Sky has never had a mobile phone. She has also been home schooled her whole life, but now, on the eve of the beginning of her senior year, she has begged Karen to let her to attend the local high school with her best friend Six. But when Six is accepted to a student exchange program, Sky has to face the foes for high school on her own.
Let's just say it - Sky has a bit of a reputation, which she has mostly gained through her association with Six. Usually when Six, who has a tendency to switch boyfriends often, has had a new guy around, the new guy's friend has been reserved for Sky. Sky has never been in love, and does not really believe in love to begin with, and has only used these guys to make her feel numb. When other girls feel all tingly and loved while making out, Sky feels nothing, and she likes it. But then she meets the mysterious Holder and starts to feel things she never expected she would feel.
At first, I thought Holder was SUPER CREEPY. He kind of stalks Sky around, which is totally not cool, and at first this made me question the sanity of Sky. Why does she let him be around her when she feels occasionally scared of him? I know some readers will give up with this book because of this, and I must have to admit that at first I was super annoyed about the fact that it seems like Sky lets Holder in just because he's hot. But as their relationship processes and we get to know more about the characters, we get an explanation to Holder's behavior.
A lot of people who don't read YA say that they don't do so because the stories are always so predictable. This definitely might be true in some cases, but definitely NOT with this one. I had no idea what to expect and I definitely did not see all the twists and turns coming. The story is build masterfully and it really isn't until the end that you maybe start to make connections ahead of the narrative, but that's just because of the little hints Hoover gives for the reader.
I feel like this is one of those books you'll probably end up hating if you stick to every single issue (why is he looking at her ID, why is he so curious about her? etc.). I think you just kind of have to go with the flow and give these characters fully a chance to introduce themselves before you make any judgments. All and all, I don't really have any complaints (other than the fact that it annoyed me immensely when Holder kept calling Sky "baby" - something in that just drove me crazy) and I really did enjoy this novel. I am not completely sure whether I will read Losing Hope or not (
Hopeless
from the perspective of Holder) but I will definitely keep it on my radar. If you have read
Hopeless
, what do you think, should I pick up
Losing Hope
?
I know both
Hopeless
and
Losing Hope
have been optioned for a film, but I have no idea how far the projects are. I guess I would go and see a film adaptation of this, hoping that it would be honest to the story and the issues it deals with, without glossing over some of the difficult situations this book presents to the reader.