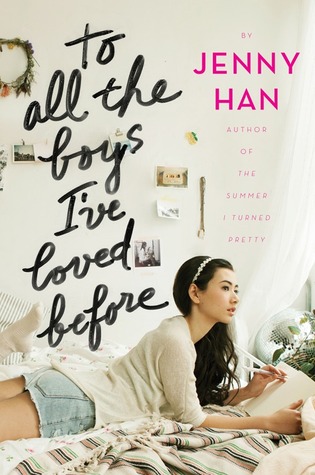 Release Date: April 15, 2014
Info about the author:
Goodreads
-
Twitter
-
Website
Publisher: Simon & Schuster Books for Young Readers
Age group: YA
Pages: 288
Buy the book:
Amazon
-
Book Depositor
y
Description (from Goodreads):
To All the Boys I've Loved Before is the story of Lara Jean, who has never openly admitted her crushes, but instead wrote each boy a letter about how she felt, sealed it, and hid it in a box under her bed. But one day Lara Jean discovers that somehow her secret box of letters has been mailed, causing all her crushes from her past to confront her about the letters: her first kiss, the boy from summer camp, even her sister's ex-boyfriend, Josh. As she learns to deal with her past loves face to face, Lara Jean discovers that something good may come out of these letters after all.
MY THOUGHTS:
The moment I saw the cover for this book and read the synopsis, I knew this book was something I should get excited about. And I was right because this book was simply wonderful.
Every time Lara Jean has been in love/had a serious crush on someone, she has written a letter to the guy telling how she feels (and how she got over those feelings). She has addressed the letters, but never sent them. They were meant to just help her to get over the guys, not to actually be sent to the world. But when Peter, her first kiss and one of the most popular boys of the school, comes to Lara Jean with a letter in his hand, she quickly realizes that something bad has happened - her letters have been sent and now the guys know about her feelings. Some of the letters she can brush off more easily, but there are two that she has a hard time to explain - two guys that make her question her actions and emotions.
Josh, Lara Jean's big sister's ex-boyfriend has been part of Lara Jean's life for years. He is loved by everyone in Lara Jean's family, especially Lara Jean's little sister Kitty. When Margot breaks up with him before going to college, Lara Jean starts to think about the feelings she used to have for him. And then he gets the letter he was never supposed to receive, and things get more and more complicated. Can she have a crush on a guy her sister used to be in love with, or is that a complete no no? While trying to figure out what to do with Josh and her possible feelings for him, there's also Peter to think about.
Lara Jean used to crush on Peter in middle school and he ended up becoming the first guy she kissed. Around 8th grade, the old group of friends scattered around, and Peter started to hang out with the "cool" people, one of them being Genevieve, Peter's girlfriend for several years. But around the time Peter gets Lara Jean's letter, he is dumped by Genevieve. He's ready to do anything to get Genevieve back and conducts a plan with Lara Jean which could make Genevieve jealous. But of course things don't go always as planned and soon Lara Jean realizes that the plan she has made with Peter might not be the best for her heart.
I loved this book so much. I found it easy to identify with Lara Jean (she rather spends her Friday nights scrap-booking at home that at parties) and I loved the fact that she's strong and funny, but also still trying to figure some things about herself and the people that surround her. Though the book has a romantic element, I loved that it also focused a lot of the family dynamics, especially the relationship between the three sisters. Lara Jean's voice is honest, refreshing and occasionally a bit over-dramatic, which I think is perfect for a situation like this because at least I had a tendency to be over-dramatic about certain things when I was a junior in high school.
The romance found from the book is not too fluffy or instalove or anything like that, but builds up gradually and for a long time you've kept wondering which guy Lara Jean will actually "pick". I loved the ending and I think that with an ending like that, this book could easily have been a standalone, but I was happy to notice from goodreads that this has been marked as book one, so there will be more books with these characters. I can't wait to see how the story develops!