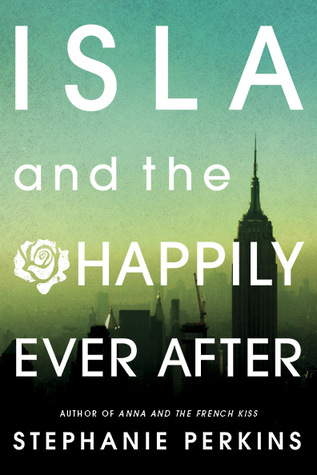 Release date: August 14, 2014
Info about the author:
Goodreads
-
Twitter
-
Website
Publisher: Dutton
Age group: YA
Pages: 352
Buy the book:
Amazon
-
Book Depository
Description (from Goodreads):
From the glittering streets of Manhattan to the moonlit rooftops of Paris, falling in love is easy for hopeless dreamer Isla and introspective artist Josh. But as they begin their senior year in France, Isla and Josh are quickly forced to confront the heartbreaking reality that happily-ever-afters aren't always forever.
Their romantic journey is skillfully intertwined with those of beloved couples Anna and Étienne and Lola and Cricket, whose paths are destined to collide in a sweeping finale certain to please fans old and new.
MY THOUGHTS:
I don't think I've waited for a book this much since the last Harry Potter book was released. After falling in love with both Anna and the French Kiss and Lola and the Boy Next Door, the anticipation for this book has been a grueling process. But it is finally released. And I finally got a chance to read it. And I finally had a chance to fall in love, once again, with Stephanie Perkins's characters and writing.
Isla and Josh are both from New York, but they attend a school in France. Yes, it is the same school Anna and St. Clair attend in Anna and the French Kiss. Isla's mother is French and her father American, so for her whole life she's kind of felt like she's living between two places and two worlds. Josh's father is a senator, which has made Josh used to living in the limelight, even if he does not like it. He is used to pretending to be someone else, someone who does not really care about much. All changes when he connects with Isla, a girl he has been aware of for years, but who seems to show up just when he's in need of a friend... and maybe more.
To Isla, it seems that unlike everyone else, she has not idea what she wants to do after graduation. Should she stay in Paris or go back to New York? What should she major in? What can she do when she feels like she's not "that good" in anything? Though I knew what I wanted to do and study after graduating from high school, I did feel for Isla throughout the novel, because right now, with only one year left of university, I am trying to come up with what to do next. Isla is extremely critical and harsh on herself and her talents and constantly feels like she isn't good for anything. Yes, reading about a character like that can get extremely annoying, but Isla is so real and so honest that I just felt for her and wanted her to find her way. Isla definitely was the most problematic character for me in the book, but I think that's because she reminded me so much of myself.
She might seem awkward and shy to those who do not know her, and though she is those things, she is also intelligent, funny, sarcastic and just all kinds of wonderful.
Josh's best friends have all graduated and he has no idea how he will survive one more year at the school that did not end up being the sanctuary he was looking for when he insisted his parents that he wants to move to Paris. He knows what he wants to do after high school and for him it feels like his senior year is just a waste of time, an obstacle on his road toward his dream. Then he connects with Isla, the cool girl who he saw reading his favorite graphic novel years ago, and starts to feel like maybe his time in Paris isn't all waste after all. But as they spend more time together, Josh starts to notice that Isla has problem with trusting the people around her. And that's all because she cannot trust herself. So he does everything he possibly can to make Isla see herself the way he sees her.
Josh is just SO DREAMY. He's artistic, funny, gentle, romantic.... just what I expected from a Stephanie Perkins male character. He is a perfect match for Isla and it is so wonderful to read about the development of their relationship and the realizations they make about each other while they fall in love.
Like the previous novels by Perkins, Isla and the Happily Ever After is romantic, well-written and just so incredibly pleasant and easy to read. It made me laugh, gush, giggle and cry. It gave me the feels. It made me think about my magical high school year abroad. It even made me want to turn back time for a short while so I could experience high school again. It is a perfect conclusion to the series of books by Perkins filled with characters old and new for you to fall in love with.