For more information, click
here
.
This week's topic is Top Ten Books I'm Not Sure I Want To Read (books you may have bought but aren't sure if you are into it anymore, books you wanted to read but heard mixed things about, hyped books you aren't sure about...)
Welcome to my "TO READ OR NOT TO READ" list
I was so excited about this book when I first heard about it, especially after reading that Emma Watson had already been linked to the film before this book was published. But after it's publication, I read some reviews for it that kind of made me hesitant about picking it up. One of my favorite Goodreads users, Khahn from The Book Nookery posted this quote from the book that just completely withdrew me from the book: What does [that lady] see when she looks in the mirror? Kelsea wondered. How could a woman who looked so old still place so much importance on being attractive? Kelsea saw now that there was something far worse than being ugly: being ugly and thinking you were beautiful. In reference to this quote Khahn asks: "Because how DARE anyone ugly have confidence in themselves?".
On the other hand there are raving reviews for this one, with statements like "
Richly-imagined and highly-addictive" (Hafsah Laziaf), so I don't know... Should I give it a try?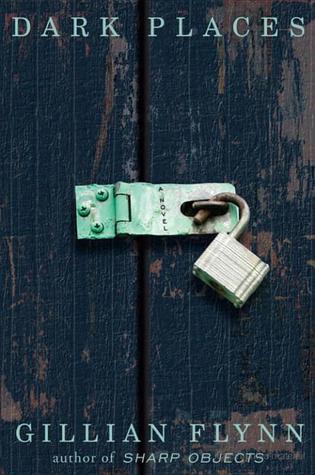 2. Dark Places by Gillian Flynn
Many reviewers on Goodreads describe this as mysterious, crazy, violent and grotesque. Those descriptions definitely make me interested and I almost hope that I would have read this before picking up 'Gone Girl' because then I would not have been so hesitant about Gillian Flynn as an author. Yeah, I might be in minority here, but I did not like Gone Girl. Not at all. I found it very difficult to feel anything towards the characters and honestly halfway through the book I didn't care AT ALL what happens to them. I've read that this book also has characters that are very difficult to like and I'm afraid I might not be up for another read in which I just feel NOTHING for the characters. I don't mind if a character is "bad" or "wrong" or any of that, but I need to know WHY they are like that. Gone Girl left me cold and I'm afraid this will do the same.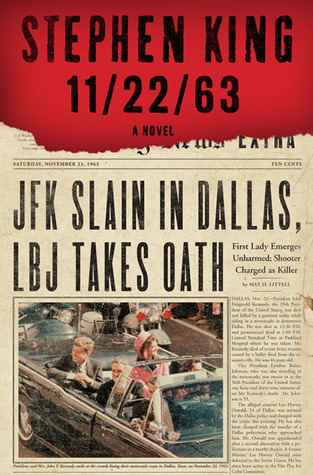 3. 11/23/63 by Stephen King
I've been meaning to pick up a Stephen King book for AGES and I actually have bought a couple of his titles just to remind me that I should read something by him. This one is kind of a new discovery for me - I first just saw the title and instantly got interested because I've been interested in the Kennedy's for years. But then I read the synopsis and realized that this book has something to do with time travel through portals etc. which just kind of sounds weird in connection to the Kennedy assassination. Also, it is like 850 pages long. I am always intimidated by long books, especially by ones I haven't really heard anything about. This one has a brilliant Goodreads rating, but it seems like not a lot of people I follow there have read this.
Have you read this one? What did you think about it?
I haven't really read that much witch books to say that I am a fan of them, but this one's been one that I've come across quite a bit after it's publication. I feel like the reviews I've read for this one either praise this or completely put it down - it sounds like it's one of those books you either really love or really hate. I watched a couple of reviews for this from Youtube and understood that it's quite heavy on the high school drama side, meaning that probably the whole witch thing is just kind of an addition to the whole thing to make things more complicated (like in Alienated by Melissa Landers where the whole alien thing just kind of complicated the high school drama). Since I hate leaving books half read, I don't know whether I should give this a go and see whether it is for me or not. I do like books about high school drama, but then I need it to be realistic. And the inclusion of witches kind of makes me think that the drama won't be realistic at all.
5. Northanger Abbey by Val McDermid
I love Jane Austen and Northanger Abbey happens to be my 3rd favorite Austen novel. This is a modern take on Austen's novel written by an Internationally best-selling crime author. Sounds good, right? Well, the Goodreads reviews tell another story. The rating is only 3.10 and most of the reviews I read are one star reviews that completely slam this book down. What makes it worse is that most of these reviews are written by people who have actually read Austen's original novel and loved it. So I don't know whether I am ready to read a book that has a very large possibility of making me angry about "butchering" a story I love so much.
One thing that kind of wants to make pick this up is the fact that it's set in Edinburgh where I've spent the last three years in university and where I'm going back for one more year to do my honours. But is this really worth a read (and buy) just because of the Edinburgh setting?
I loved The Twilight Saga and for a long time thought that paranormal books are the best thing that ever happened to me. After a while and as I got older, I realized that those books (especially the YA ones released after the success of Twilight) followed the same pattern and used the same type of characters, making every book pretty much the same; a young, innocent, perfect girl (who possibly has some type of supernatural gift she doesn't know about) falls in love with a mysterious guy who ends up being a vampire, demon, werewolf or something similar. From the paranormal books the angel books were the ones I liked the least and this one seems to be about "daughters and sons of fallen angels". So yeah, the premise does not sound like my thing. But several people who I trust when it comes to books RAVE about this one, saying that the concept is interesting and that the romance is really good. I feel like every single time I think of what to read from my Kindle, I think of this one, but I just haven't read it yet. Should I?
7. All Our Yesterdays by Cristin Terrill
The synopsis for this mentions a time machine and a character called 'the doctor'. Sound familiar, anyone? Anyone? That kind of drew me away instantly because I never really got Doctor Who (I realize this book probably has NOTHING to do with Doctor Who, but I instantly made the connection to it anyway). So yeah, for a very stupid reason that most likely has nothing to do with this book and the story it tells, I have not read this one even though I do own it as an ebook. The ratings are super good and a lot of people I know loved it. I hope I had not read the synopsis or anything and would have just read this one because I feel like I could really like it too. Damn you synopsis.
8. The Merciless by Danielle Vega
A lot of people (especially people who only read YA) have described this as one of the scariest and creepiest books they've ever read. And yeah, it does sound scary and creepy, but at the same time I just kind of wonder HOW scary it can actually be since it's a YA title. It has something to do with exorcism, which instantly makes me think of The Exorcist film, which isn't scary at all. A lot of people who I know that like horror movies have said that they liked this book. I like horror movies but there's a very small about of horror movies that actually make me at least a little bit scared. So I'm kind of wary about reading this one because I expect gore and scary narrative and I have a hunch that it actually isn't as scary as I hope it would be.
9. Sekret by Lindsay Smith
The name of the book and the tag line "An empty mind is a safe mind" instantly caught my attention. Also the fact that it is set during the Cold War in Russia and deals with the KGB managed to make me very excited. But then I read that it deals with people who have some type of supernatural powers. My first reaction was "WHY? WHY DO THEY NEED TO BE SUPERNATURAL? WHY CAN'T IS JUST BE A NOVEL ABOUT KGB AND YOUNG PEOPLE WORKING FOR THEM? WHY WHY WHY WHY WHY?". I feel like this is similar to the reaction I had while reading the first Mara Dyer book, which I eventually really liked. So I feel like I just need to get pass the whole supernatural thing and hope that I like this book despite the supernatural aspect, which does not excite me very much (as you can probably sense).
J.K. Rowling is an author who probably has had one of the biggest influences in my life when it comes to my reading history and reading experiences. Harry Potter changed the way I read and the way I felt about books and though I am curious about Rowling's other work, I feel like there might be a part of me that won't be able to appreciate her other novels when I realize that they focus on different characters and different worlds than the books I've read by her before (meaning the HP books). So though this one sounds incredibly interesting, I've been extremely hesitant about picking it up.
I had to add this somewhere - RIP Robin Williams. Thank you for the tears of laughter and joy. I hope you're in a better place now.