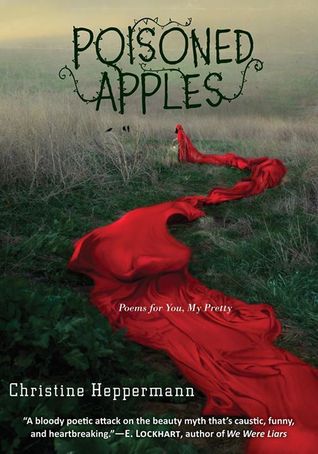 (REVIEW COPY FROM EDELWEISS)
Release Date: September 23, 2014
Info about the author:
Goodreads
-
Twitter
-
Website
Publisher: Greenwillow Books
Age Group: Young Adult
Pages: 128
Buy the book:
Amazon
-
Book Depository
Description (from Goodreads):
Every little girl goes through her princess phase, whether she wants to be Snow White or Cinderella, Belle or Ariel. But then we grow up. And life is not a fairy tale.
Christine Heppermann's collection of fifty poems puts the ideals of fairy tales right beside the life of the modern teenage girl. With piercing truths reminiscent of Laurie Halse Anderson and Ellen Hopkins, this is a powerful and provocative book for every young woman. E. Lockhart, author of We Were Liars, calls it "a bloody poetic attack on the beauty myth that's caustic, funny, and heartbreaking."
Cruelties come not just from wicked stepmothers, but also from ourselves. There are expectations, pressures, judgment, and criticism. Self-doubt and self-confidence. But there are also friends, and sisters, and a whole hell of a lot of power there for the taking. In fifty poems, Christine Heppermann confronts society head on. Using fairy tale characters and tropes, Poisoned Apples explores how girls are taught to think about themselves, their bodies, and their friends. The poems range from contemporary retellings to first-person accounts set within the original tales, and from deadly funny to deadly serious. Complemented throughout with black-and-white photographs from up-and-coming artists, this is a stunning and sophisticated book to be treasured, shared, and paged through again and again.
MY THOUGHTS:
I used to read a lot of poetry back in high school when it was a part of my English syllabus, but since graduating from HS I've been neglecting poetry. For some reason it has been difficult for me to pick up a book of poetry rather than a novel. I guess I've always found novels easier to get into, easier to understand and easier to read. When I read the synopsis for this collection of poems, I instantly felt like I want to read it since I am very interested in issues of female representation and how it is shaped by media. Also the blurb by E. Lockhart really made me interested about this one.
Poisoned Apples: Poems for You, My Pretty is a collection of 50 poems by Christine Heppermann, a poet, writer and a critic, that tackles issues that young girls (and women as well) deal with daily, ranging from issues of body and problems of love. The way the poems discuss the life of modern teenagers from eating disorders to self-abuse is touching, unique and hauntingly beautiful. Heppermann does not shy away from discussing serious issues, but tackles head on into situations that are occasionally scary and occasionally funny.
Heppermann takes inspiration from fairytales, building the poems around characters like Ariel, Belle and Rapunzel in a modern context. The collection touches upon the society' expectations towards young girls and the problems they face while growing up in a world in which media repeatedly tells girls how they are supposed to look and act in order to see "respectable" and "normal". While some of the poems deal with serious issues like anorexia and self-harm in very serious light, others dealing with issues like fashion magazines and peer pressure have a dark, humoristic flair.
"How stupid that all I have to do
is grow two squishy lumps and suddenly
I'm man's best friend."
In addition to the poems, the collection includes black and white photographs from a series of artists that brilliantly complement the words within the pages. Poisoned Apples: Poems for You, My Pretty is definitely a book that I'll try to acquire as a physical copy once it's published. It is one of those books I instantly wanted to share with someone, a book that I wanted to talk about with someone. My Kindle probably did not do justice for the photographs and I'm really looking forward to seeing them on print.
Poisoned Apples: Poems for You, My Pretty is a fast read, but also one that makes you think, one that you will carry with you. It is one of those books you can always go back to and one you can discuss with your friends. A must read for anyone interested in gender representation!