For more information, click
here
.
This week's topic is Top Ten (Male) Characters I Would Want With Me On A Deserted Island
Some of these guys I would like to take for a romantic island getaway only whereas I guess some of them would actually be kind of helpful if I accidentally got stranded at a deserted island.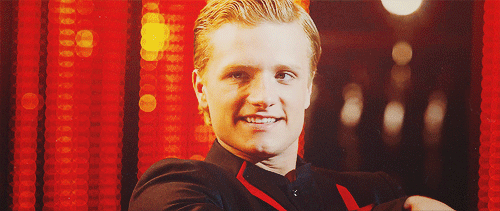 1. Peeta Mellark from The Hunger Games Trilogy by Suzanne Collins
Peeta. I love you. So much. We could stay in a little cabin and you could bake me bread.
2. Levi from Fangirl by Rainbow Rowell
He's just so funny and kind and handsome. And he has to be strong too because of all that farm work. And I guess he could so those ten thousand smiles at that island - that ought to be good entertainment for a couple of days.
3. Carson from All Lined Up by Cora Carmack
Though I am not big on football otherwise, I do like some fictional football players, Carson being one of them. He's super fit so he could do the heavy lifting at the island. (I searched for this photo using the words "hot football player"... I was so happy when I actually recognized him even when I don't follow football AT ALL.)
4. Matt from Open Road Summer by Emery Lord
He could play me some guitar and sing and just me cute and handsome and hot. (I am starting to sense a team - I searched for this picture using words "hot guitar player". I have no idea who this guy is.)
5. Jace Wayland/Morgenstern from The Mortal Instruments series by Cassandra Clare
His shadowhunter skills would probably be handy at the island. And if there ends up being something dangerous there, he probably could protect me. (I did not agree with the casting for Jace AT ALL but oh well... And the film sucked anyway.)
6. Josh from Full Measures by Rebecca Yarros
He's kind, caring and funny. And we could talk about ice-hockey. And he has that perfect hockey body. (For this one I had so many pictures I wanted to use, but decided to go with that perfect smiling Sidney Crosby - an actual angel.)
7. Ridge from Maybe Someday by Colleen Hoover
He could also play me some music. And maybe we could make some songs together.
(This picture is the result of "hot guitar player" search pt.2... Does anyone know who this perfect man is btw?)
8. Draco Malfoy from Harry Potter Series by J.K. Rowling
I have always had a soft spot for Draco. His magic could get very helpful at the island, especially if we end up there by accident and need food and other supplies. He probably would have to use his magic also for getting us some sunscreen because we probably would both have a strong possibility to get sun burned. :D
9. Rusty from In Honor by Jessi Kirby
Spending time with Rusty would almost be like spending time with Tim Riggins, one of the most perfect fictional men ever, and seriously, who wouldn't want to spend time with Tim Riggins?
10. Roger from Amy & Roger's Epic Detour by Morgan Matson
Roger could make awesome playlists for us to listen in the sun while enjoying some drinks and good food.
(The reason I chose Zac Efron is because he's hot - simple as that.)