"Stacking The Shelves is all about sharing the books you are adding to your shelves, may it be physical or virtual. This means you can include books you buy in physical store or online, books you borrow from friends or the library, review books, gifts and of course ebooks!"
For more information, click
here
.
Landline by Rainbow Rowell (published July 8th, 2014 by St. Martin's Press)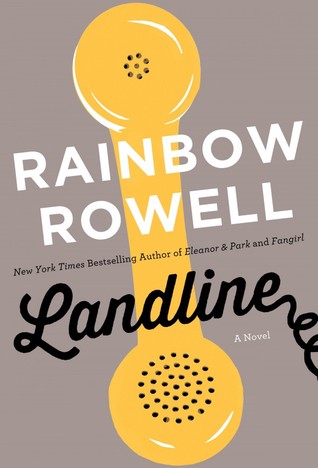 Georgie McCool knows her marriage is in trouble. That it's been in trouble for a long time. She still loves her husband, Neal, and Neal still loves her, deeply — but that almost seems besides the point now.
Maybe that was always besides the point.
Two days before they're supposed to visit Neal's family in Omaha for Christmas, Georgie tells Neal that she can't go. She's a TV writer, and something's come up on her show; she has to stay in Los Angeles. She knows that Neal will be upset with her — Neal is always a little upset with Georgie — but she doesn't expect to him to pack up the kids and go home without her.
When her husband and the kids leave for the airport, Georgie wonders if she's finally done it. If she's ruined everything.
That night, Georgie discovers a way to communicate with Neal in the past. It's not time travel, not exactly, but she feels like she's been given an opportunity to fix her marriage before it starts . . .
Is that what she's supposed to do?
Or would Georgie and Neal be better off if their marriage never happened?
The Secret Diary of Lizzie Bennet: A Novel by Bernie Su & Kate Rodick
A modern adaptation of Jane Austen's
Pride and Prejudice
based on the Emmy Award-winning phenomenon,
The Lizzie Bennet Diaries
.
There is a great deal that goes into making a video blog. Lizzie Bennet should know, having become a YouTube sensation over the course of her year-long video diary project.
The Lizzie Bennet Diaries
chronicled Lizzie's life as a twenty-four-year-old grad student, struggling under a mountain of student loans and living at home with her two sisters—beautiful Jane and reckless Lydia. What may have started as her grad student thesis grew into so much more, as the videos came to inform and reflect her life and that of her sisters. When rich, handsome Bing Lee comes to town, along with his stuck-up friend William Darcy, things
really
start to get interesting for the Bennets—and for Lizzie's viewers. Suddenly Lizzie—who always considered herself a fairly normal young woman—was a public figure. But not everything happened on-screen. Luckily for us, Lizzie kept a secret diary.
The Secret Diary of Lizzie Bennet
provides more character introspection as only a book can, with revelatory details about the Bennet household, including Lizzie's special relationship with her father, untold stories from Netherfield, Lizzie's thoughts and fears about life after grad school and becoming an instant web celebrity.
Written by Bernie Su, the series' executive producer, co-creator, head writer, and director, along with Kate Rorick, the novelist, TV writer, and consulting producer on the series, the novel features a journal-entry format and design, complementing the existing web series, while including plenty of fresh twists to delight fans and new readers alike.
The Secret Diary of Lizzie Bennet
expands on the phenomenon that captivated a generation and reimagines the
Pride and Prejudice
story like it's never been done before