"Stacking The Shelves is all about sharing the books you are adding to your shelves, may it be physical or virtual. This means you can include books you buy in physical store or online, books you borrow from friends or the library, review books, gifts and of course ebooks!"
For more information, click
here
.
The Silent Sister by Diane Chamberlain (copy from Netgalley, expected publication October 7th, 2014 by St. Martin's Press)
Description (from Goodreads):
In The Silent Sister, Riley MacPherson has spent her entire life believing that her older sister Lisa committed suicide as a teenager. Now, over twenty years later, her father has passed away and she's in New Bern, North Carolina cleaning out his house when she finds evidence to the contrary. Lisa is alive. Alive and living under a new identity. But why exactly was she on the run all those years ago, and what secrets are being kept now? As Riley works to uncover the truth, her discoveries will put into question everything she thought she knew about her family. Riley must decide what the past means for her present, and what she will do with her newfound reality, in this engrossing mystery from international bestselling author Diane Chamberlain.
Channel 20 Something by Amy Patrick (copy from Netgalley, expected publication August 12th, 2014)
Description (from Goodreads):
New Adult contemporary series about twenty-somethings entering the world of TV broadcasting, where what happens behind the scenes is the real news.
22-year-old Heidi Haynes is almost one year into her "real life". She has her first reporting job, her first apartment, and a comfortable relationship with her college sweetheart. But for some reason she's not as eager to talk about walking down the aisle as he is.
Heidi secretly longs for big cities, big-market breaking news, and real independence from her way-too-close-by helicopter parents. Problem is, the last time she left the security of home for new places and new people, things didn't go so well. Disastrously, in fact, and she came running back to a local college and a "safe" boyfriend.
Aric Serrano is definitely not safe.
He's six-feet-four-inches of missing-Hemsworth-brother-hotness and plans to stay in small-market-Southern-Hell just long enough to grab a cup of coffee and put together a kick-ass "escape tape". He'll serve his one-year contract, then he's taking off for a higher rung on the TV sports ladder—alone—the way he likes it. Then he meets his new co-anchor.
Heidi would be so much more comfortable if she could simply ignore Aric—he's just her type—the type she's so careful to avoid these days. But that becomes impossible when she's forced to work closely with him on the weekend news. Now the attraction between them is growing even faster than the ratings, and what happens behind the scenes is the real news.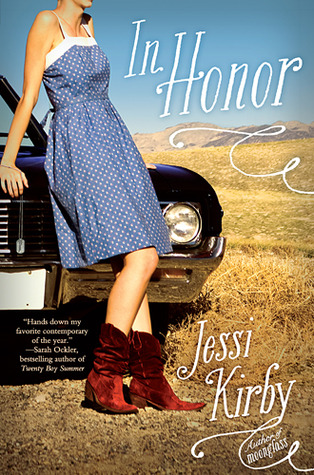 In Honor by Jessi Kirby (published May 8th 2012 by Simon & Schuster Books for Young Readers)
Description (from Goodreads):
Honor receives her brother's last letter from Iraq three days after learning that he died, and opens it the day his fellow Marines lay the flag over his casket. Its contents are a complete shock: concert tickets to see Kyra Kelly, her favorite pop star and Finn's celebrity crush. In his letter, he jokingly charged Honor with the task of telling Kyra Kelly that he was in love with her.

Grief-stricken and determined to grant Finn's last request, she rushes to leave immediately. But she only gets as far as the driveway before running into Rusty, Finn's best friend since third grade and his polar opposite. She hasn't seen him in ages, thanks to a falling out between the two guys, but Rusty is much the same as Honor remembers him: arrogant, stubborn . . . and ruggedly good-looking. Neither one is what the other would ever look for in a road trip partner, but the two of them set off together, on a voyage that makes sense only because it doesn't. Along the way, they find small and sometimes surprising ways to ease their shared loss and honor Finn--but when shocking truths are revealed at the end of the road, will either of them be able to cope with the consequences?
Second Chance Summer by Morgan Matson (Published May 8th 2012 by Simon & Schuster Books for Young Readers)
Description (from Goodreads):
Taylor Edwards' family might not be the closest-knit—everyone is a little too busy and overscheduled—but for the most part, they get along just fine. Then Taylor's dad gets devastating news, and her parents decide that the family will spend one last summer all together at their old lake house in the Pocono Mountains.

Crammed into a place much smaller and more rustic than they are used to, they begin to get to know each other again. And Taylor discovers that the people she thought she had left behind haven't actually gone anywhere. Her former best friend is still around, as is her first boyfriend…and he's much cuter at seventeen than he was at twelve.

As the summer progresses and the Edwards become more of a family, they're more aware than ever that they're battling a ticking clock. Sometimes, though, there is just enough time to get a second chance—with family, with friends, and with love.
I probably should stop requesting for Netgalley titles since I have so many books to read anyway. But I justified these two with the fact that I read one Netgalley title this week and I should have the review up for that next week. Also, I am especially interested about Amy Patrick's title because of the setting since it seems to kind of close to the setting I might inhabit for my master's degree.
I read In Honor last night and really liked it. All I will say now is that if you like this guy
YOU WILL LOVE KIRBY'S BOOK! The love interest of the main character is so similar to the wonderful Tim Riggins I couldn't get enough of this book.
Second Chance Summer I acquired because I LOVED Amy & Roger's Epic Detour and wanted to read something else by Morgan Matson. I've been warned that the reaction to this book might be close to something like this:
What did you add to your shelves this week? Leave me a link in the comments and I'll check out your post.