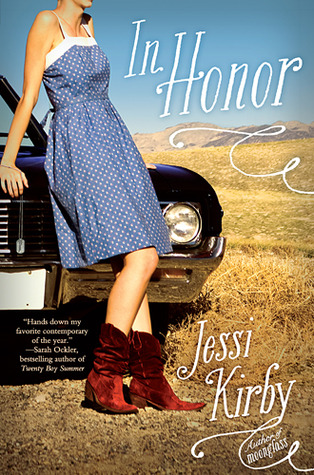 Release Date: May 8th, 2012
Info about the author:
Goodreads - Twitter - Website
Publisher: Simon & Schuster Books for Young Readers
Age group: YA
Pages: 235
Buy the book:
Amazon - Book Depository
Description (from Goodreads):
Honor receives her brother's last letter from Iraq three days after learning that he died, and opens it the day his fellow Marines lay the flag over his casket. Its contents are a complete shock: concert tickets to see Kyra Kelly, her favorite pop star and Finn's celebrity crush. In his letter, he jokingly charged Honor with the task of telling Kyra Kelly that he was in love with her.
Grief-stricken and determined to grant Finn's last request, she rushes to leave immediately. But she only gets as far as the driveway before running into Rusty, Finn's best friend since third grade and his polar opposite. She hasn't seen him in ages, thanks to a falling out between the two guys, but Rusty is much the same as Honor remembers him: arrogant, stubborn . . . and ruggedly good-looking. Neither one is what the other would ever look for in a road trip partner, but the two of them set off together, on a voyage that makes sense only because it doesn't. Along the way, they find small and sometimes surprising ways to ease their shared loss and honor Finn--but when shocking truths are revealed at the end of the road, will either of them be able to cope with the consequences?
MY THOUGHTS:
Honor's brother Finn has died in Iraq. Three days after she heard about the passing of Finn, she received a letter from him, which she left unopened until the night of his funeral. The letter, Finn's last wish, includes tickets to a concert of a famous country singer/pop star Kyra Kelly in California and a task for her to tell Kyra Kelly about her handsome brother. Confused, grief-stricken and lost, Honor decides to honor the wish of her brother and decides to leave immediately. She only manages to exit the house once she runs into someone on the driveway - Finn's best friend Rusty. He is arrogant, a bit of a douche and at that moment, also wasted. And apparently planning to join Honor on her trip to California. He jumps into the car and instantly passes out. So the only option Honor really has is to just start to drive and try to avoid Rusty as much as possible.
While they drive further away from Texas, Honor remains confused about why her brother joined the Marines, and though she is heartbroken about losing him, a part of her thinks that it never would have happened if her brother would not have left in the first place. Rusty knows why Finn joined the Marines, but is not ready to talk about it, especially not with Honor. After Finn's deployment, Rusty distanced himself from Honor as well, but after hearing about Finn's destiny, he seeks her out because he knows that she is the only person who feels just as hurt about the dead of Finn.
I felt for Honor and identified with her problems after losing someone close to her. All the things she has planned for her future don't feel right anymore and the only thing she can focus on is filling the last wish of her brother. But once she gets closer to California, she realizes that seeking the fulfillment of Finn's last wish is some much more to her than a journey to a concert. She does things she never expected she would do, she meets people who help her understand things about herself and she starts to feel a connection towards Rusty that she never expected she would feel. Rusty is the only one who knew her brother as well as she did and spending time with someone who misses him as much as she does helps. The more time she spends with him, the more attractive he gets to her and she starts to realize that she might feel more than just friendly feelings towards him.
From the first moment we are introduced to Rusty, I right away connected him to the wonderful Tim Riggins from NBC's brilliant Friday Night Lights. Like Tim, Rusty is troubled and the type that does not like to talk about his problems. He drowns his problems into beer and booze and avoids opening himself up. But he is also honest, trustworthy and extremely caring. And okay, he's also super hot.
Rating this book was difficult for me because Rusty is worth five stars, but I eventually decided going with solid three stars, just because I felt like the book ended a bit too abruptly. Just a one more chapter of Rusty would probably have pushed the rating to four, maybe even five stars. But all in all, I really liked this book - it even made me cry. If you love Tim Riggins, you will LOVE this one.