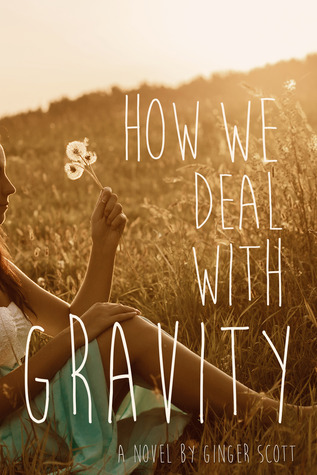 Release Date: July 8th, 2014 (review copy from Netgalley)
Info about the author:
Goodreads
-
Twitter
-
Website
Publisher: Ginger Scott
Age group: New Adult
Buy the book:
Barnes&Noble
Description (from Goodreads):
When her son Max was diagnosed with autism, Avery Abbot's life changed forever. Her husband left, and her own dreams became a distant fantasy—always second to fighting never-ending battles to make sure Max was given opportunity, love and respect. Finding someone to fight along her side wasn't even on her list, and she'd come to terms with the fact that she could never be her own priority again.
But a familiar face walking into her life in the form of 25-year-old Mason Street had Avery's heart waging a war within. Mason was a failure. When he left his hometown five years ago, he was never coming back—it was only a matter of time before his records hit the billboard charts. Women, booze and rock-n-roll—that was it for him. But it seemed fate had a different plan in mind, and with a dropped record contract, little money and nowhere to go, Mason turned to the only family that ever made him feel home—the Abbots.
Avery loved Mason silently for years—until he broke her heart…completely. But time and life have a funny way of changing people, and sometimes second chances are there for a reason. Could this one save them both?
MY THOUGHTS:
Avery Abbot's life hasn't really gone as planned. She dropped out of college when she got pregnant. Then her son Max was diagnosed with autism. Next, her husband left her without saying a word. Since Max was born and her husband left her, her only priority has been to make sure that Max gets the love and care he deserves, despite the fact that he is not like other children around. The last thought in Avery's mind has been to fall in love, to find someone to rely, to find someone who does not mind Max, someone who understand and wants to help. Then Mason Street shows up.
Mason Street left his hometown with his guitar and big dreams, thinking that he would hit it big and become famous. Unfortunately the dynamics of his band did not work, and the only thing he gained was bad press and a failed record contract. He comes back home to ask advice and help from Ray Abbot, the man who first put him to stage. What he did not expect was to come face to face with Ray's daughter Avery, now very different than she was back in high school. He starts to feel a pull towards Avery and quickly learns that she used to have a crush on him until he broke her heart. Can Mason prove to Avery that he has changed? And can Avery let someone in and trust someone after getting her heart broken, first by Mason and then by her husband?
I instantly started to root for Avery. She is strong, kind and also kind of badass. She takes care of people she loves and isn't ready to take any shit about her child and her choices. She is also vulnerable and kind of lost, just trying her best to navigate the journey that is her life. Max, her son, is the apple of her eye and the most special person in her life. I loved how Max was not portrayed only as a "sick kid", but also as a child with incredible talent. Yes, he might be difficult, but he is also worth all the struggles.
Mason has made mistakes, and probably will make them again, but he learns from his actions and through his relationship with Avery and his involvement in the life of Max, he learns to be responsible, understanding that loving someone means that you don't only live for yourself, but also for those you love. Usually musicians are not my weak spot (athletes are), but while reading this book I really did fall for Mason.
There are some kind of cliche seeming romantic scenes in the novel, but I liked how those gave balance to the very raw, real scenes dealing with Max and the struggles Avery goes through in her day to day life. How We Deal with Gravity was an extremely emotional, gripping read that managed to make me both laugh and cry (I think I cried through the last 20% of the book). It really opened my eyes about autism and made me want to do more research on it since I did not really know much about it before hand. Though I am not a mother myself and never wish to be, I was touched by the way Scott portrays motherhood and the love of a mother towards her child. I feel like for a reader who is a mother/maternal, this will dig even deeper than it did with me.
The first week of royalties after the release will be donated to the Southwest Autism Research and Resource Center!