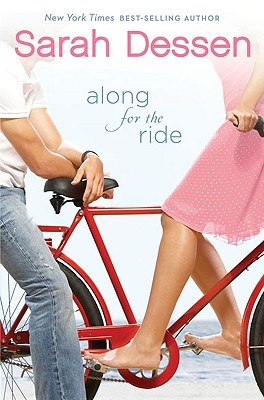 Release Date: June 16, 2009
Publisher: Viking Juvenile
Age Group: Young Adult
Pages: 383
Description (from Goodreads):
It's been so long since Auden slept at night. Ever since her parents' divorce—or since the fighting started. Now she has the chance to spend a carefree summer with her dad and his new family in the charming beach town where they live.
A job in a clothes boutique introduces Auden to the world of girls: their talk, their friendship, their crushes. She missed out on all that, too busy being the perfect daughter to her demanding mother. Then she meets Eli, an intriguing loner and a fellow insomniac who becomes her guide to the nocturnal world of the town. Together they embark on parallel quests: for Auden, to experience the carefree teenage life she's been denied; for Eli, to come to terms with the guilt he feels for the death of a friend.
In her signature pitch-perfect style, Sarah Dessen explores the hearts of two lonely people learning to connect.
I have been a fan of Sarah Dessen after reading 'The Truth About Forever' during my exchange student year in 2007/08, so I was super excited to finally get a chance to read this one.
I was really able to identify with the main character of the novel, Auden. She is smart and feels most confident while studying and learning new things. She is not very good at "girl talk" and gets kinda awkward around guys. Her parents have divorced and after that she has not been able to sleep during the nights - she drives around or spends time at the 24/7 cafe, drinking huge amounts of coffee. After her parents divorced, her scholarly mother has spent most of her time working or hosting dinners for her graduate students. Auden does not really have that much friends - she has always been more comfortable with focusing on the essentials like studying and bettering herself intellectually, rather than socializing and focusing on things that are not deemed as important.
After graduating from high school, Auden decides to spend the summer at her father's house by the beach. Her father has married again and his wife Heidi has just given birth to a baby girl, Auden's little sister, Thisbe. At first, Auden does not feel like much has changed - she still spends most of her time alone, riding around during the nights, trying to read her college books during the day to prepare for her freshman year. But when she meets Eli, who for his own reasons isn't able to sleep either, they just gravitate towards each other and start to spend more and more time together.
"I sat there for a minute, in that pink and orange room, thinking about what impressed my mom, and the either/or I'd been stuck in for so long. Maybe it was true, and being a girl could be about interest rates and skinny jeans, riding bikes and wearing pink. Not about any one thing, but everything."
As more time passes and Auden starts to work nights at Heidi's clothing store helping with the books etc., Auden notices that she actually has found girls she can call her friends. After some awkward exchanges and not knowing how to react to bitchy ex-girlfriends, Auden starts to learn more about friendships and more importantly, about herself.
I really liked how this novel took its time in establishing the relationships and the story - Auden and Eli start as friends, pretty much by accident, and it really takes time for them to react to the connection between them, one way or another. And the
way Dessen writes is so beautiful - the story flows well and you just want to keep turning the pages for more and more.
Eli is one of those character you cannot but love - he seems kind of quiet and distant at the beginning, but as Aiden spends more time with him, you get to know more about him and understand why he is not able to sleep, why he might be distant and why he might have issues with really connection with someone. The other characters from Heidi to Maggie and the other girls are also interesting and despite the fact that the story is not mainly about them, you get to know more about them as well when Auden bonds with them.
At the beginning I really did not like Auden's parents, but as you read on, you kinda understand why they act as they do. And as Auden changes, there is also a change in them.
All in all, Along for the Ride is one of those books that is perfect for the summer when you're looking for a good and romantic story, but also a bit of substance.