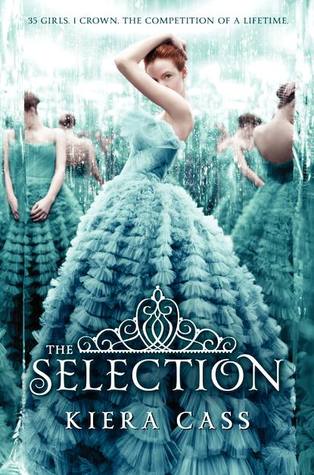 Release Date: April 24, 2012
Info about author: Goodreads - Twitter - Website
Publisher: HarperTeen
Age group: YA
Pages: 336
Buy the book: Amazon - Book Depository

Description (from Goodreads):
For thirty-five girls, the Selection is the chance of a lifetime. The opportunity to escape the life laid out for them since birth. To be swept up in a world of glittering gowns and priceless jewels. To live in a palace and compete for the heart of gorgeous Prince Maxon.
But for America Singer, being Selected is a nightmare. It means turning her back on her secret love with Aspen, who is a caste below her. Leaving her home to enter a fierce competition for a crown she doesn't want. Living in a palace that is constantly threatened by violent rebel attacks.
Then America meets Prince Maxon. Gradually, she starts to question all the plans she's made for herself—and realizes that the life she's always dreamed of may not compare to a future she never imagined.
MY THOUGHTS:

I've been meaning to read this book for ages. I think I had an ebook copy of this from Netgalley around the time it was published, but I never got around reading it, probably due to business with university. Well, in any case, I should have read this a lot earlier since I really ended up enjoying it.
America Singer lives in a society where the people have been divided to different castes. Her family are Fives, a caste mostly consisting of artists – her father is a painter, and she herself is a musician. Though her family is not terribly poor, she does know what hunger and cold feel like – there are never seconds to have during the dinner, and during the winters her family always doesn't have money for heating.
The country America lives in is ruled by a Royal family with a young son, Prince Maxon. Years earlier Maxon's father, the king, selected her wife through The Selection, and now it is Maxon's turn. Letters to participate in The Selection are sent to all eligible young women of the different districts of the country and the whole selection process is an extremely big deal in the country – it is followed by the media and the people of the nation. America gets an invitation too, but she does not see the Selection as something desirable – she is in love with Aspen, a boy from a caste under hers, and she cannot imagine even the thought of falling in love with someone else, especially not the stuffy and snobby seeming Prince Maxon. But after being insisted both by her mother and Aspen, who wants better things for her, to participate, America is forced to participate, and even though she never believed it would happen, she gets selected. She has to leave her home, her parents and Aspen behind and move to the palace to live there with the royal family and 34 other girls fighting for the love of the prince.
America's first meeting with Maxon does not go as planned, but once she starts to spend more time with him, she realizes that he might not actually be as bad as she believed. But the more she gets attention from Maxon, the more glaring and hateful stares she gets from the other girls. But despite the cold stares and the fact that the palace is constantly under the danger of rebel attacks. America does her best to stay in the competition just to avoid facing Aspen again. But of course, some things don't go as planned…
I really enjoyed the fictional world and the caste system the novel introduces. The world building made by Cass is not very detailed (at least not when compared to some other dystopian YA novels), but I actually quite liked it, because it meant that the novel focused more on the relationships. Also, it seems like these characters do not know awfully lot about their past either, which means that we as readers know probably almost the same amount they do. I do have a hunch that the second and the third book maybe do some more world building, but even if they don't, I think I'll enjoy them anyway.
I guess the question everyone who has read this one has dealt with is "Maxon or Aspen?" I am team Maxon all the way. I have a tendency to fall in love with characters who are first seen as pompous, boring, snobby, evil or something similar and then eventually it is proved that they are not liked that (I guess this all comes from falling in love with Mr. Darcy as a young reader). I guess Aspen is alright, but I just found him kind of boring to be honest.
One thing that I found quite annoying was the constant repetition of how beautiful America is. Occasionally I felt like yelling "I GET IT ALREADY, SHE'S REALLY PRETTY". It occasionally felt almost like the author needed to make sure that though America is witty and intelligent, most importantly she is pretty. This is only a minor thing, and there are probably readers who would not even notice it, but for some reason it just really kept bothering me, especially at the early parts of the novel.
I admire Cass's concept for this novel – it is like The Bachelor in future, a weird relationship building facade that people get obsessed with. I know CW or some other network has done a pilot for this, but I think it was snubbed because it was too similar or something to Reign. I'm actually kind of sad that this did not make it, because it would have been cool to see this on screen (I mean all those dresses and everything… and Maxon). I haven't watched Reign though, so maybe I could get the dresses and hot guys from that (if you have watched it, is is worth a watch?)