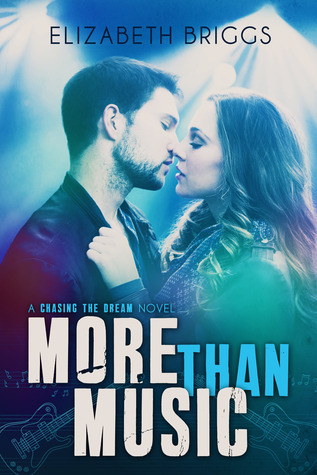 Release Date: June 17, 2014 (review copy from Netgalley)
Info about the author:
Goodreads
-
Twitter
-
Website
Age group: New Adult
Rating: 4/5
Description (from Goodreads):
Music major Maddie Taylor seems to have her life all figured out. She's just finished her junior year of college, has a summer internship lined up with the LA Philharmonic, and plans to go to grad school to write movie scores. Only her roommates know she practices guitar every night and secretly dreams of a louder life. But geeky girls like her don't get to be rock stars.
Tattooed singer Jared Cross has a new girl every week, but when he catches Maddie playing one of his songs, she attracts his attention in an unexpected way. His band needs a fourth member for The Sound, a reality TV show competition—and he wants her. Though Maddie refuses to be another notch on Jared's bedpost, she agrees to risk everything for the chance to be a rock star.
Once on the show, Maddie discovers there's more to Jared behind his flirty smile, and with each performance their attraction becomes impossible to ignore. When the show pressures Jared to flaunt his player image, they're forced to keep their relationship secret, but Maddie can't help but want something real.
As the competition heats up, Jared will do whatever it takes for his band to win, and Maddie must decide if following her dream is worth losing her heart.
MY THOUGHTS:
While browsing through Netgalley's new adult section, I came across More Than Music. After checking its Goodreads rating, which was really high after the first couple of reviews it had gained, I decided to request it. When I was approved, I decided to give it a go and see whether it was a book for me. And wow, I was positively surprised.
Maddie is studying music in college in LA and plans to become a score writer for movies. She is classically trained on piano, but for years she has been draws to playing her vintage guitar alone in her room. Then one night she is at a party a local band is having and Jared, the singer of the band with a killer body and a smile, plus a bad boy image hears her play and asks her to join his band for The Sound, a battle of bands much like The Voice. Maddie hesitates, thinking that she does not have what it takes to join a rock band, but she decides to take a leap and attends the audition with The Villain Complex. Very soon, she realizes that she is a full pledged member of the band with three guys and that they are on their way to fame.
Maddie is a likable protagonist, though a bit cliche to the new adult genre. I found it a bit unnecessary that her "nerdiness" was so put out, because in reality I did not even think she was that nerdy. She is not very confident at the beginning, but I was glad to see her confidence rising. Also, though she is clear that she is very attracted to Jared, she does think about herself and the possible heartache and consequences of doing anything with Jared.
Jared of course is super dreamy, and I found it refreshing to read a new adult book without an overly damaged male protagonist. I mean, he had issues with his childhood and all, but those were not what defined his character. He is the cliche playboy/bad boy who actually is a nice guy character, but since I have a soft spot of fictional guys like that, I personally did not mind it.
The chemistry between Maddie and Jared is well established, and though the development of their relationship is quite quick, it did not bother me too much. I usually like romances where it takes time for the characters to get together, but I guess the fact that they spend so much time together within the competition makes it plausible that they feel a pull towards each other because of the mutual attraction.
I really liked how the singing competition was build into the narrative, especially since competitions like The Voice are very "in" at the moment. Though I'm not a big fan of shows like that myself, I did enjoy the show aspects of the book and feel like people who like shows like The Voice will probably enjoy this one even more than I did.
All and all, More than Music was a quick, entertaining and cute new adult read. There are some sexy times there, so due to those scenes, you should probably be like 17 before you pick this one up.